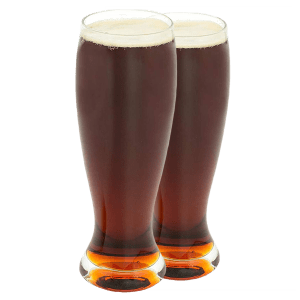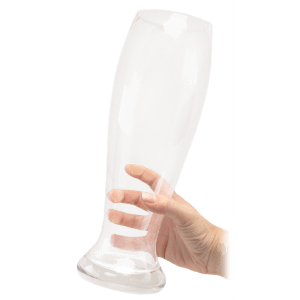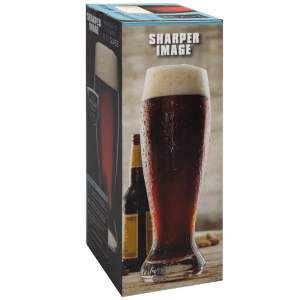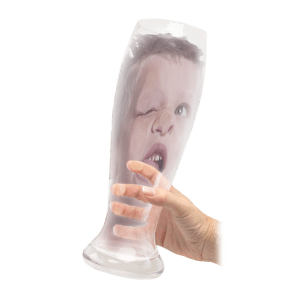 2-for-Tuesday: Oversized 55oz Beer Steins
110 cumulative ounces of beer-holding.
That's… that's… that's way too much beer.
But, c'mon! They' fun! And no one said you have to fill them!
Speaking of fun stuff, have you seen our fun new shirt site, Mediocritee?
Model: 1SHA27069-00, which reminds me of a great under-appreciated indie rock song.
see more product specs
Beer We Go
The principle of Occam's razor would tell us that this is a smart purchase: it's simpler to make one trip to the fridge and pour in however many beers you plan on consuming rather than making a trip each time you need a refill. Murphy's law, though, tells a different story. Assuming that everything that can go wrong will go wrong, and and also assuming there's plenty that can go wrong when consuming 55oz of beer, you probably ought to avoid this.
Are we actually applying these concepts properly here? Maybe. Maybe not. It doesn't really matter; what does matter is that you should check out this week's shirts Occam's Razor/Murphy's Law inspired shirts over on Mediocritee.
At any rate, the important thing to know here is that these glasses are not big glasses. No, they are enormous glasses–for context, 55oz is is 9oz less than a full GROWLER–and so it might be criminal negligence to suggest you fill one to the brim with any alcoholic substance. They're probably better as ornaments, to be honest.
But if you insist on actually using them, may we recommend avoiding the domestic swill and having a nice artfully-made craft beer? Here are a couple of our current favorites:
The Spoils: If you like sours, you're going to love this brand new craft beer variety: curdleds. Brewed with copious amounts of lactose and left out for days in the sun, The Spoils is un-carbonated, un-sealed, and pretty much un-drinkable without committing yourself to several hours in the bathroom. But many beer connoisseurs say it's worth it!
Jake's Lost Barrel Stout - Some barrel aged stouts will sit in that bourbon barrel for 6 months. Others, a year. Every now and then, you'll find one that's been aging for a whole 24 months. Jake's Lost Barrel Stout goes even further than that; brewmaster Jake Tampers put the barrel somewhere 12 years ago, and he hasn't been able to find it since despite "looking everywhere," he claims. This means that not a soul has ever tasted it's rich, boozy goodness. Despite this, it possesses an impressive 4.86/5 rating on Untappd.
Jello Dankness My Old Friend - You've enjoyed the piney west coast style IPAs. You've loved the hazy New England style IPAs. But Jello Dankness My Old Friend (JDMOF) fits neither category. In fact, many have called it the first ever true Midwestern style IPA. Brewed with gelatin, this quasi-solid beverage is bursting with tropical, resinous, and jiggly hop flavors. Bonus: convert it to an IPA 'salad' by lining the bottom of your 55oz cup with crushed pretzels, filling it with JDMOF cubes, and then topping it with whipped cream.
So pour yourself a couple big glasses of one of those–one for you, and one for a friend–and raise them to the delights of sweet, sweet excess!