CRKT Ken Onion Wrinkle 2 Knife
Wrinkled styling on handle because everyone agrees nothing is more beautiful than wrinkles
AUS 8 modified drop point blade, IKBS ball-bearing system, locking liner: hey, check us out, pretending like we know what we're talking about
Designed by Ken Onion, King of Knives and of having a cool name
Model: K200BXP
more specifications
What, we all have to show everybody what's in our pockets now?
Looks like it's not enough for the Internet to see pictures of our kids and our new haircuts and our meals. Now you're supposed to show off the crap in your pockets. This movement is called "everyday carry" (EDC), and it has its own flagship website and its own sub-Reddit, where the most finicky lifestyle curators in human history can empty their White People Pockets all over the rest of us. What wondrously carefree lives these EDC types must have, to spend so much time and attention on such minutiae- sorry, "essentials".
But sure, I'll play along. I don't carry an EDC knife like this CRKT Ken Onion Wrinkle 2, but my pockets are still bulging with gear every time I step out of the house. Here is the indispensable ballast weighing down @JasonToon: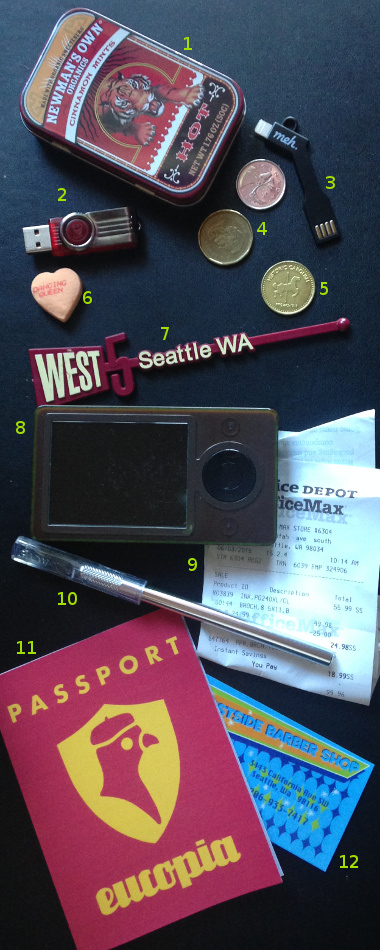 1) Newman's Own Cinnamon Mints: Because my fresh breath is my livelihood.
2) Thumb drive: For installing viruses on my friends' computers.
3) Meh-branded Lightning Snap Cable: For when I want to charge my phone in a really awkward position.
4) Canadian money: In case I accidentally wander into Canada and need to buy a newspaper.
5) Carousel token from the Seattle Woodland Park Zoo: For those times when I will strangle someone unless I can decompress with a carousel break.
6) Candy heart: In case it's suddenly Valentine's Day.
7) Swizzle stick: Because I'd rather die of thirst than drink an improperly mixed cocktail.
8) Brown Zune: Obviously.
9) Office Depot receipt from two months ago: Just keeps winding up in my pocket somehow. I could've sworn I threw this away.
10) X-Acto knife: For emergency magazine layouts.
11) Eucopia passport: So I never miss a chance to pimp my new subscription box company offering European living at your door every month. Special pre-order prices start at just $12.
12) Business card from my barbershop: In case of medical emergency that happens while I also need a haircut, so the EMTs know where to take me.
Thus armed, I'm ready to take on the world. I didn't get where I am today by being haphazard and unprepared.
How about you? Show us your EDC in the forum! Or else! Because what used to be considered unseemly exhibitionism is now mandatory!