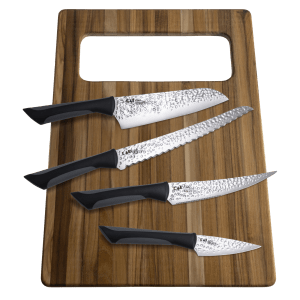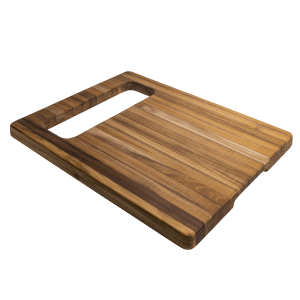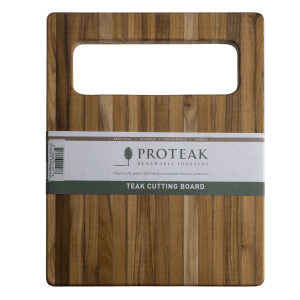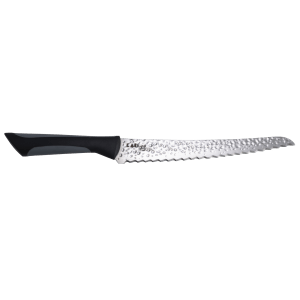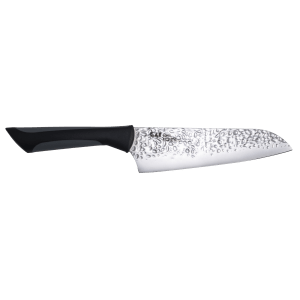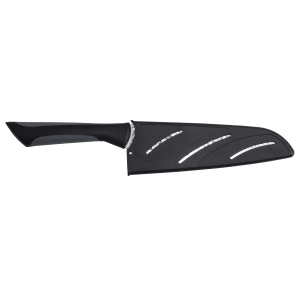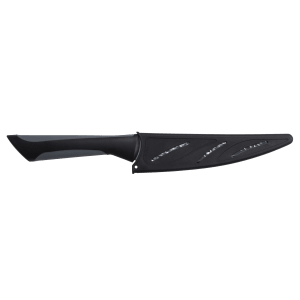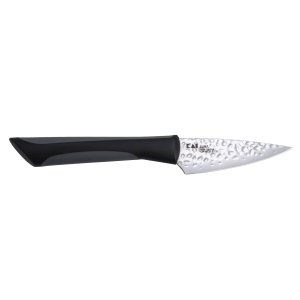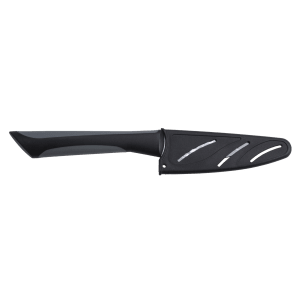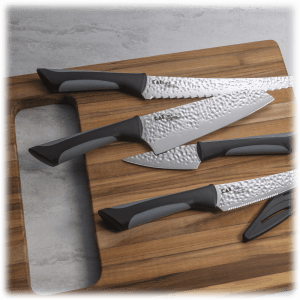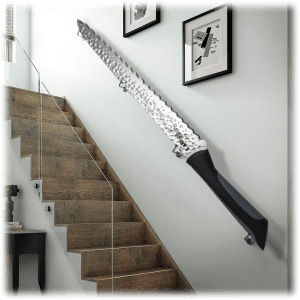 $81 at Amazon (see specs for details)
Kai Luna Professional Knife Set with Sheaths & Cutting Board
9 pieces means: 4 knives, 4 sheaths, 1 cutting board.
Knives include: a 7" santoku knife, a 6" multi utility knife, a 8" bread knife, and a 3 1/2" paring knife.
Their blades are made from "high-carbon stainless-steel" that's been "hand-sharpened on a whetstone and holds a super-sharp edge."
The handles are soft-grip but with rubberized inserts, so they're easy and safe to hold.
Blah, blah, blah. What's important is they'll turn those whole onions into smaller pieces of onion.
Model: 5TA88Y
see more product specs
The More The Mehrrier
First of all, let's crack down on some the shoddy math here. '9 pieces' means: 4 knives, 4 sheaths, and a cutting board. And yes, the sheaths are important, some would even argue entirely necessary, but think if you ordered a '2-piece shoe set,' and what you got was 1 left shoe and 1 shoe lace.
Point is, it's a little misleading, which is why we're telling you about it right up front. Because we care about a thing called honesty.
That's also why we'll also say this:
Sure, there's a chance that you look at this set and think, A 7" santoku knife and a 6" multi utility knife? Why, I can certainly use each of those in accordance with the unique function for which it's intended while cooking five-star meals in my lavish home kitchen!
But most of us? We see 2 big knives and we think, Oh, word. I can use the one when the other is dirty.
Because, seriously, if you're buying your kitchen gear on Meh, you're probably not out there on the frontiers of the culinary world experimenting with whatever's going to replace molecular gastronomy as en vogue gourmet cooking technique. You're probably more like us: you eat the thing. You like the thing. You think, I couldn't make this thing. Then you think, Could I make this thing? Then you google "[name of thing] recipe," follow the instructions, and either succeed or fail at making the thing.
Thus, what you're looking for a in a knife is just a sharp edge. And, while you're not dumb enough to try and cube beef with the 8" bread knife, you're also not above using the paring knife to mince garlic if it's the only one not currently in the sink waiting to be washed.
So, get this knife set. Not because each one features a "German DIN1.4116 high-carbon stainless-steel blade" that's been "hand-sharpened on a whetstone" in order to hold its sharpness for longer. No way.
Get it because owning 4 good knives means trimming down on the frequency with which you do dishes.