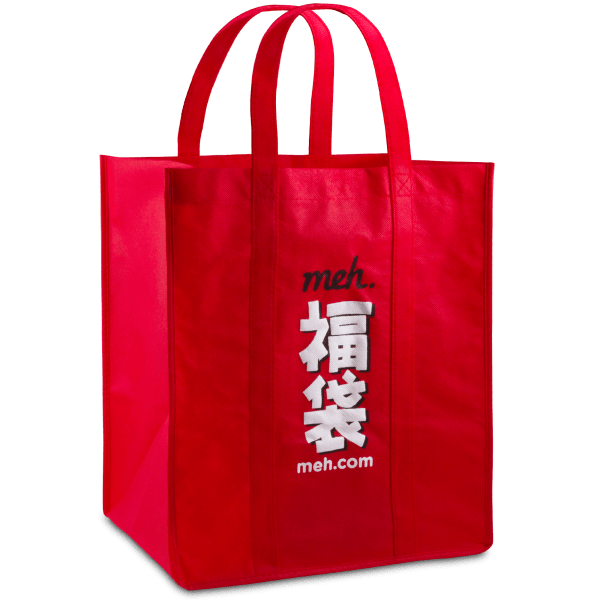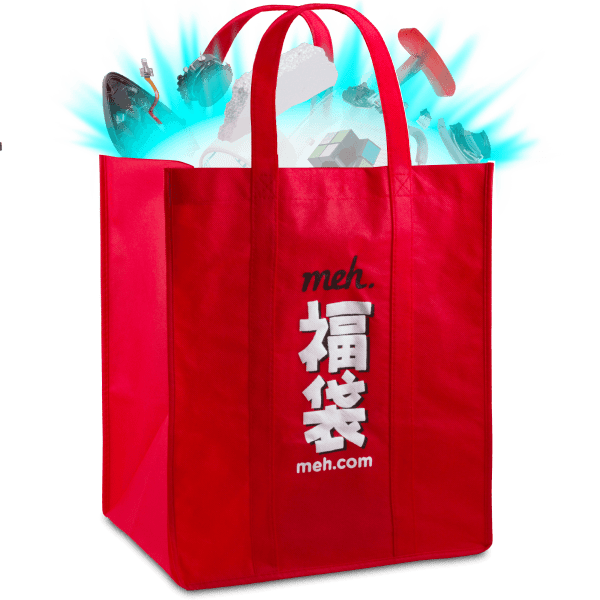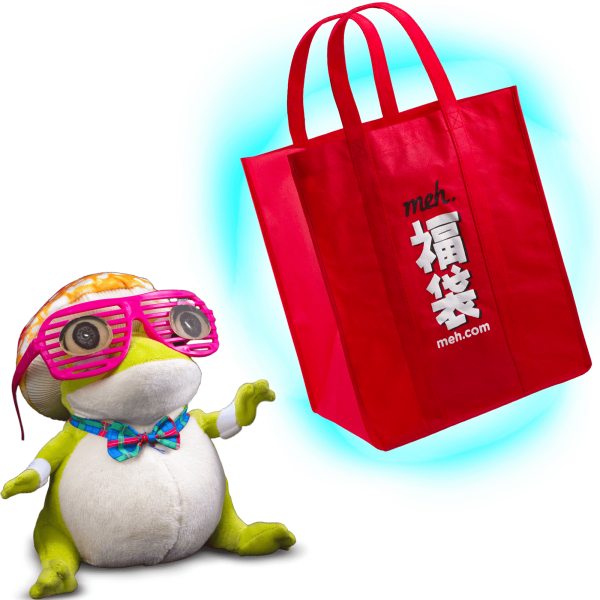 Fukubukuro 3: We Could Try Harder
An (un?)lucky bag of surprises
It might totally suck
No promises
No give-backs
see more product specs
Meh has a new theme song by They Might Be Giants!
It's always kind of a special occasion when we offer our fuku bags, a mystery package of surprise junk. It's our low-rent take on the Japanese tradition of fukubukuro. You can see some of what people got the last time or you can just buy it because our servers are probably just about to crash.
But today is one of the specialest occasions in Meh's short, apathetic life. Today we become the first website to have its own full-fledged theme song. As kids who grew up on 70s, 80s, and 90s TV, we miss the lost art of the theme song. As a website built around daily events - or, you might say, episodes - an earwormy telling of our tale makes a lot of sense for us.
If we do it right, the Meh theme will ring around your mind all day, inducing that Pavlovian drooling over cheap junk that keeps us in business. And it will stay in your mind for years. How many TV themes do we remember more than any episode of the show itself? We can do "Silver Spoons" karaoke at the drop of a hat, but we couldn't tell you a single storyline from the show. Same for "The Jeffersons". And "Diff'rent Strokes". And "Malcolm in the Middle". Why don't we get the guys who did one of those themes to do one for us?
So, holy shit, we did! Presenting "Meh (They Could Try Harder)" by THEY MIGHT BE GIANTS!
We love it so much we think every site should have a song of its own, so we're officially declaring a new web standard: when you click on the logo on the homepage of any site, the page reloads with the theme song playing. We're working on adding that functionality to our site. Saturday, we'll launch the world's first ever Logotheminator™®℠© - first of millions more, that is.
Because why shouldn't every website have a theme song? It obviously worked for TV, until the vultures at the top decided they'd rather cram another commercial in. Now all those out-of-work theme song writers can get back into business writing themes for websites. Get on it, Internet!
Or you could just get some of your all-time cultural heroes to write one for you. They Might Be Giants were masters of absurdist, brainy, pop-culture-collage humor before there even was an Internet. And their TMBG Instant Fan Club program - the perfect model for how artists should cultivate support from their most avid fans instead of relying on the broken and dying music industry - shows that they're marketing geniuses, too.
(We're even impressed by their copywriting.)
But mostly we're thrilled to bring the world's first website theme song to life with one of our all-time favorite bands. And you know us: we don't thrill easy. Now, if you'll excuse us, we have a song to listen to on repeat 487 times. CHEER UP SUCKER!