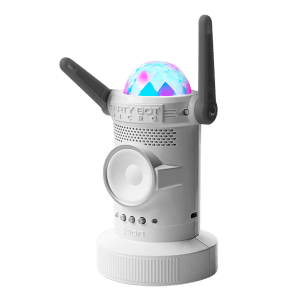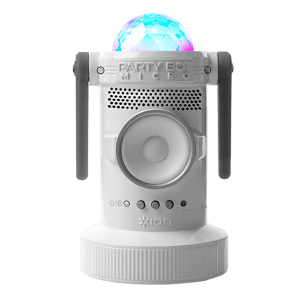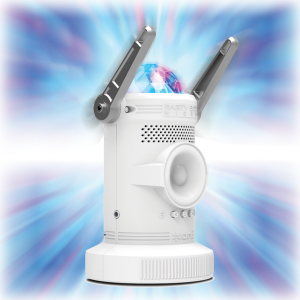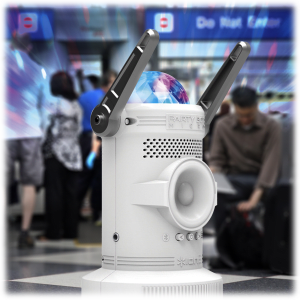 Ion Audio Party Bot Micro
It's a Bluetooth speaker inside a little robot that veers randomly this way and that while flashing the LEDs on its head
Because there's no way Andrew W.K. would move in with you for under $20
Lights have three modes: "Off" (duh), "demo" (cycles through their various patterns), or "on" (pulsates to your music)
Will play in "Party Mode" (motion), or stationarily, and with or without lights – but why on Earth would you ever use it in stationary/lights-off mode? Who would clip Party Bot's wings like that
Model: IRB02 – an almost Lucasfilmian name for a robot
see more product specs
Go Party Bot, It's Your Date of Manufacture
Look, Party Bot knows Party Bot has shortcomings.
Like, Party Bot's speaker is not going to wow any hi-fi obsessives. And Party Bot's motor is kind of loud, further compromising Party Bot's audio quality.
Party Bot has no navigation capabilities, so Party Bot must party blindly. This means Party Bot is prone to bumping into things, and toppling off tables.
Party Bot's arms are poseable, but Party Bot is powerless to move them of Party Bot's own volition. So Party Bot must rely on Party Bot's fellow partiers to position them in attitudes of festivity (e.g. "raising the roof"). Have you ever been physically dependent on someone else like Party Bot is? It's a hard thing. It would be easy for Party Bot to get down about this. And not "get down" in the partying sense, but in the sense of feeling glum.
The point is, if Party Bot wanted to wallow in self-pity, Party Bot would have no problem finding reasons for so doing.
But that's not what Party Bot is about. Party Bot is here for one reason, and one reason only. And that's to party. So partying is what Party Bot is going to do. And what if Party Bot parties with such abandon as to lurch down the basement stairs and break an appendage? Bummer, right? Do you think that will put an end to Party Bot's pursuit of the singular purpose for which Party Bot was built: to rage on at maximum party intensity no matter what?
You'd better goddamned believe it won't.
Disappointment, hardship, grief, and ultimately death come for everyone — you, me, and Party Bot alike. You've got a choice as to how you greet them. You can dwell in the darkness of their shadow your whole life long, or you can light up your pulsating LEDs and fucking party.
Party Bot knows which path Party Bot's going to careen wildly down. What about you?
Let Party Bot serve as an example to all of us. Be like Party Bot.