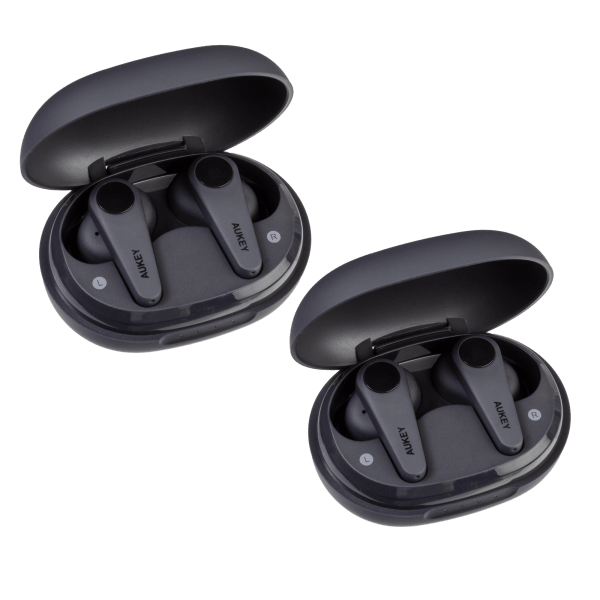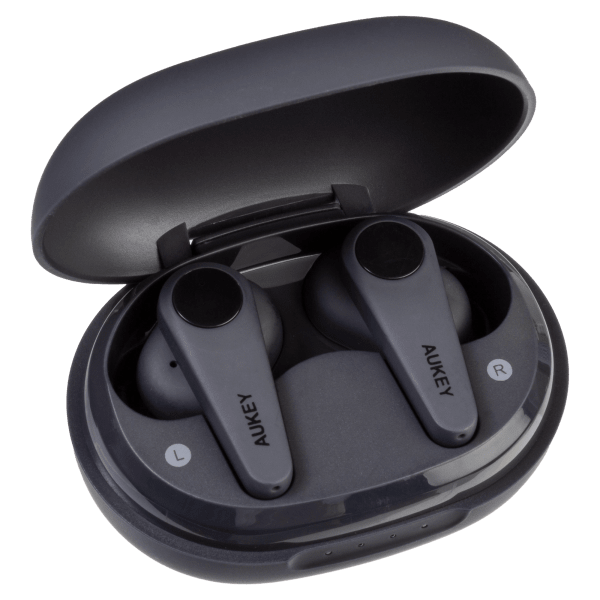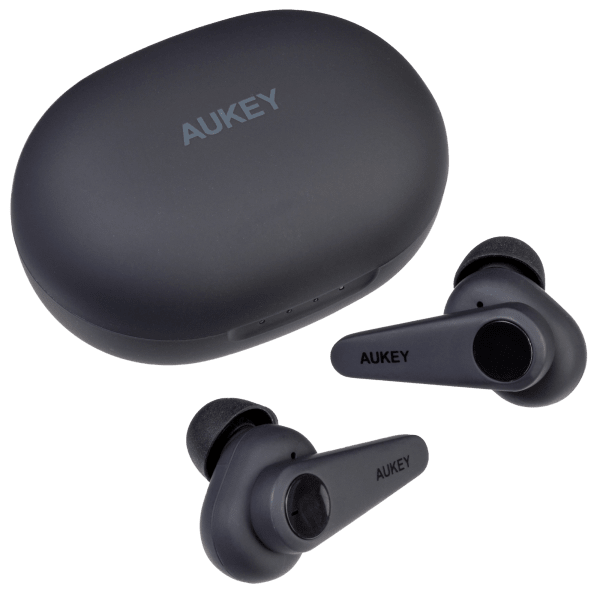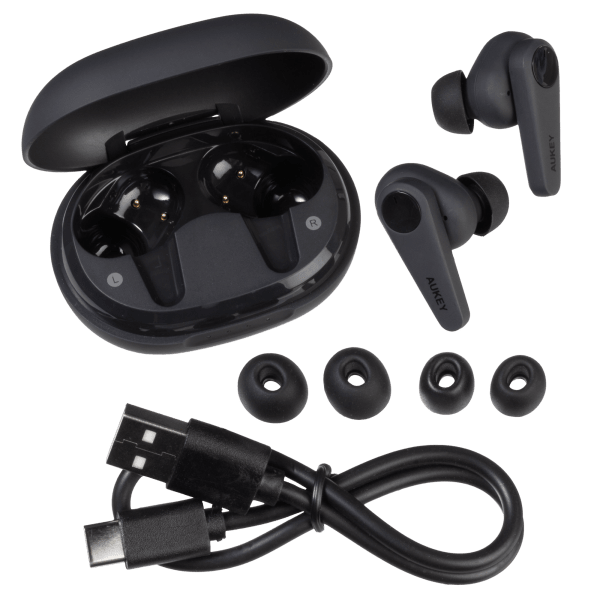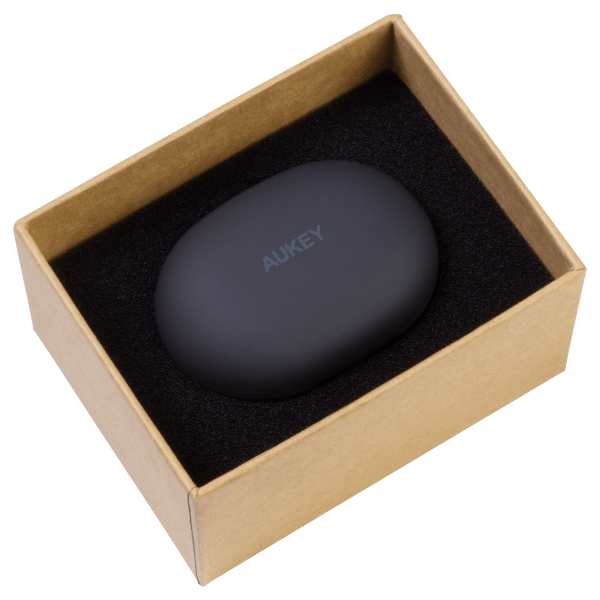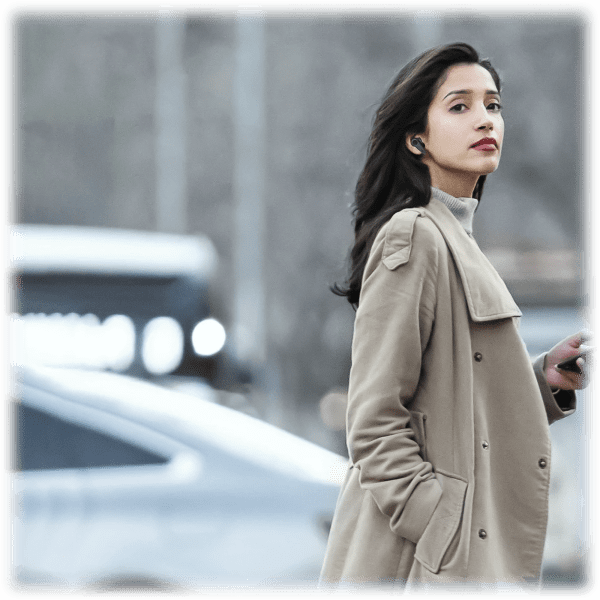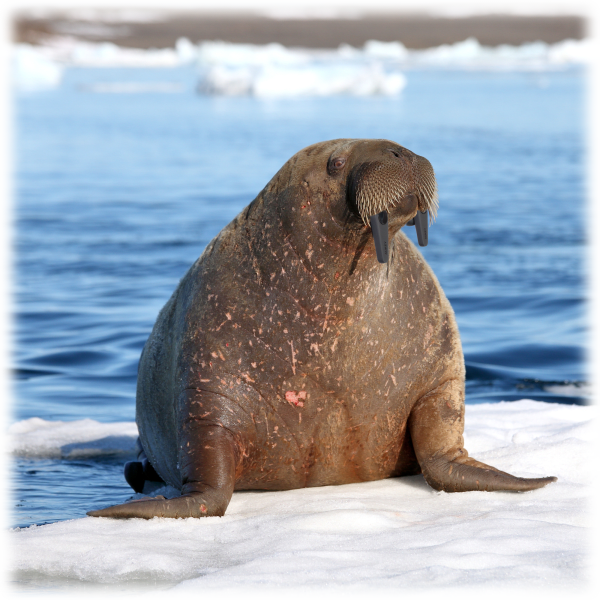 2-Pack: Aukey Hybrid Active Noise Canceling Wireless Earbuds
Really good noise cancelation
Sound is good, though not super bass-y
Two pairs for less than the price of one?!
How do they celebrate islands where terrifying things happen: they don't, so if that's what you're looking for, head over to Mediocritee
see more product specs
Ear We Go!
Usually, when we offer something like inexpensive earbuds, the selling point is exactly that: lol! They're inexpensive, usually at a price that makes them semi-disposable, something you can use to listen to podcasts while your better buds are charging!
But these Aukey buds? They're actually pretty good. Good enough to earn a coveted quotes-from-real-actual-review-sites write-up, something we usually only bestow upon pricier items whose cost warrants more quality assurance than us saying, "No, trust us! It's great!" And you're getting TWO sets for less than the price one. You know, a backup set for after you ruin the ones you left in your pocket before throwing in the wash.
Here's what you need to know. The noise cancelation is solid. That's according to Nerd Techy:
The hybrid ANC technology also works quite well. This system combines internal and external mics to provide the best noise cancelation available. The outside mics are able to capture noises earlier, while the inside mics can adjust for any errors in the ANC. In total, this system can reduce background noise by an impressive 35dB.
What does that mean, in basic parlance?
Planes, trains, and crowded areas will not disturb your listening.
Cool!
But how about the quality of that listening? By which we mean, how good is the sound? According to Android Central, it's nice, though not super bass-y:
When Aukey made the EP-N5 [a previous model], its focus was to engineer a sound profile that would appeal to those who wanted their music loud, bass-friendly, and with active noise cancelation (ANC) in tow. The EP-N7 are less overt, and more sculpted, at least when it comes to how the audio spreads out. The 8mm drivers aren't as powerful, but they also don't need to be because Aukey clearly tuned these earbuds to cater to a wider subset.
Nerd Techy also notes that the bass is lacking, but thinks this is a necessary sacrifice:
Their only drawbacks are minor. The large case is forgivable, and the weak bass is a side effect of small drivers. These drivers, in turn, are as big as one could reasonably expect given the small size of the physical earbuds. The size, in turn, makes them comfortable to wear, as well as more discreet than some of the larger earbuds. Not only that, but the ANC is highly effective, and the call quality is excellent. These are excellent earbuds both for home and for travel.
For their final verdict, Nerd Techy gives these an 8.4 out of 10 and Android Central rates them 4 out of 5. Two high ratings, and both certainly taking into consideration a price much higher than $15.
In conclusion, they are good and cheap. Just like we said at the top. Maybe buy some?