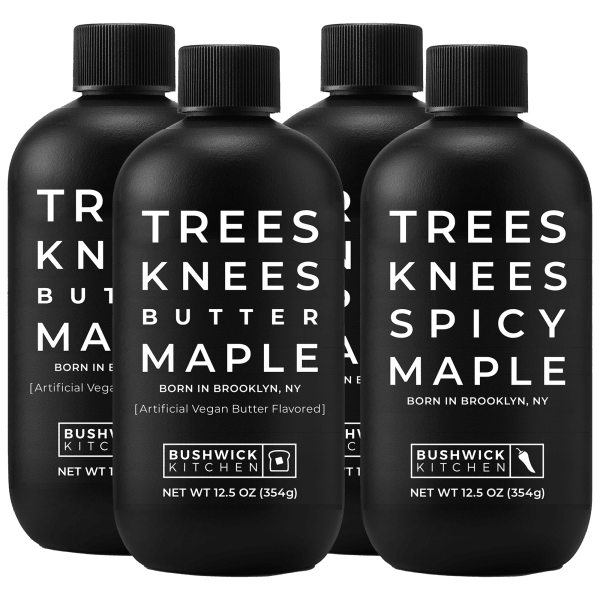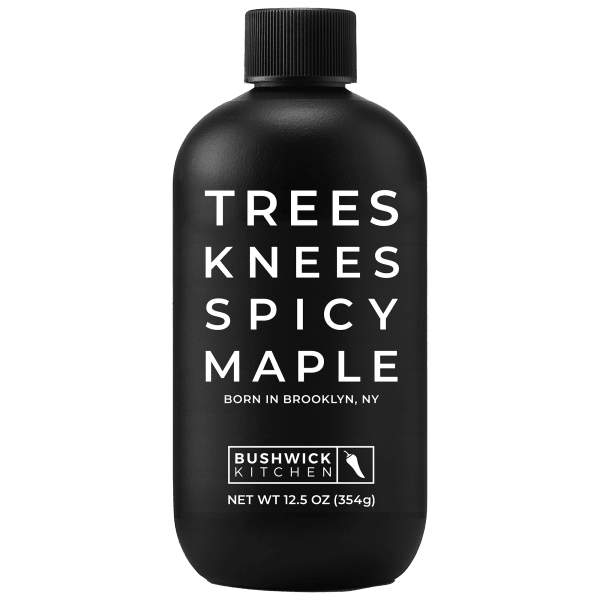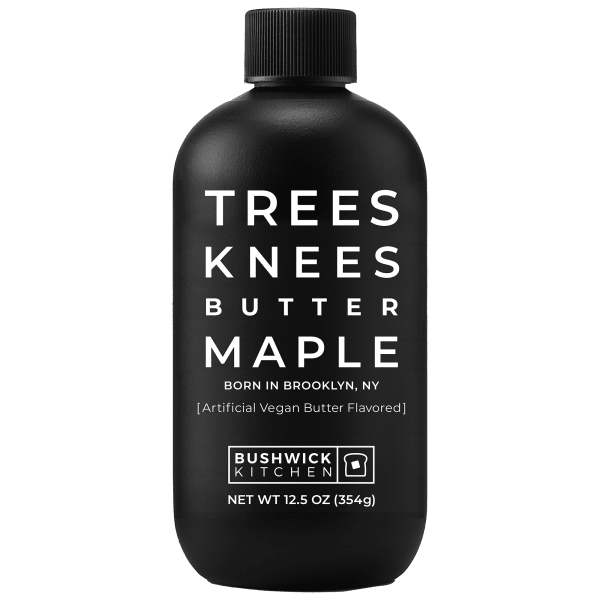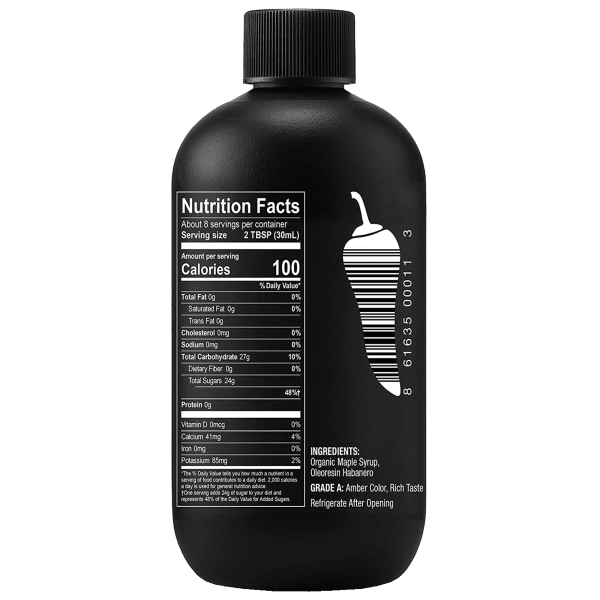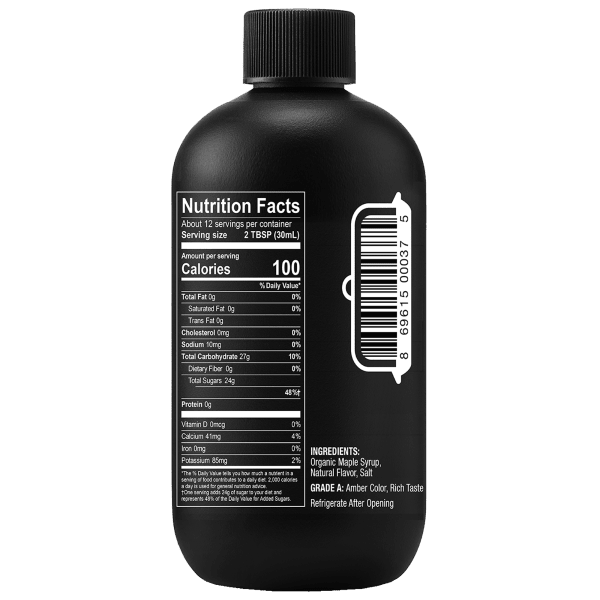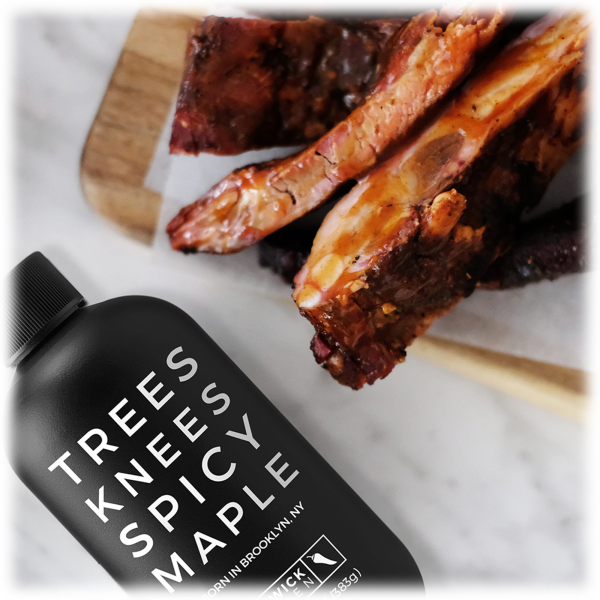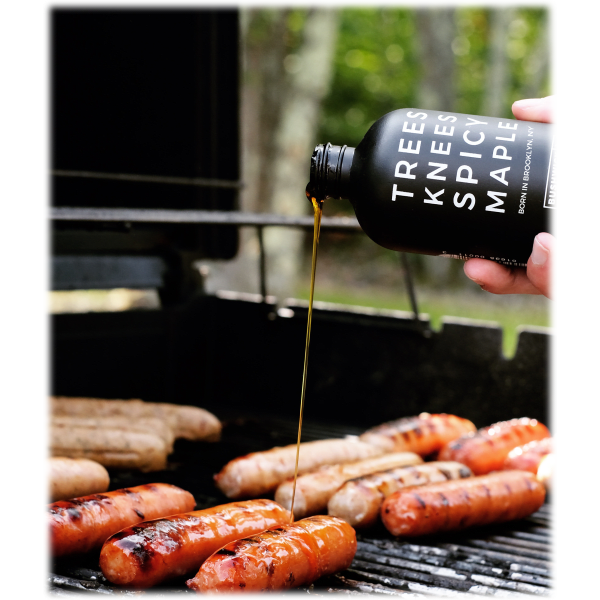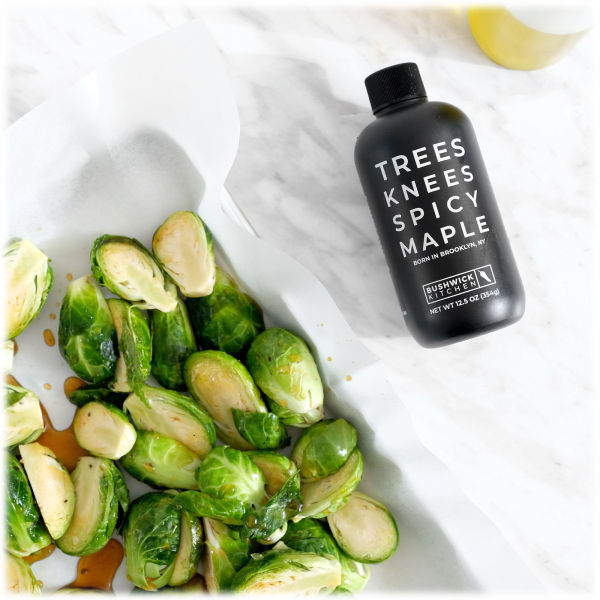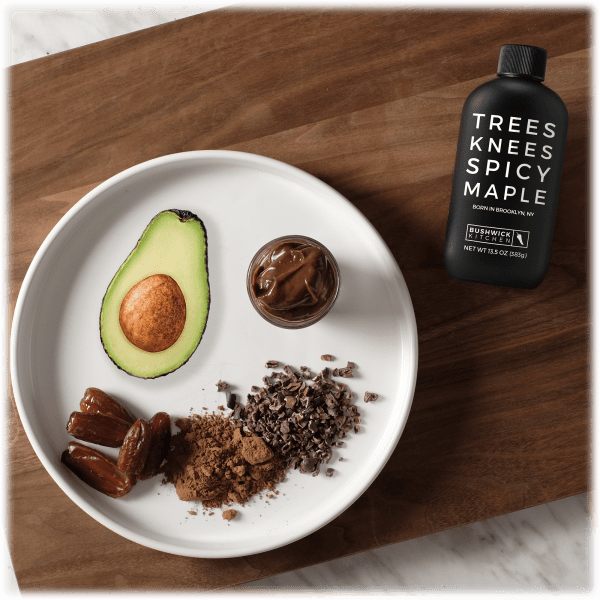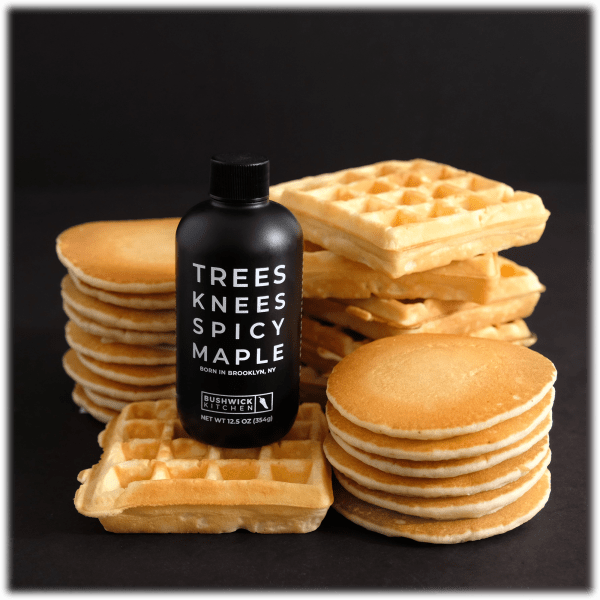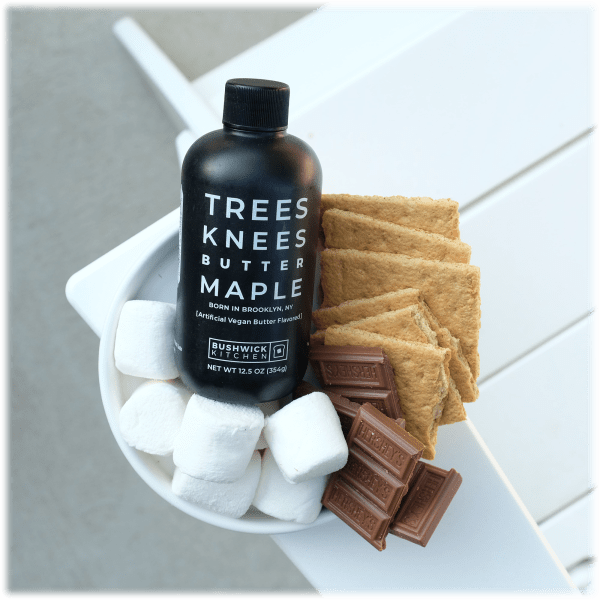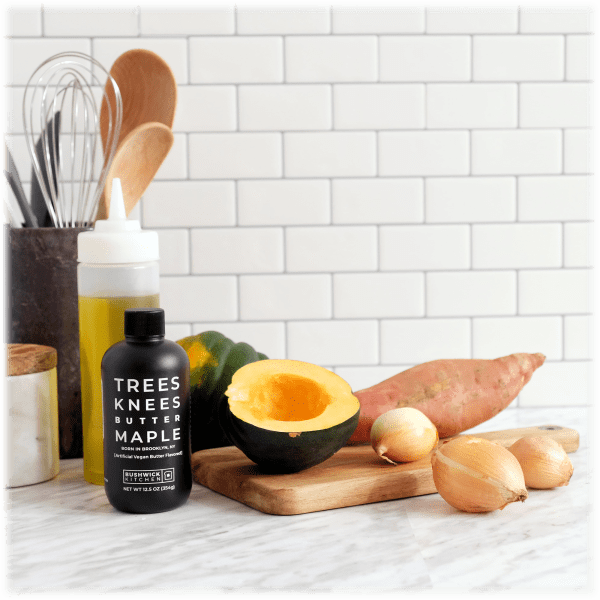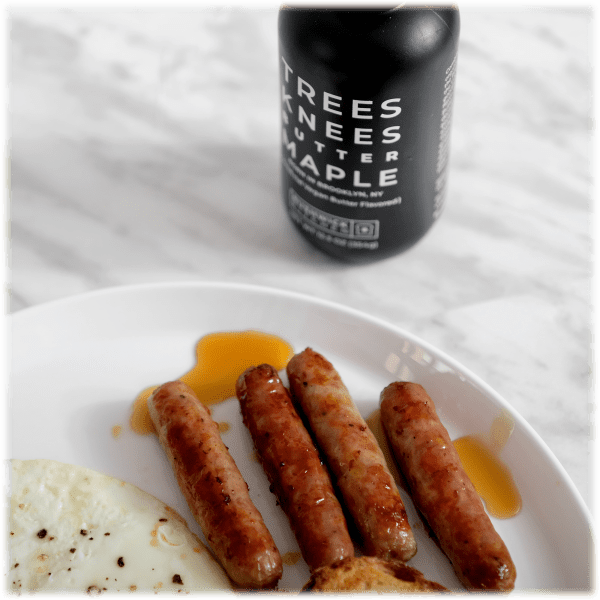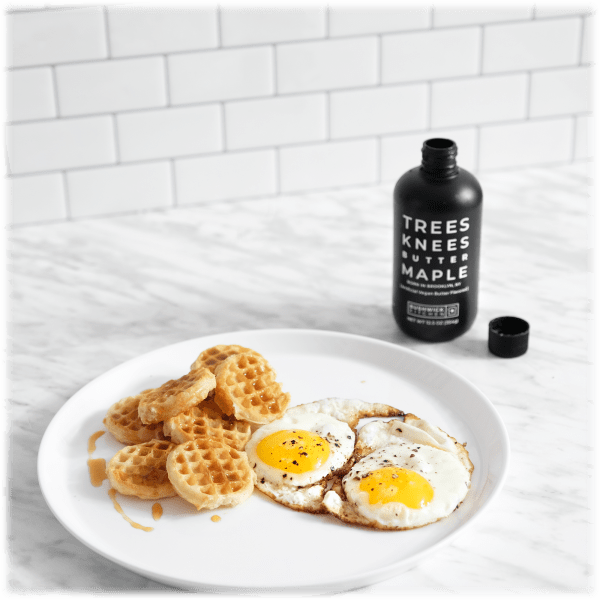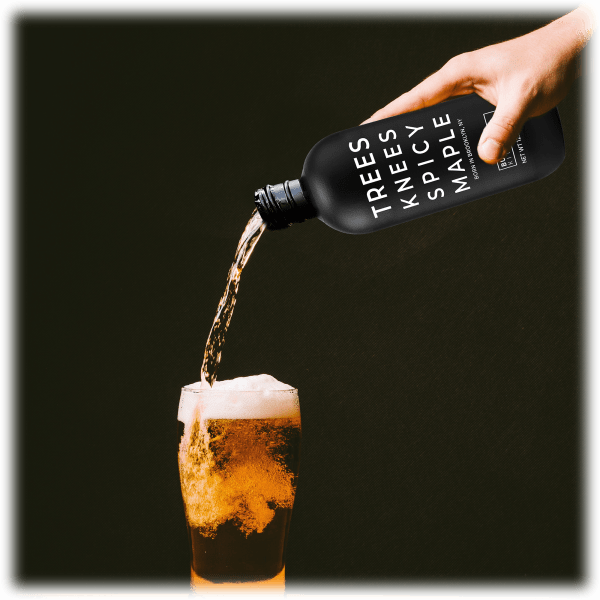 4-Pack Bushwick Kitchen Trees Knees Maple Syrup Butter and Spicy Flavors
$0.38 Per Ounce
It's delicious maple syrup
You get 2 Butter Maple and 2 Spicy Maple
Do you have any idea what a crazy deal 4 for $19 is when it comes to maple syrup?!
Model: BK00110, BK00372 (We were really hoping there were bigger numbers involved, so we could make a joke about it being their rent in Brooklyn)
see more product specs
Sweet Dreams
I'm sorry, but we're going to start a little negative today, because this is personal. The packaging of this syrup feels very much like it was designed in a lab to drive me crazy.
First of all, it looks like shampoo. Okay, actually this part isn't actually personal at all. You likely had the same thought when you first looked at the picture in the top corner of the screen: that looks like a bottle of shampoo. But it's not. It's maple syrup in either spicy or butter flavor.
Slightly more personal, given I'm a writer, is the lack of an apostrophe in the phrase "Trees Knees." It should be "Trees' Knees." Or, if we're talking about a singular tree, "Tree's Knees." It's not just a list of things that end with -ees. Because then there'd have to be a comma. No, the knees are possessed by the trees in this situation.
And speaking of those trees, where do you think they are? The trees that bore this syrup, I mean. The bottle proudly boasts "Born in Brooklyn, NY," which would lead you to believe they're right there in the most populous borough, perhaps in Prospect Park or something. But no: according to the marketing copy, we learn that this stuff actually originates in "New York's Catskill Mountains." The only thing that happens in the city is that it's bottled and infused.
Maybe this doesn't seem like a big deal to you. But for me? Someone who was born and raised in the Hudson Valley? It's just another example of Brooklynites wandering north, using our resources, and then finding a way to take credit for them.
Here's the thing, though: I'm definitely buying this maple syrup.
Because first off, $19 for four bottles is cuh-razy. That's like if you found a place selling gas for 50 cents a gallon, or bottles Dom Pérignon for $18. Maple syrup is EXPENSIVE. Hell, just over on Amazon, they're offering one bottle of this for $13.99!
Which brings me to the other reason I'm going to buy this, perhaps, you might say, the most important reason: sure, the bottle is annoying, but the stuff in the bottle? Apparently it's delicious! That's according to Amazon reviewers at least, those who give it a very impressive 4.4 out of 5 (based on 367 ratings).
And if you're worried that someone's going to try and shower with it? Well, you can just pour it into a different container.