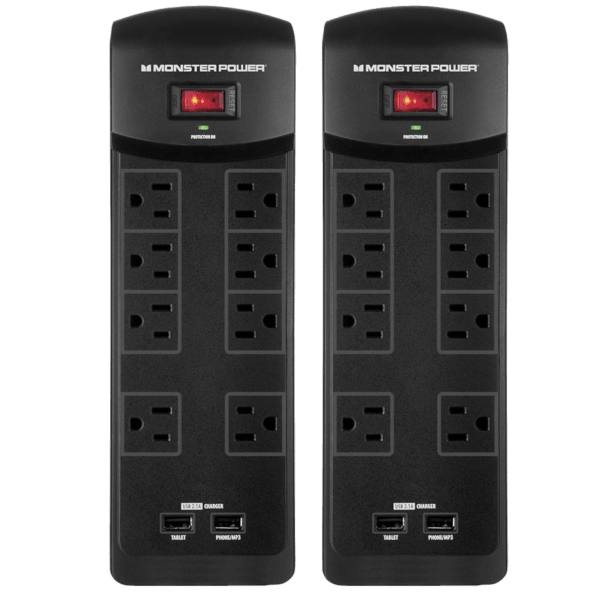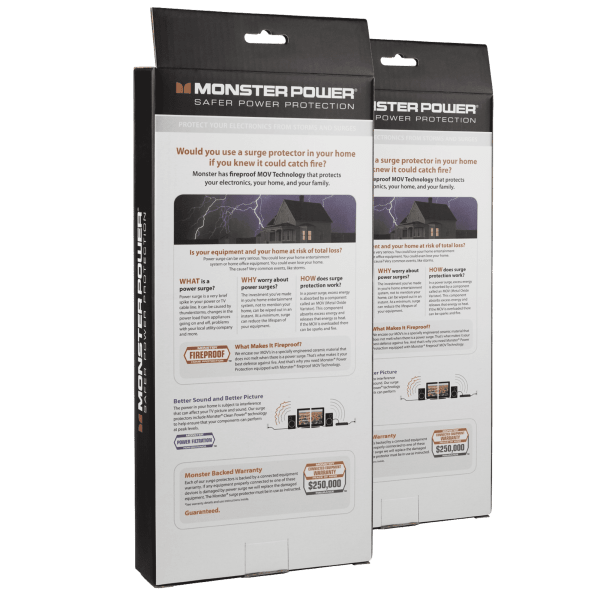 2-Pack: Monster Core Power 800 8-Outlet Surge Protector with 2 USB Ports
Turn 2 outlets into 16 outlets and 4 USB ports with 2880 joules of total protection by using 2 8-outlet/2-USB surge protectors with 1440 joules of protection each.
Wow! That's a lot of numbers!
Basically, it's more outlets, okay?
Heads up: these are probably not going to ship till the week of the 25th
Model: MP EXP 800 USB. Our advice: say it like a cheer. It's fun.
see more product specs
A Story Surging With Adventure
Dearest Rodrigo,
I remember once, when we were lost in the Desert Of Silver Sand, you turned to me and asked, "What is our purpose, as adventurers?" We'd just built a tumbleweed fire and your famous cactus stew came to boil in that moment, so we didn't discuss it further, opting for sustenance over philosophy. Still, I've thought about this question nearly every day of my life since then. Often we do what we do for glory, or to better understand this world and its many intricacies. But, Rodrigo, I'm ashamed to say, I made my most recent journey for a much lower cause: revenge.
I'd learned that Dr. Green, the podiatrist-turned-tormentor, lived on a remote island in an abandoned sanitarium built into the side of a live volcano. It just so happened that, according to my sources, he was looking to build a security team of criminals to protect him while he conducted his work. I saw this as a way to get close to him. So, I grew my hair out, wore an eye-patch, covered my arms and legs with primitive 'X' tattoos–for each of the adventurers I'd ended, or so my story would be–and called myself Claude LeBlade.
I arrived on the island for the security try-outs ready to compete with the lowest of the low. So, as you can imagine, I was surprised to see that all of the "criminal" hopefuls were actually other good men of adventure, dressed in similar costumes to mine. Gernham was there, for example. As was Fenton. And Dilly. We circled up outside the sanitarium and discussed why we'd heeded such a call for ne'er-do-wells, at which point I learned that I was not the only one seeking retribution. It seemed Dr. Green had held all of our feet to the fire at one point or another, figuratively speaking. And also literally speaking in poor Gernham's case.
There seemed an obvious course of action: we had a small army assembled. We should storm the castle, so to speak. It was then, though, that we looked up and saw Dr. Green making his escape by way of hang glider, laughing maniacally as he soared through the air away from us. And it was also then that Dilly's nose perked up and she informed us that we had only two hours before the volcano would erupt. You know Dilly! Always the lava-enthusiast! A rumble in the ground confirmed her theory some time later, but by then we were hard at work.
There is some good news to report out of this. Do you remember at the cantina in The Isle of Isleo? When you drew out on a napkin the plans for a pedal-powered gyro-copter made from palm fronds and bamboo? Perhaps not, as you'd been challenged to drinking contest by a group of sailors hunting the colossal eel that had terrorized their fishing village for decades. But that's no matter. The point is, it worked, Rodrigo! We were able to construct it and fly to safety just as the volcano erupted, destroying the sanitarium and much of the surrounding wilderness.
And now we're recovering at one of my beach huts. As you know, having helped me build many of them, quarters are tight for four men and three women. And even worse: there are so few outlets for all of us to plug in the various gadgets we use in the name of exploration. So it's a good thing I happened to purchase a 2-Pack of Monster Core Power 8-Outlet Surge Protectors! They even have USB ports to charge the more modern devices!
Everyone expresses regret that you're not here. I'd invite you to join, but you know how these people are–how we are: you could arrive in an hour and they might all be gone, off seeking some new thrill in the wilds we call Planet Earth! And perhaps beyond, if Fenton really can manage to turn his Cessna into a vessel capable of interstellar flight.
Until our next great adventure,
Gleg Tamperhorn