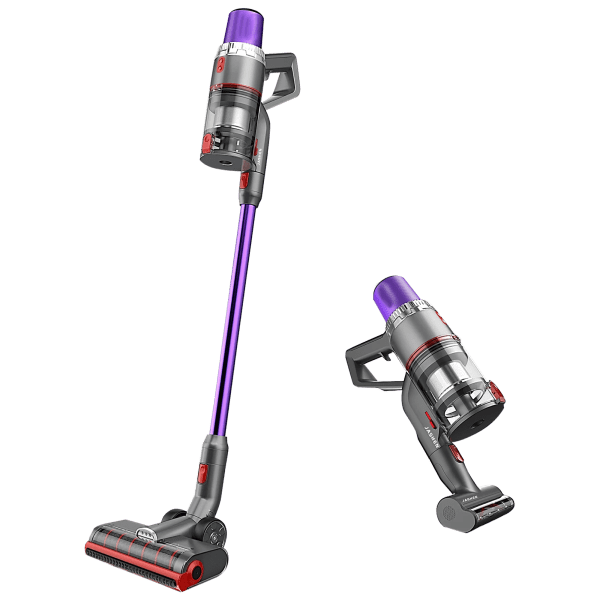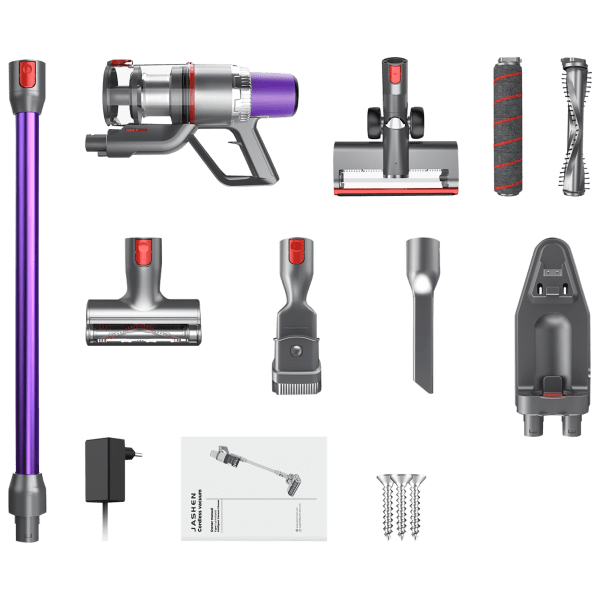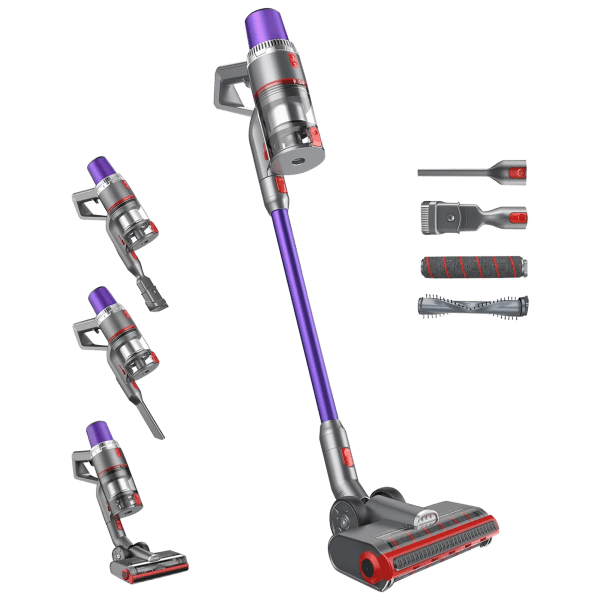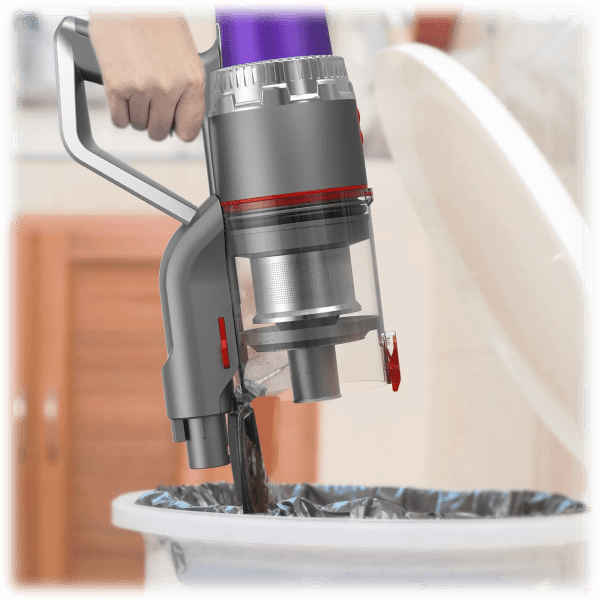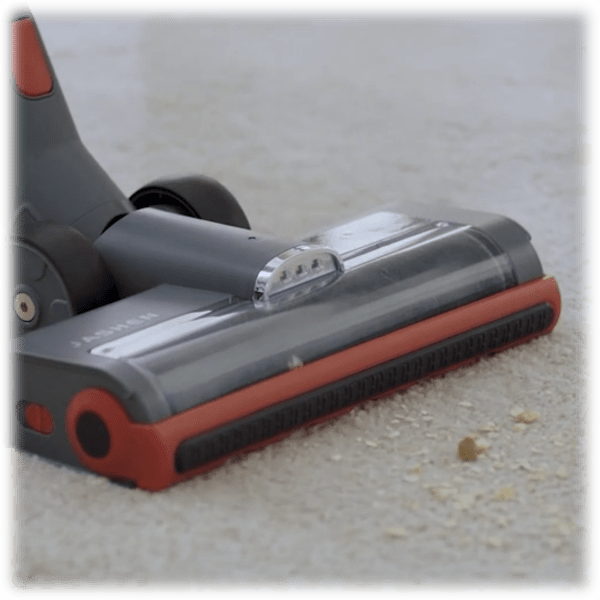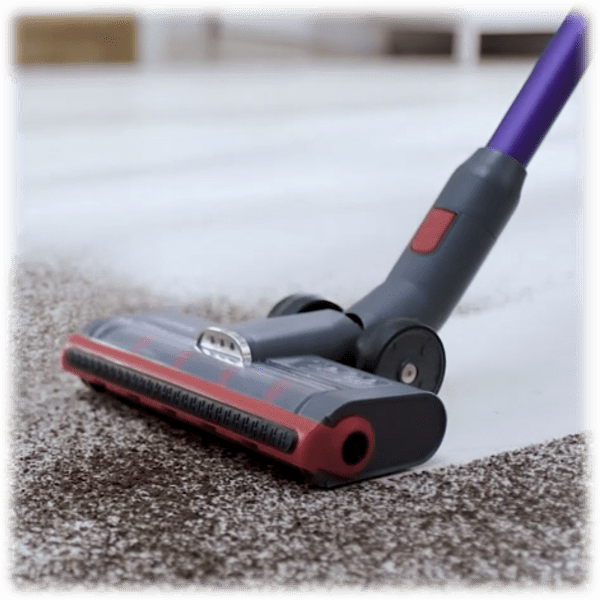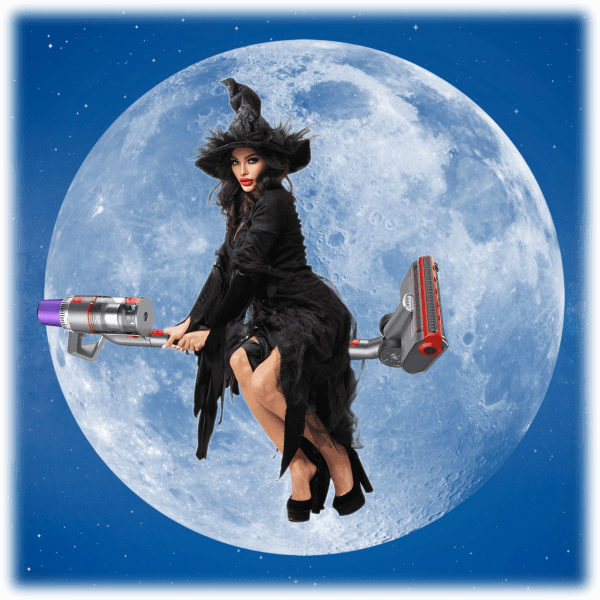 Jashen V16 350-Watt HEPA Cordless Stick Vacuum
26000Pa hurricane suction, which honestly sounds a bit frightening
Great for pet hair
Comes with a whole bunch of attachments for cleaning ALL OVER
You get a main brush head with auto-LED lights, upholstery brush head, hard & soft rollers, crevice tool, 2-in-1 dusting tool, and a wall-mounted dock
Can it make margaritas: No, why would you ask that? Wait, you didn't? We did?! WHA???
see more product specs
Dog Owner Approved
Sometimes you stumble across the perfect Amazon review, the one that tells you everything you need to know and exactly what you want to hear. Such is the case with this one I found while researching the Jashen stick vacuum we're selling today.
Submitted by user Tracey Bernier, it starts off with a great title:
Husky house approved! Want a second already!
Talk about attention-grabbing, right? Boom! It's all right there: approval from someone presiding over a house with a big fluffy dog in it. Tracey could really teach some marketers a thing or two. The only problem? It turns out to be a bit of an understatement. Here's from Tracey's review:
I have a 2 kids who I homeschool, a husky, two cats one with a double coat, a filthy little hamster, and a cockatiel ( if you didn't know they're notorious for dandruff) who all make my house an allergy nightmare.
In other words, were reality to tear, merging our world with the Dust & Dander Dimension, Tracey wouldn't notice. But what Tracey did notice was how good her new Jashen vacuum worked:
This vacuum met all my needs. The battery life was the only thing I was worried about. To be honest it's not that bad! The vacuum sucks so well that I never realized how bad my old vacuum was.
This last bit is something I've experienced. When an appliance/product doesn't work at all, you know the appliance/product is the problem. But when an appliance/product doesn't work well, you assume the fault lies in the task at hand. You think vacuuming is just inherently frustrating, when, in fact, you just have shitty vacuum! Which is all to say: you might need this thing even if you already have something that "works."
Tracey, copywriting savant, goes on to highlight specific features and give concrete examples:
It works better than my shark ever did, my house feels much cleaner now especially with the HEPA filter. And the attachments make it easy to clean my couch from the hair too. It's also super easy to clean the dust tank, it's just great all around. No more tumbleweeds of dog hair hidden on my stairs and corners of the house.
Amazing salesmanship on display here. But the cherry on top? Tracey comes back a year later to give this update:
Still love this vacuum! I've had it for over a year now and it's still working great. I have loved the ease of switching over the hardwood floor/ rug attachment the most after that the quietness, it's so much quieter than other vacuums.
Because, seriously, isn't it the worst when you want something that lasts and all the 5-star reviews on Amazon are like, "I've owned this for 5 minutes and I like it!"
In conclusion: thank you Tracey for helping us sell this vacuum. And if you're still in the market for a second one, we're selling it for a lot cheaper than on Amazon.