TALES OF THE DARK GOAT O' PENN'S WOODS, NIGHT THIRTEEN
7
MIDNIGHT!
(Eventually. Sorry. I gotta get some sleep!)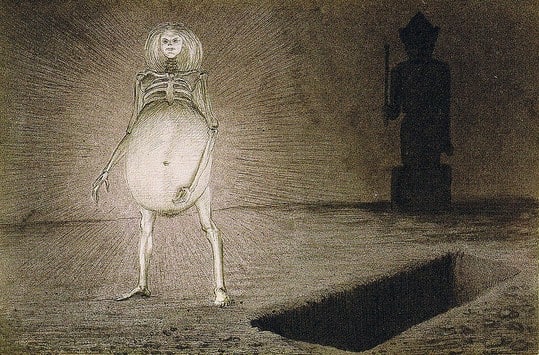 Heh, well here it is the 13th, and I should've had something prepared… We'll go with a Machen, though I'm not really a big fan. The mystic Arthur Llewellyn Jones, aka Arthur Machen, is most famous for his weird novel The Great God Pan, which Stephen King has declared the best horror story in the English language. I wouldn't go that far, but here's a creepy little number, courtesy once again of Project Gutenberg Australia:
Arthur Machen
The Shining Pyramid
http://gutenberg.net.au/ebooks06/0606971.txt
---
Alfred Leopold Isidor Kubin
…another Symbolist, is our guest ghost artist tonight. Kubin, who was influenced by last night's artist, was also an author of weird fiction; Die andere Seite (The Other Side) was written in 1909, I must look it up, it's been compared to Kafka. An Austrian, he was also an early Expressionist and his work was declared "degenerate art" by the Nazis, but he continued to work until his death in 1959.
I mean, I love Arthur Machen, so my first thought was SACRILEGE! [As was my second.] But we're all different people, with different tastes, and everything's fine. EVERYTHING'S FINE.

Still: consider reading The Three Impostors if you haven't given it a try. It has a couple of his most famous stories, and they do read somewhat differently as part of an ongoing narrative (which is kind of is–wikipedia describes it as "an episodic horror novel").

3

@mossygreen - I actually LOVE The Three Imposters, which while not exactly horror is a terrific… mystic conspiracy thriller? But The Great God Pan just takes a little too long to get to the POINT for me (or, maybe, gets to the point, then wanders). Maybe I'm just getting old and impatient! Sigh.

@aetris I really wish someone would do an anthology series of The Three Impostors, preferably someone British, probably the guys from The League of Gentlemen. In the right hands it would be astounding.

I totally get your problem with The Great God Pan, most of Blackwood has the same when are they gonna get to the fireworks factory quality. It really makes you appreciate M.R. James' elegant simplicity: a Cambridge don goes on a walking tour of Cornwall and something terrible happens.