TALES OF THE DARK GOAT O' PENN'S WOODS, NIGHT TEN
7
MIDNIGHT!
(Well, it's NEARLY midnight. It's been a weird day. Owing to an HR error, my work account was terminated while I was on vacation. I still exist though! Ha!!!)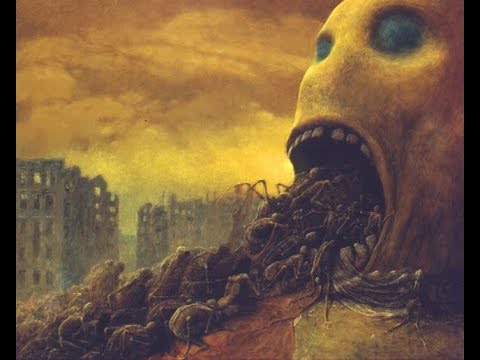 Ehhh… I got back to work from a week of vacay to discover that HR had purged some old records, and because I transferred to my current position from a different department, my account access was purged! Technology, I swear. Just wait 'til we're all wandering around with Alexa-connected pacemakers or something. Well, who could be more appropriate to such a situation than Kafka? That was a rhetorical question. Horror? Maybe. Life? Don't talk to ME about LIFE.
Franz Kafka
The Metamorphosis
http://www.kafka.org/index.php?aid=164
Zdzisław Beksiński
Is our guest ghost artist tonight. Neat stuff, eh? A Polish dystopian surrealist! Sleep well.
Hey - at least you didn't come home to a letter of condolences on your death. Still fixing that one…

5

I went on vacation once and was fired…er…let go when I came back. My former boss told me he didn't want to ruin my vacation that way. Shit, thanks boss…thanks…I wouldn't have spent so much money going away on vaycay if I knew I was going to be laid off. Oh well. I lived to fight another day.

4