Project Precipice Week 3: strategery and defiance
23
week 1 how's it going
week 2 say hello to inlo
week 3 strategery and defiance
week 4 a breakfast octopus prequel
week 5 brainstorming with bezos
---
Wut? Another week? Somehow updating on Wednesdays makes a week feel like a vaporous construct.
In previous episodes…

In my post 2 weeks ago, I dropped in to say hello after a few year absence. This project took shape (and name), vague ideas were expressed and challenges acknowledged.

Last week, initial moves were laid out. A separate org was created. Y'all said hello to our small team.
As you see, the initial challenge of this project was to create some separation for Meh from our other Mercatalyst pursuits. Rather than full isolation, we proposed and agreed on some shared resources. Kind of like roommates. We label our snacks in the refrigerator but sometimes share a meal together. We each have jobs and friends but we still hang out at home. The air conditioner setting is up for debate. Sure we'll pay our share of the rent. Separate but symbiotic.
Soon to be gone are the days where Morningsave or even brick and mortar pursuits are scapegoats for our lack of exciting events. We at inlo are responsible for the events on Meh whether we serve up deals from the greater buyer team or source our own. We have our own resources to direct.
So where are we in terms of strategy? I think we're in many ways nearing this Internet Archive screen grab from 15 years ago this month. At least the business model is.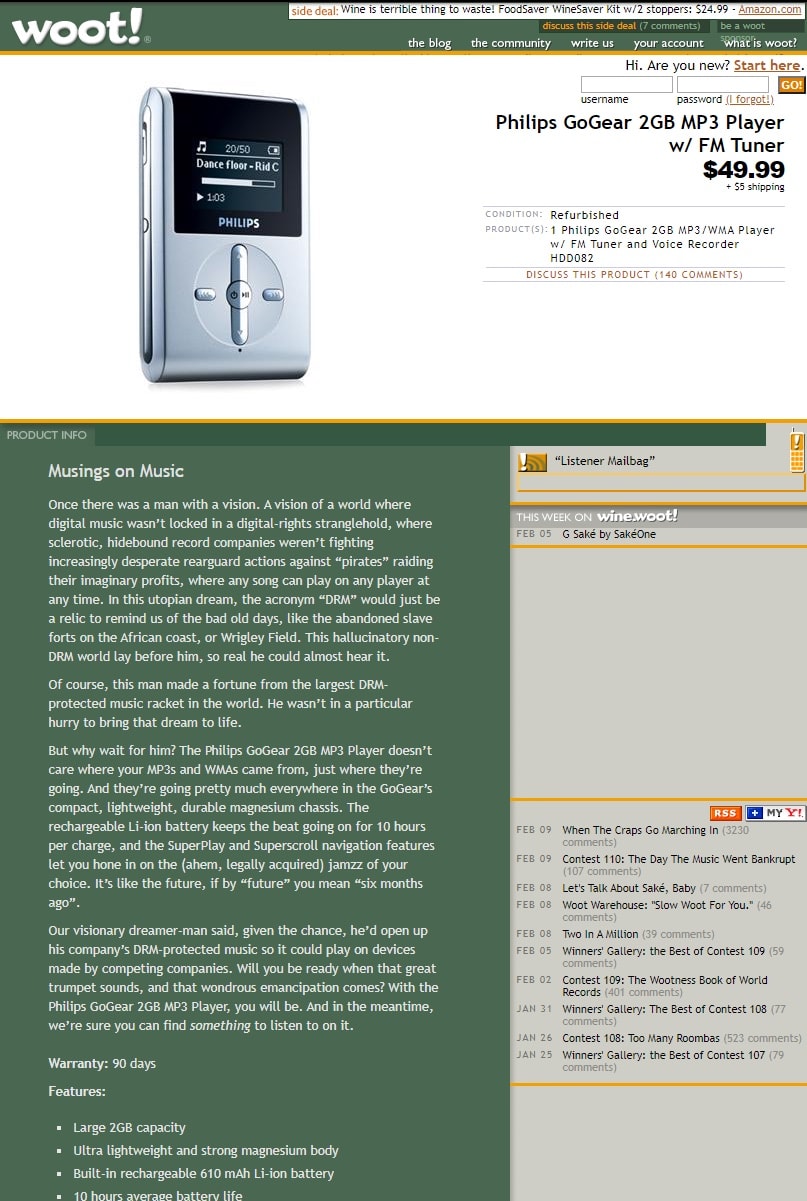 Notice anything interesting about this page? It's certainly nostalgic for our co-founder team and anyone who followed Woot way back then. It's prior to shirt.woot (launched July of that year) but after wine.woot (which became our partner site casemates). I think I still have some of that Saké actually. Hey there's a 3200 comment Crap thread! An apology for the warehouse being slow to ship. Photoshop contests with Roombas! And the OG audio version of daily song/content from Matthew. What else?


How about that ugly text ad-slice way up top? The side deal affiliate link. Remember that? It was a first approach to sneak up on the always clever "just sell 2 things a day" suggestions we still get without being ruinous to the primary daily deal concept. It was later jettisoned in favor of the now closed deals.woot platform with sponsored partner ads. (and of course we later found that once you hack at it enough… ahem-wootplus-ahem you eventually do ruin the fun of the original model).
These days you know that ad-slice description as an actual store we run. But it's a store that has been in-waiting for a greater purpose. What if we have a purpose now… with inlo splitting off with Meh can we put SideDeal to better use?
Now I know this weeks text is too long already but I want to get one more bit of strategy set and it relates back to the title of this post. Rebellion. Defiance. Insubordination. Whatever you like to call it, I mean the youthful energy of going against the authority. In our case, the authority of the retail industry complex. This link goes back a few months prior to that above snapshot to an Engadget story from December 2006. Fun times (nice that they posted the full writeup).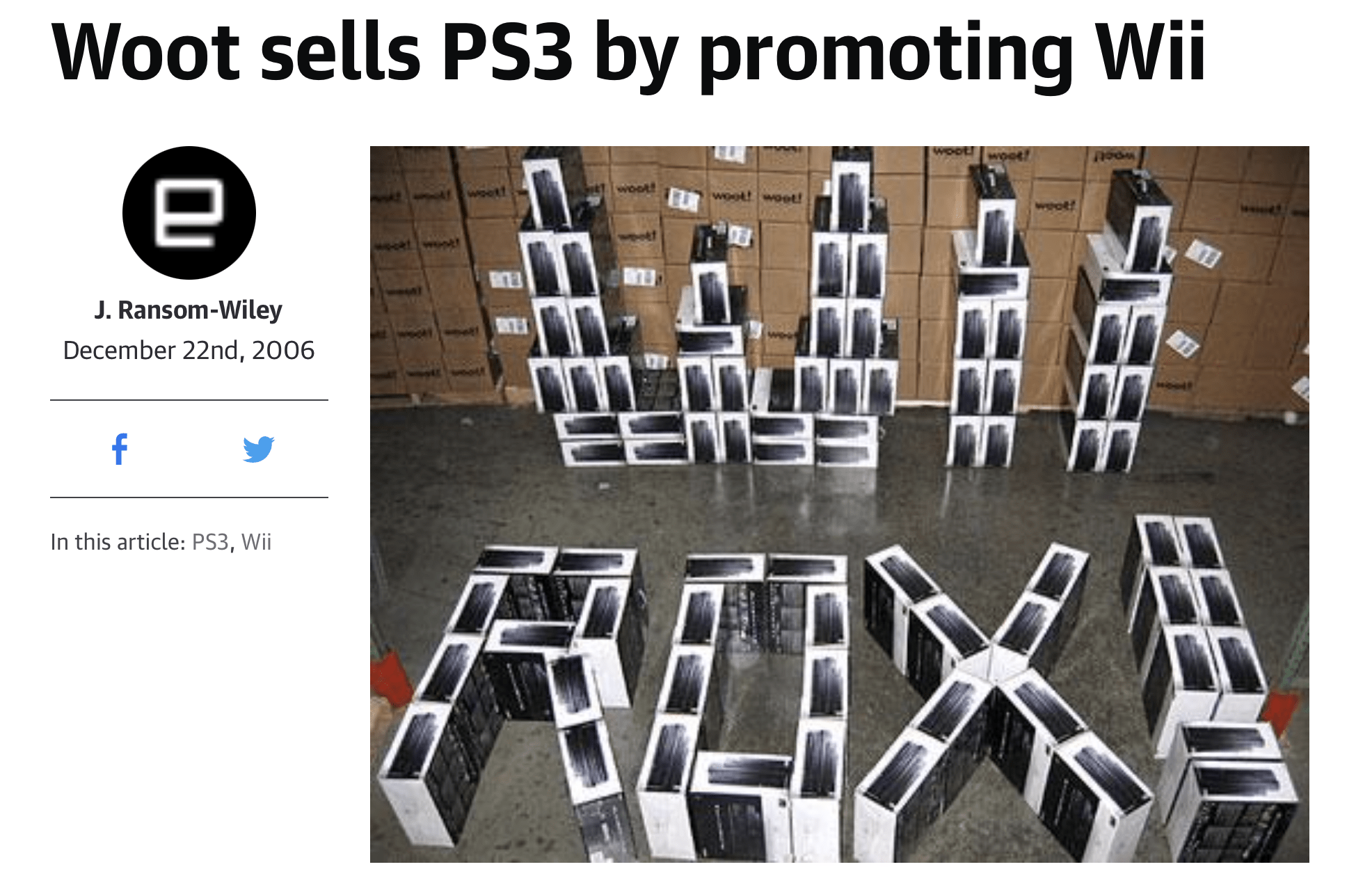 Sure, the internet has changed – the web is not as open or popular as it used to be. But what if it isn't entirely broken but simply lacks a little youthful rebellion? Some rule breaking or at least bending in the face of corporate capitalism. What can we do with Meh and also now with SideDeal that gets us back to that?
Thanks for following along - back again next week!