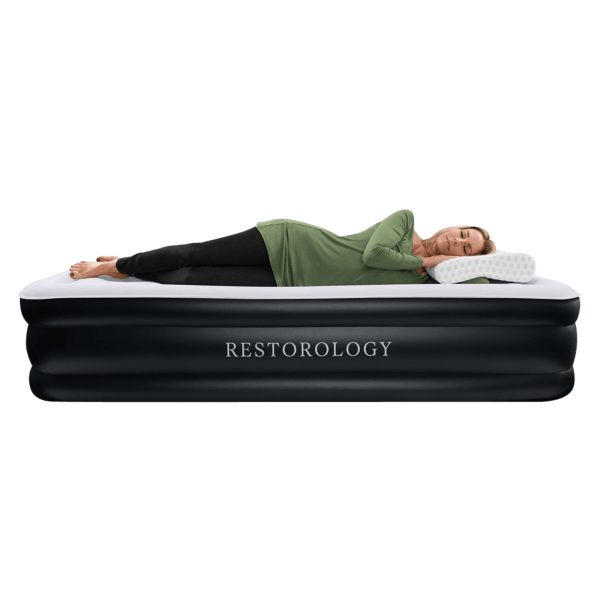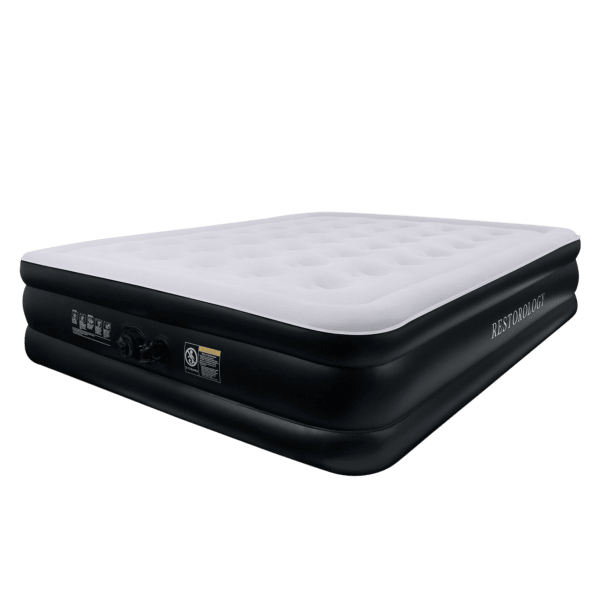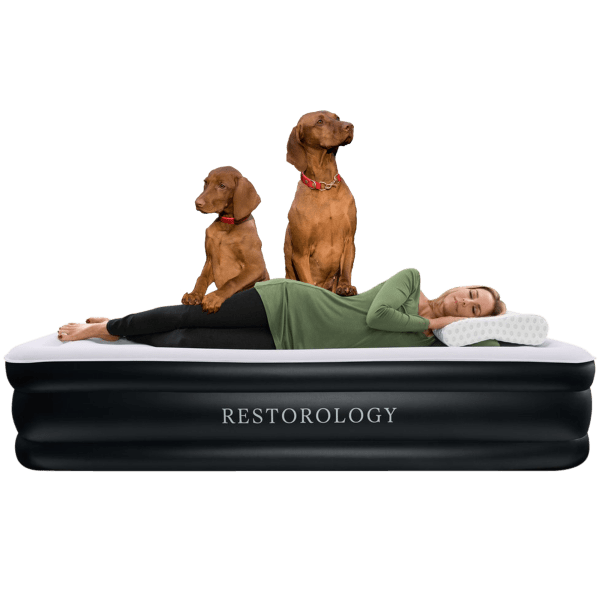 Restorology Queen Size Air Mattress with Air Coil Technology & Built-in Pump
She's a killer… queeeeennnnn(-sized air mattress)
A built-in pump is one of those things that sounds like not a big deal but makes everything sooooo much easier
Flocked top coil system distributes weight evenly
Model: ZSR-AIRM-Q, which is honestly just a pretty badass looking model number, right?!
see more product specs
Any Room Can Be A Guest Bedroom
I remember my first apartment after college. I moved to Chicago and lived in a studio. One of the only pieces of furniture I had was a futon-couch… only it wasn't, like, an actually well-constructed futon. It was one of the super cheap awkward-to-sit-on one-piece models you see at big box stores where you can make the back click down so that it lays semi-flat.
This wasn't for me to sleep on, thankfully. It was for buddies who might be in town. One of my friends who visited commented: "I really like the middle; there's this enormous crevice that cradles my spine just right."
The point is: it was the worst of both worlds. The futon was not a great bed, nor was it a great couch. Now things are different. My wife and I live in a house and we have a guest bedroom.
Jk, jk.
C'mon! A guest bedroom? As in, a room we don't use? With a whole extra bed? That we don't sleep in? Uh, seriously? We're not billionaires here. We might have extra space, but, there are maybe two things we own that cost more than our bed and they are a) the literal house, and b) the car.
We're not going to have a whole other bed! That's crazy!
Which brings us to the pitch for today's product: a good queen-sized air mattress to put in your home office/craft room/corner of your living room is the perfect compromise between having a whole ass extra bedroom and offering your friends your busted couch-thing to sleep on. But I should add, this Restorology queen air mattress is not some totally basic model. It's got a built-in pump (so you can get it as firm as you want) and its flocked top coil system means it'll distribute weight evenly.
But, really, this is for another time, a time when you welcome guests into your house without concern. In the meantime, if you want to connect to your friends from afar, you might consider checking out our newest site, PastaDrop. Instead of giving them a soft bed to sleep on, you could give them a soft bed of pasta to… eat… on? Okay, that doesn't really work. But still, the site's pretty rad. Our second drop happens today (Monday, the 18th) at 11am eastern!
So buy an air mattress for eventual guests and buy some pasta for your friends!