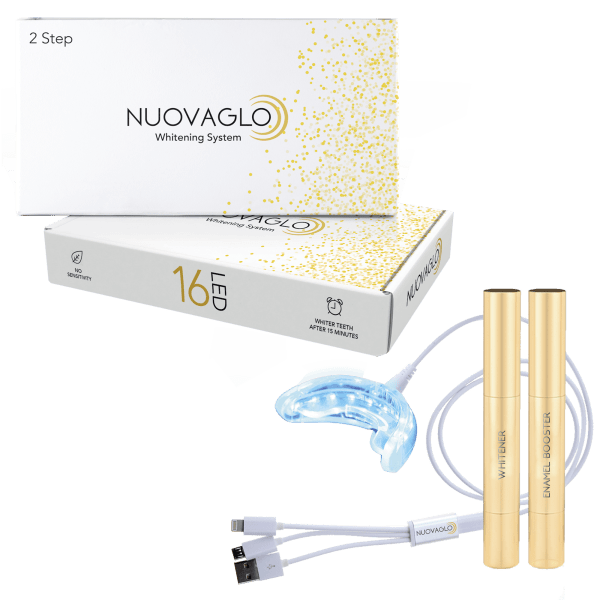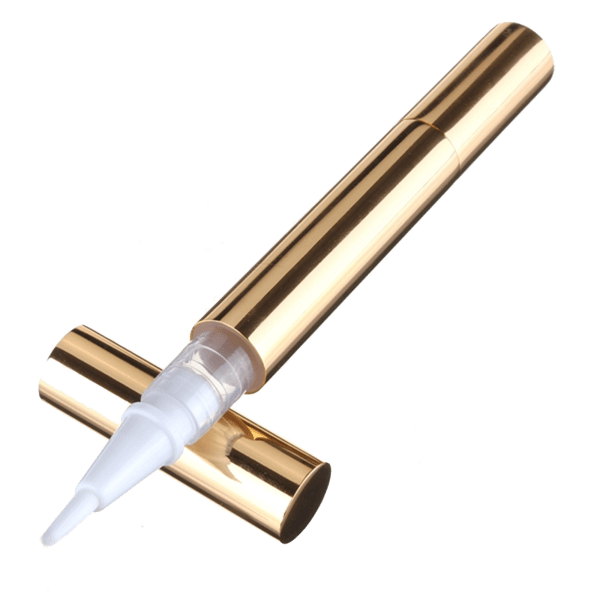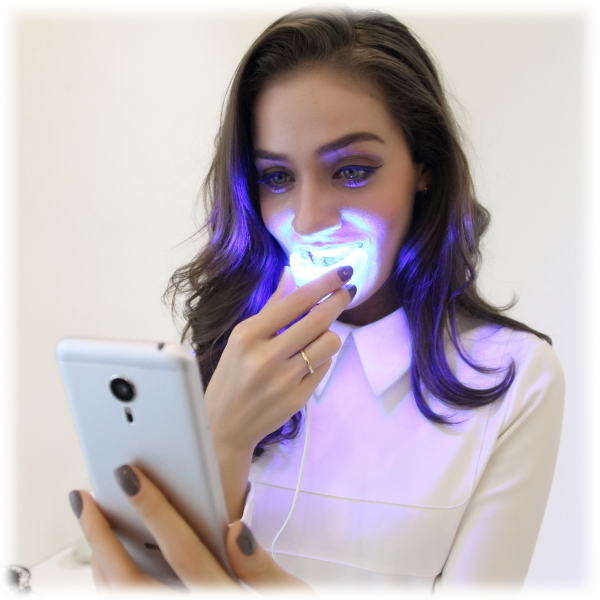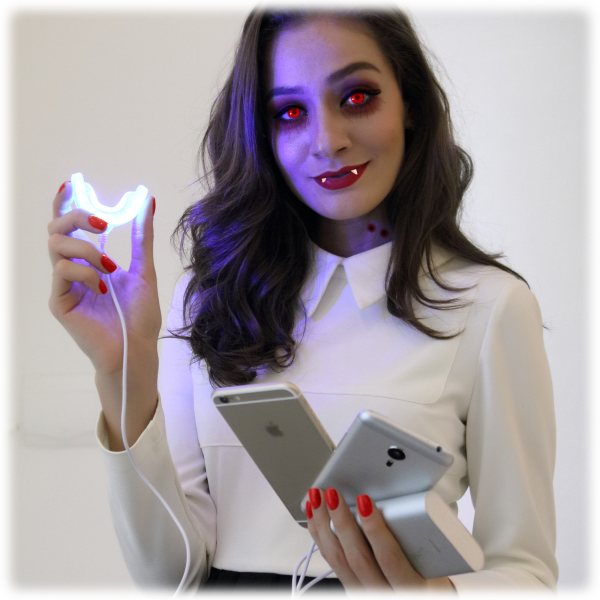 Nuovaglo 16 LED Teeth Whitening System
You get a mouthpiece with 16 LEDs and a hydrogen peroxide whitening gel
Use them together for 24 minutes a day for 5-7 days and your teeth will apparently look whiter
Just turn on some Schitt's Creek or something while you're doing it
The power cable is "smartphone compatible" or can plug into a USB outlet
Model: ng_16LED; now the ng might stand for 'noxiously great' or it might stand for 'nice & glorious' or perhaps 'nocturnal glow' or 'niftiness galore' or… oh, wait, sorry: it stands for Nuovaglo
see more product specs
Teeth Stains, Glow Away
It's bluetooth!
Get it? Because it uses a blue mouthpiece with LED lights to whiten your teeth!
Okay, we probably should specify that this is a joke. There is nothing bluetooth-compatible with this thing. Nor should there be. If anyone tries to sell you a tooth whitening device with bluetooth functionality, don't get it. Unless, of course, it's years and years in the future and everyone has smart teeth that can rearrange themselves and adjust their sharpness based on what you're trying to chew and also play podcasts that you can taste. And maybe don't buy a bluetooth compatible tooth whitening device then either, because good smart teeth will probably have auto-polish.
Sorry, got a little off topic.
Here's what we've got here: a mouthpiece packed with 16 LEDs and a gel that, when used for 24 minutes a day, will whiten your teeth, revitalize enamel, and basically improve the overall health of your gums.
How effective is it? If you're to believe the product copy, it's the most effective whitening device that's ever been created. But, as you might've noticed over the years, we don't always buy into the claims made by a product's marketing team. So here's how we'd pitch it:
There are at least 24 minutes of every day that you spend staring at your phone, or playing Fire Emblem, or watching Netflix, or doing something that requires you just sit there and maybe push some buttons. So, you might as well put something in your mouth that could make your teeth look prettier while you're doing it.
And at $20 they're certainly a lot cheaper than smart teeth.
Which, to clarify, definitely do not exist… YET!