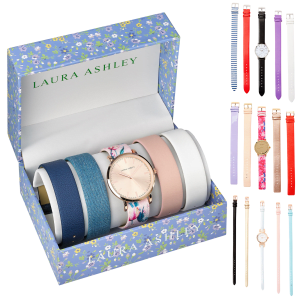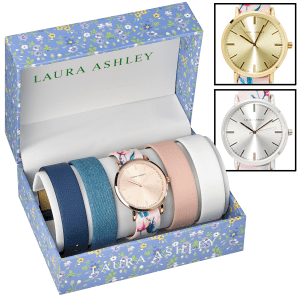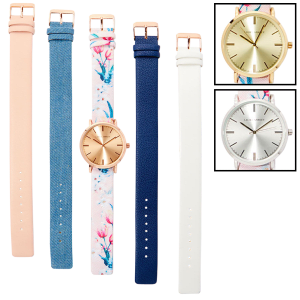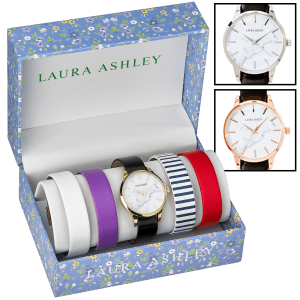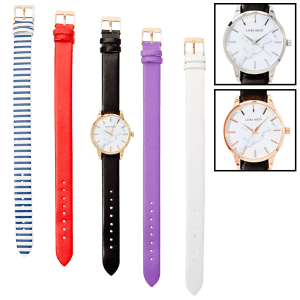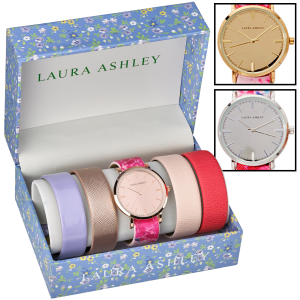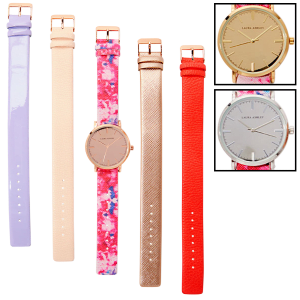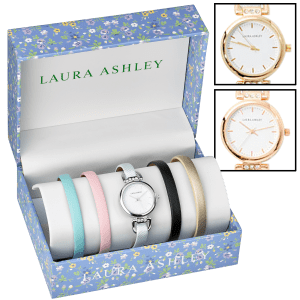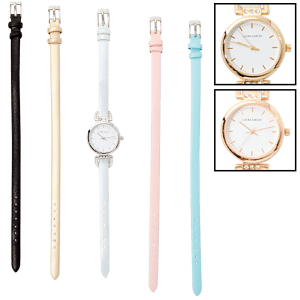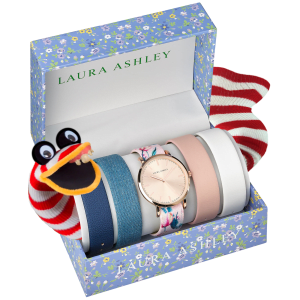 Laura Ashley Watches with Interchangeable Bands
You can choose one of 3 watch faces (Rose Gold, Yellow Gold, or Silver).
And one of 4 style sets.
Each of which include 5 straps.
Which you can wear when you visit Toronto, known colloquially as "The 6."
At 7 o'clock.
Models: LASS1101, LASS1102, LASS1104, LASS1105. If you cut the '11' in each one, you get LASS0, because these watches are a catch!
see more product specs
Wardrobes of the Future
According to the official product copy of these Laura Ashley watches, they'll "match every outfit in your wardrobe!" We won't argue with this. In fact, we'll do the opposite of argue with this. Which is to say, we'll agree with this. Because really, how could they not match any outfit, when there are 3 watch case colors and 4 style sets–each with 5 straps that range from simple to playful–to choose from?
What we want to know is: do these match with the outfits that are not yet in your wardrobe? Specifically, we want to know if these Laura Ashley will work with the shirts we're selling right now on Mediocritee?
(We're all familiar with Mediocritee, right? Every Monday at 11am eastern there's a new sale featuring 2 variations on a fun, quirky shirt design? And you can buy one or both? Good! Just needed to make sure that everyone was up to speed, re: Mediocritee.)
Because if they only pair with outfits currently in your wardrobe, and not those that are not yet in your wardrobe, then we recommend doing the following:
Open another tab;
Head over to Mediocritee;
Admire this week's designs (which, to reiterate, are only available until tomorrow at 11am eastern, and which are created by @Matthew, who has produced such famed Meh videos as That One Great Meh Video and That Other Great Meh Video and Literally All Of The Great Meh Videos);
Buy a shirt (or two);
Return to the Meh tab (this one);
Order some watches.
Okay, fine: placing one order minutes before another is not going to guarantee some order of delivery. So, in the event that the watches arrive first, please leave them in the package until you can incorporate the tees into your wardrobe.
And, btw, by no means was this write-up just an elaborate way to promote Mediocritee!
To even suggest such a thing is more ridiculous than the many laugh-out-loud designs offered every week at Mediocritee!