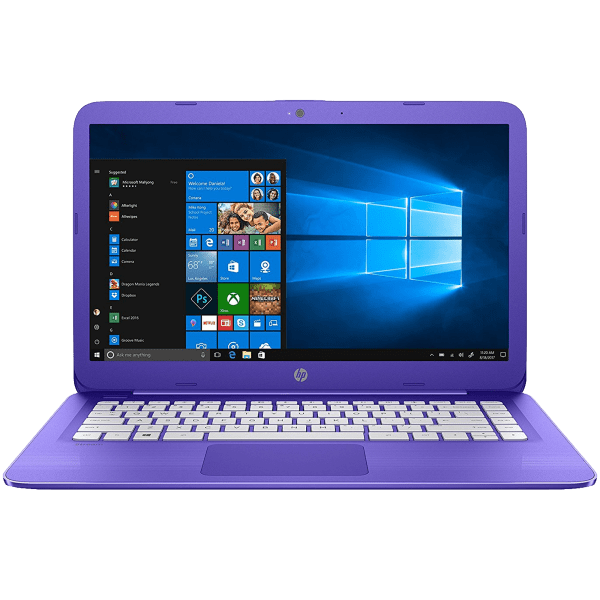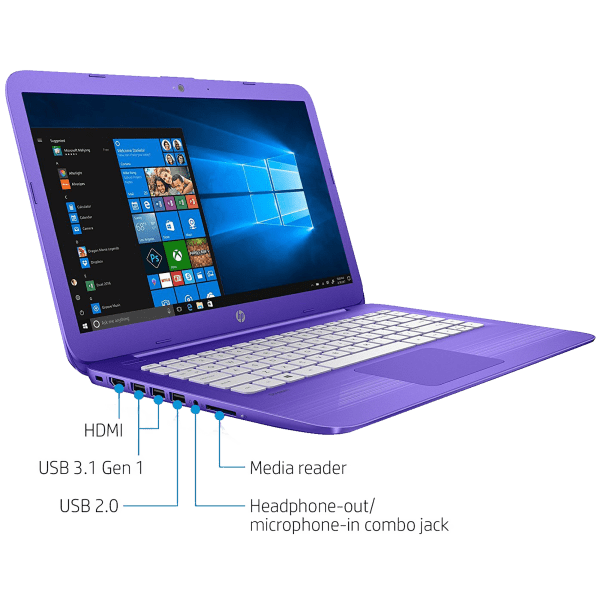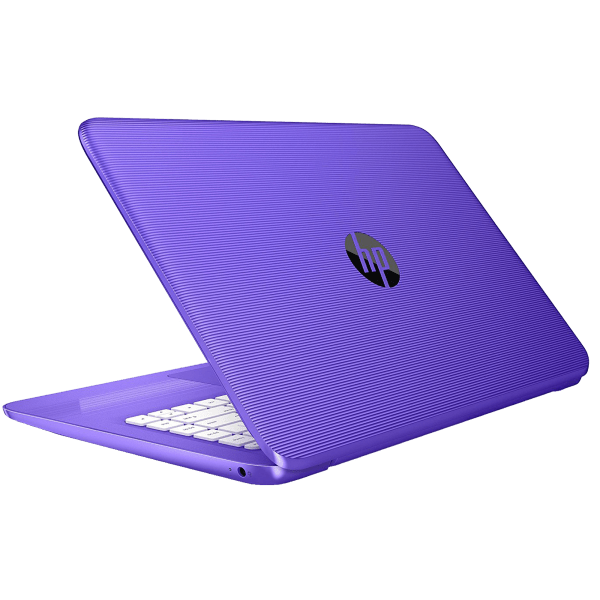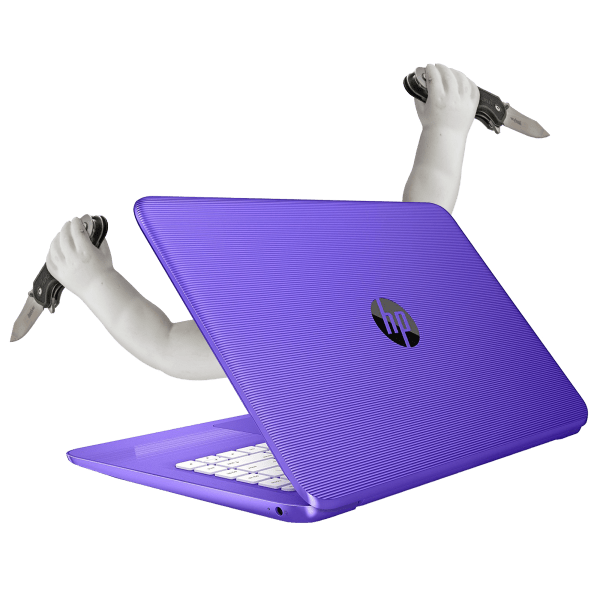 HP 14" Stream Laptop PC (Refurbished)
The basics: Intel Celeron N3060, 1.6GHz, dual-core Processor; 4 GB DDR3L SDRAM Memory; 14" screen; 4 GB DDR3 SDRAM; 32 GB Hard drive.
Purple AF.
This does not have an optical drive, which makes it smaller and lighter, it seems, but perhaps has some drawbacks too? IDK.
Has Windows 10, which is the one with the squares (so if you have a Mac and buy this for your parents, know that you will be useless in the tech support department; you cannot call upon your Windows XP knowledge from 10 years ago).
Model: 14-AX020NR
see more product specs
Perks of being Purple
Purple is an interesting color. There are so many different varieties. For example, there's the dark and brooding aubergine. Or there's the tasteful muted violet that might remind one of driving past lavender farms on a weekend trip up the Olympic Peninsula.
Then there's the purple of this HP Laptop. Categorized by Pantone as "Some Straight Up Barney-Ass Bullshit," it certainly catches the eye.
And oh, by the way: it's a laptop for $139. So, if you love this shade of purple, awesome! Because, at this price point, you finally have an excuse to buy a computer based purely on personal aesthetics rather than functionality.
And if you're in the market for a cheap computer and you're not sure if you want something so loud, consider the following benefits:
Nobody will ever notice how dirty your screen is. In fact, nobody will ever notice your screen at all. The blinding purple is essentially an analog incognito window.

Like a good concealer, a purple laptop will make you look between 3 years and 2 decades younger.

You don't have wear clothes that are color-coordinated with your laptop, but with this one you can if you want to, an option not really available with your snooty silver MacBook Pros.

Conversely, if you dress all in black and take your laptop to your favorite gray industrial-space-turned-coffee-shop, you can act out an irl spot color photograph.
Those are just a few perks we came up with. Please, feel free to espouse any we missed in the comments.