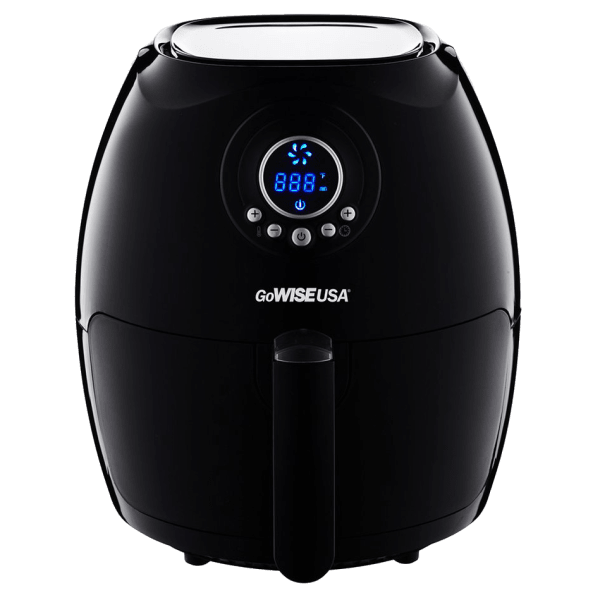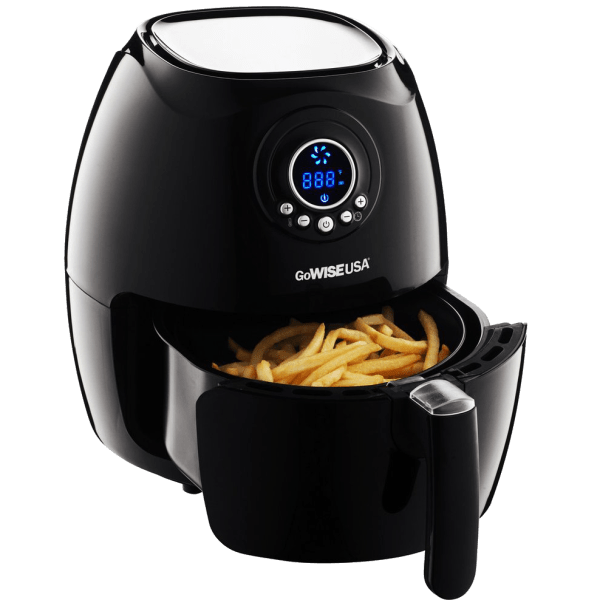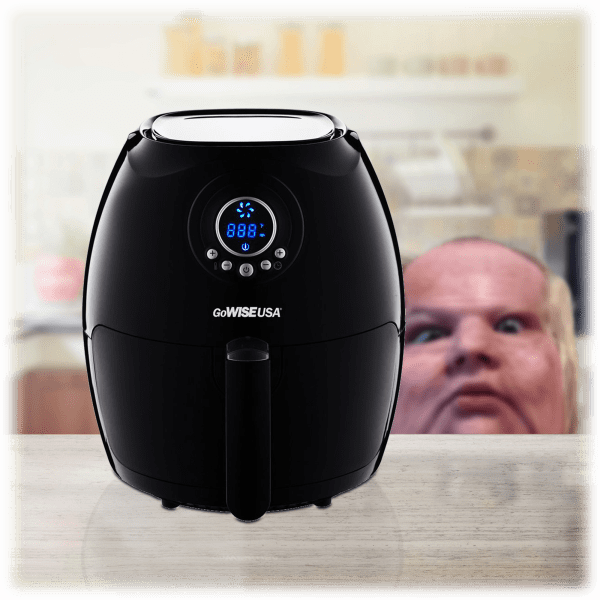 GoWise 2.75 Quart Programmable Air Fryer
You know how fried stuff is good because it's crispy? This can do that
You know how fried stuff is unhealthy because of the oil? This doesn't really need that
It can also bake, grill, and roast
A little smaller than other ones we've sold, so you can save valuable counter space (for other goofy gadgets we sell)
Temperature range of 175F-400F and time range of 1-30 minutes
Model: GW22632, where the GW obviously stands for George Washington, because like the $1 bill, this thing has value (trust us, it makes sense)
see more product specs
An Oil Baron's Lament
My name? Elten Harkenstin III. My occupation? I am an oil baron. Though let me clarify: I deal not in petroleum or any such nastiness as that. No sir, I am a baron of cooking oils.
I made my way up from nothing. As a boy I roamed the great vegetable fields, looking for the best yield. No one believed in me then. They said, "You'll never make it, boy!" They said, "Elten, you cannot simply pick vegetables if you don't own the garden." They said, "Why are you putting all those bell peppers into a blender? That's not how vegetable oil is made, you fool! That's just a smoothie, and a poor one at that!"
But did I listen? No. Well, not to those who said the first thing. Nor to many who said the second. The ones who raised the third concern? They might've had a point.
What I'm getting at is that I faced much adversity and still managed to build an empire, because I do not fear being ruthless, nor do I feel any shame for acting in my own self interest. I have obtained peanut farms through loopholes in property law, and then paid literal peanuts for a canola processing operation whose failure to meet its production goals was ensured by the meddling of yours truly (in a fake mustache and a hat that read "canola inspector").
And, by the way, when I say "literal peanuts," I actually mean, small smooth stones painted to look like peanuts. For I would never give up such a valuable oil-producing crop!
All of this is to say: if you think for a second that by purchasing a GoWise 2.75 Quart Programmable Air Fryer you can do anything to cut into my bottom line by shirking the many delicious cooking lubricants that I have stored in tanks buried throughout the American Southwest–well, then you have another thing coming for you! Because I care not about its ability to fry, bake, grill, and roast with little to no oil or butter. I will lure you back to the slickness! You can be sure of that!
In the meantime, I might buy one for myself. One problem with being a cooking oil baron? Everything I eat is so GREASY!