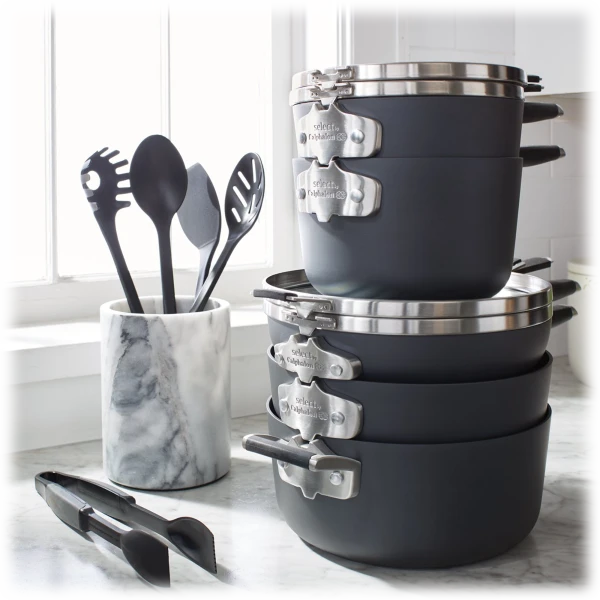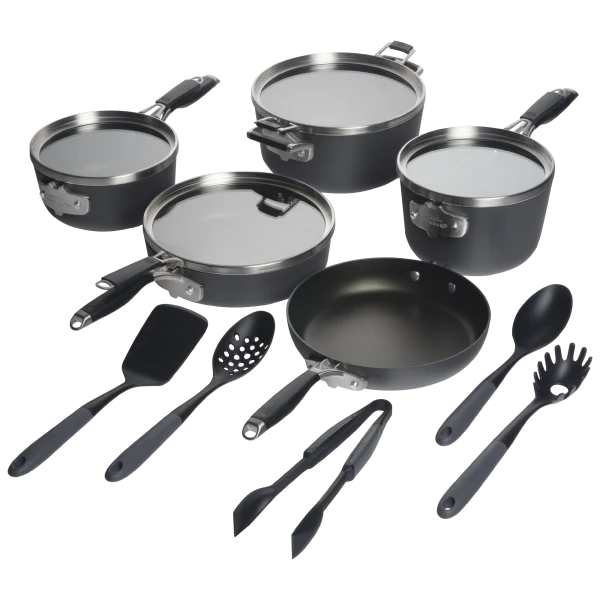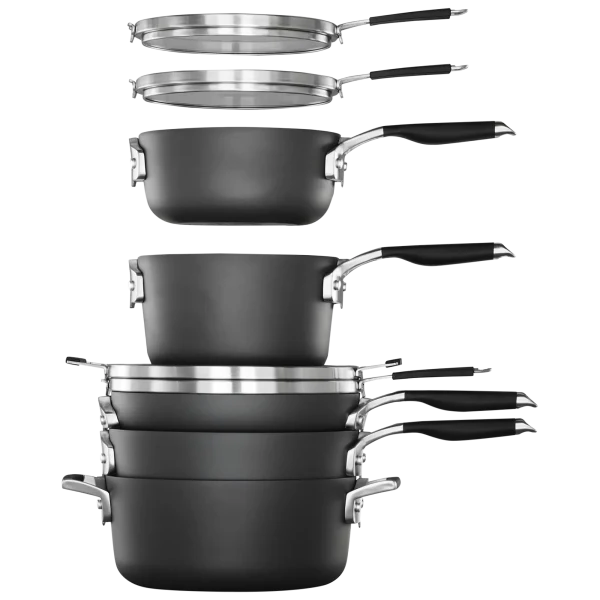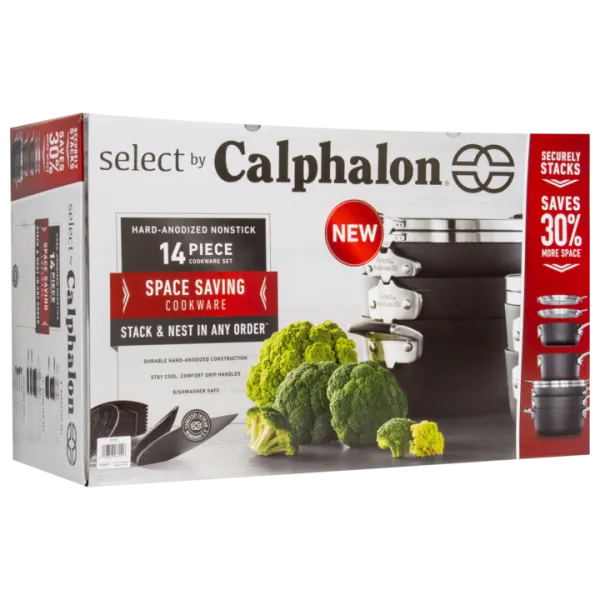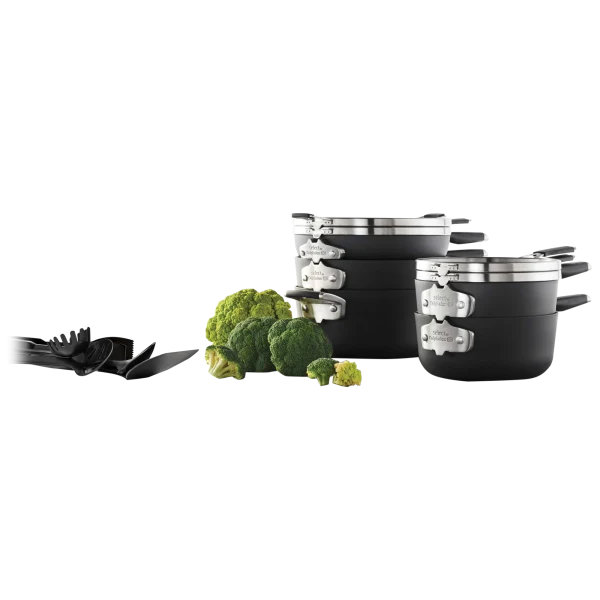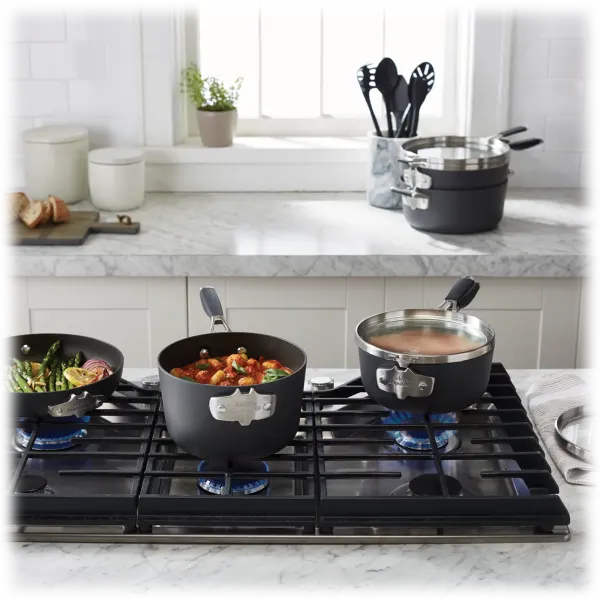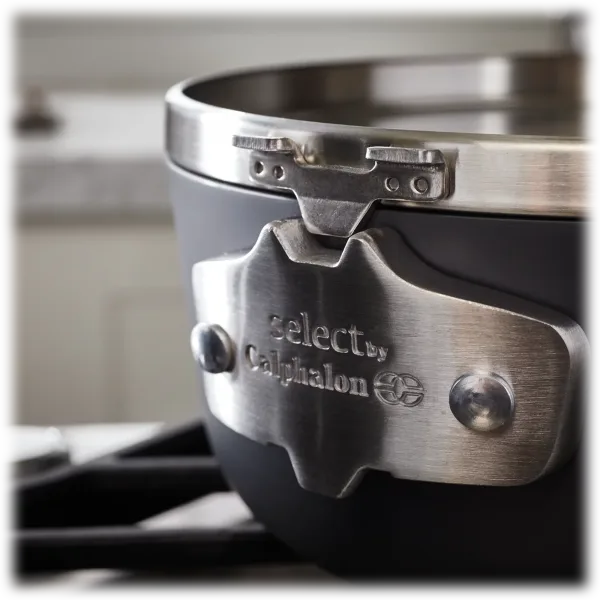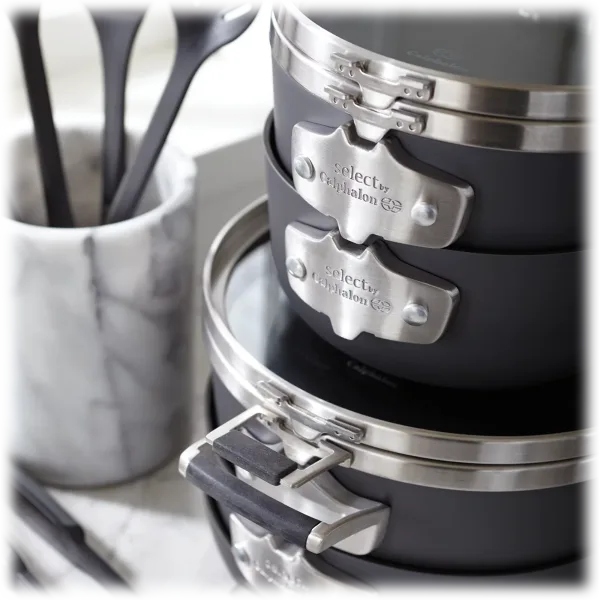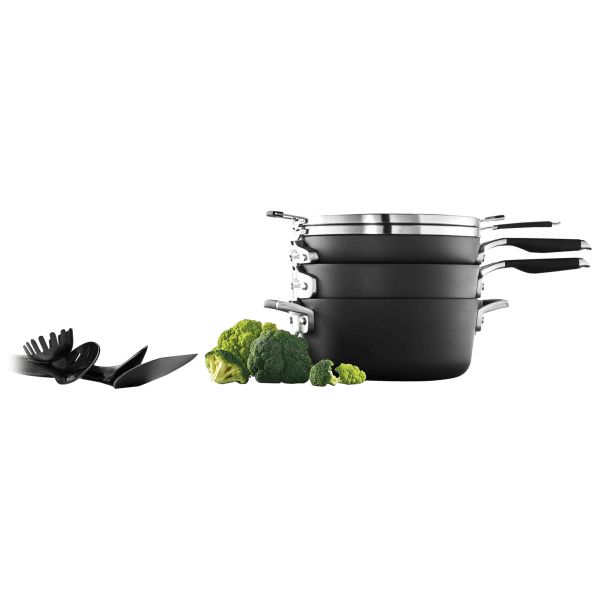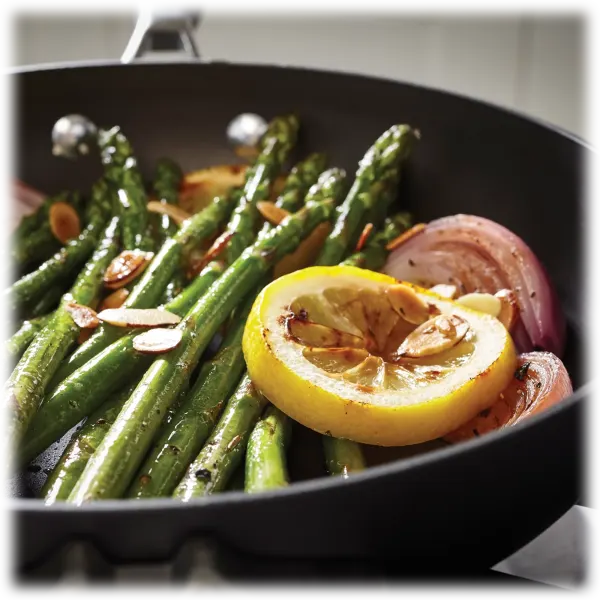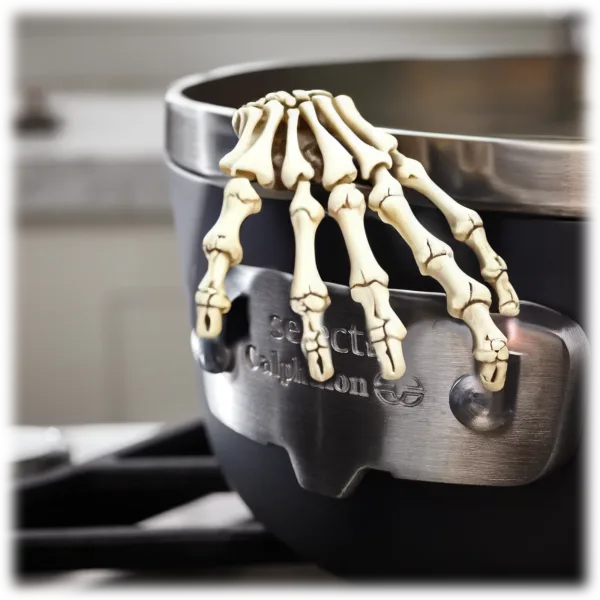 Calphalon Select Space-Saving Hard-Anodized Nonstick 14-Piece Cookware Set
A 10" frying pan, 2.5QT and 3.5QT saucepans with covers, 3QT sauté pan with cover, and a 5QT dutch oven with cover
Also some nice accessories: solid spoon, slotted spoon, solid turner, pasta fork, and tongs
They stack for easy storage
Can they make a margarita: no, but you can use one of the saucepans to make your margarita mix
see more product specs
Stacks Up Nicely
Right now, you very likely have one of two problems.
PROBLEM 1: Your cookware sucks. Like, you had a nice pan but its nonstick coating went on the fritz, and you also had a solid stockpot but it fell off the counter and got a big dent in, which is not only ugly, but also means the lid doesn't fit anymore. So you're frying eggs in a small saucepan, and making soups in batches in a smaller pot and then combining them all in a big mixing bowl.
PROBLEM 2: Every time you try to cook anything, you risk setting off an avalanche. It's your pots and pans; they're a bunch of mismatched shapes and sizes. That means, taking them out is basically Jenga, and putting them back in is Tetris with no line-pieces in sight.
But don't worry! We have solutions for both of these problems!
SOLUTION FOR PROBLEM 1: Buy this 14-piece cookware set.
SOLUTION FOR PROBLEM 2: Buy this 14-piece cookware set.
You get a frying pan, 3 different-sized saucepans, and a Dutch oven, plus covers for all of them as well as some other helpful accessories (solid spoon, slotted spoon, solid turner, pasta fork, and tongs).
Each of the pots and pans features a hard-anodized exterior and a nonstick interior so stuff won't stick. Which makes it easy when you're cooking.
Also: they stack. Which makes it easy when you're not cooking.
In fact, according to the product copy from Calphalon, these "save 30% more space." More space than what, you ask? We don't know! (Honestly, it sort of makes you wonder why they didn't go bigger, right? Like, certainly, they could've found some novelty-sized set of witch's cauldrons or something to justify saying "saves up to 900% more space!")
Anyway, buy some pots and pans. They're just as easy to cook with as they are to put away afterward.