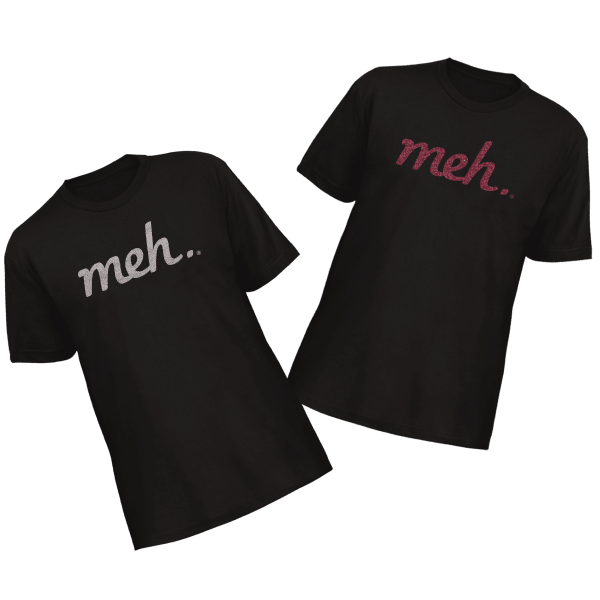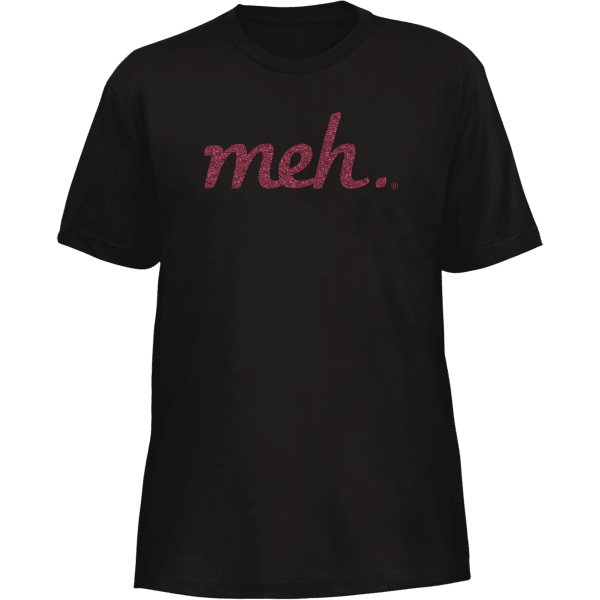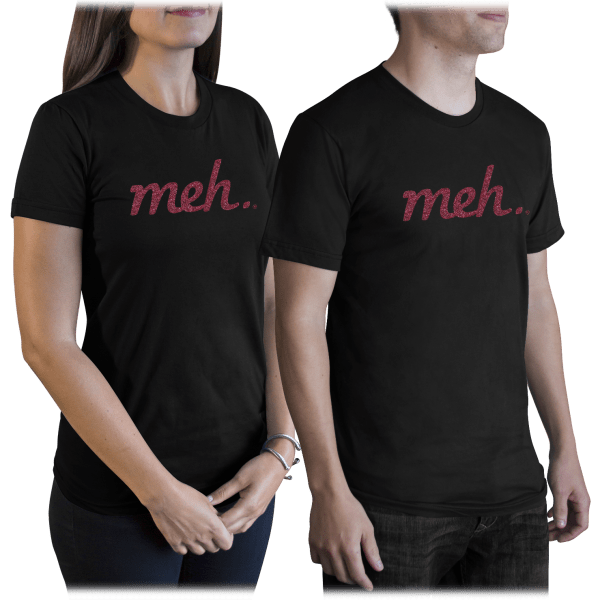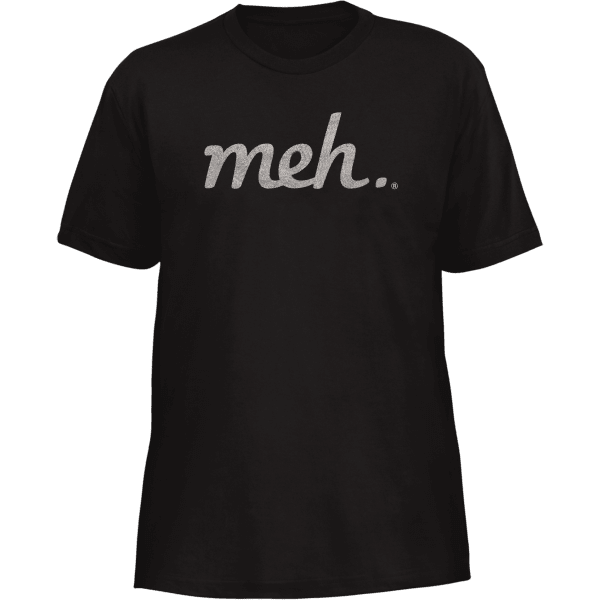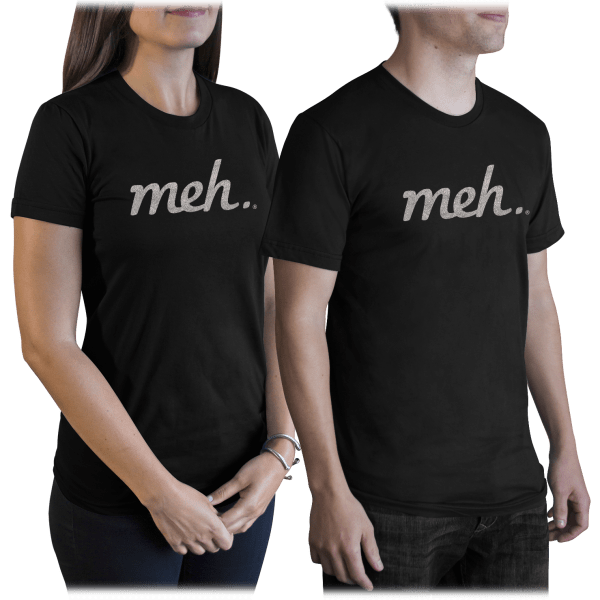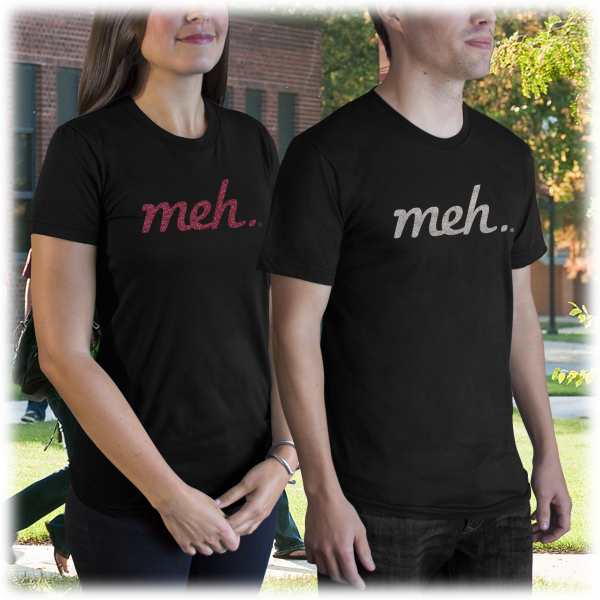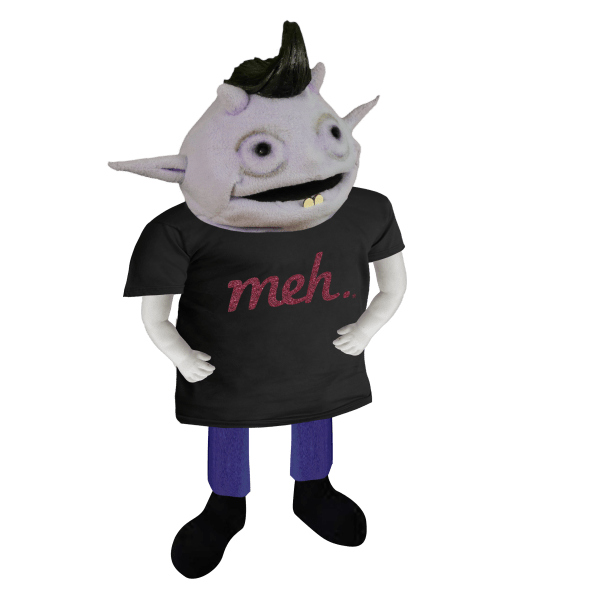 2-For-Tuesday: Metallic Meh Shirts
Finally, a chance to sell some Meh-themed stuff!
Get 2 metallic Meh shirts for the price of 2 metallic Meh shirts!
Then head to Mediocritee and buy those Meh shirts too!
IN OTHER WORDS, PAY US TO ADVERTISE FOR US, MUHAHAHAHAHHA!
Wait, we weren't supposed to say that last part, were we?
Model: M3HT4L1C.
see more product specs
Mehbe We Have 2 Birthdays
You get up on the day after your birthday and you're a bit tired, a bit wiped out, maybe a bit hungover. You don't really want to make breakfast at home–too much effort–so you decide to treat yourself to a pastry and an iced americano at the coffee shop on your way into work. Oh, and also you got up too late to pack a sandwich, so you'll have to go out to lunch when the noon hour rolls around.
At night, you find you can't read or cook or do any chores. You're still just too wiped. But you can't go to sleep. No way. You don't want to throw off your sleep rhythms by going to bed early! That's CRAZY! So you order in and have a beer and watch a movie or binge a show until finally it's an acceptable hour to hit the hay.
In this way, your birthday celebration extends lazily into another day.
That's what we're doing here. We're letting yesterday's big birthday blowout taper off into something a bit more mellow yet still celebratory. (Although, some purist old-heads might argue that today is our actual birthday, since today marks the day when everyone could shop on Meh, whereas yesterday was "Day Zero," i.e. when we opened for Kickstarter backers. But whatever. It just makes more sense to do a big hullabaloo on a Monday, doesn't it?)
Or, at least, that was the original plan: big blowout Monday, some shirts Tuesday, call it a wrap.
Then we remembered all those people who don't celebrate their birthDAY but instead extend the festivities across an entire week. This makes the most sense when you think about it: there are plenty of hours on your birthday when you're not having fun. When you're sleeping, for example, or when you're in transit, or at work. And you deserve to REALLY celebrate, don't you? And don't we?!
Which is all to say, if you're looking for a way to celebrate our 5th for the rest of the week, we recommend heading over to Mediocritee, where there are even MORE Meh shirts!