TALES OF THE DARK GOAT O' PENN'S WOODS, NIGHT EIGHTEEN
8
MIDNIGHT!
(18 October 1851: first publication of my wife's favorite book.)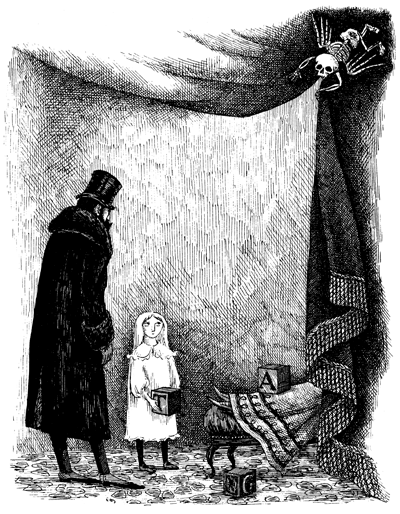 Man, imagine being named Onions. Perhaps, however, it inspired George Oliver Onions to write some savory tales? OK, that was horrible. Anyway, he's best known for "The Beckoning Fair One," which Robert Aickman (I'm a BIG Robert Aickman fan) declared "one of the (possibly) six great masterpieces in the field". It's also actually the ONLY one of the nine stories in his ghost story collection, Widdershins, that I much like. So, thanks once again to Roy Glashan, here is the whole collection:
OLIVER ONIONS
WIDDERSHINS
gutenberg.org/cache/epub/14168/pg14168-images.html
---
Edward St. John Gorey
Surprisingly apropos! And who doesn't love Gorey?
---
If only Robert Aickman were in the public domain…

3

@mossygreen - Can't be long now - Aickman died in '81, had no children, divorced his wife (who died in '83 anyway) in '57 and his mistress died in 2014.

@aetris It's just a waiting game now. But will you be goat for it?