KoolHandjoe's First Ever Monsterfy This Challenge
31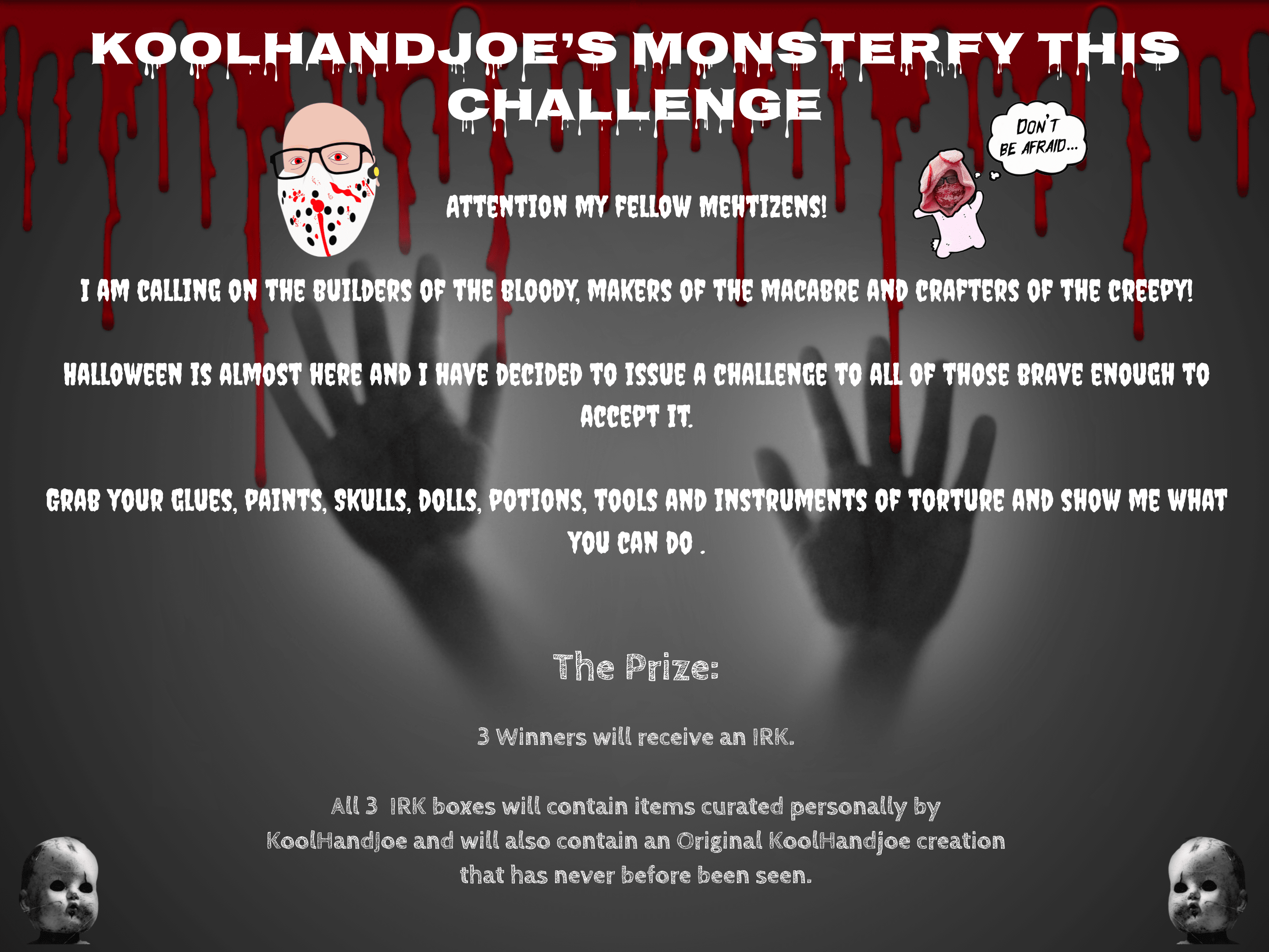 THE CHALLENGE:
Monsterfy something
Find an item around your house that can be Monsterfied… it can be anything
Have an old book? Turn it into a spell book or a book monster
Old lamp? Maybe make a skull base or a Leatherface style shade for it
Stuffed animal? Scare Bear the heck out of it
Old bottles? Could be specimen jars or potion bottles
Old Dolls? Need I say more
Anything you have lying around is fair game. Use additional items you have around the house to help transform the main item. Think of it as upcycling.
TIMELINE:
The Challenge begins now.
On Friday October 8th 2021 a Reveal Thread will be posted.
Challenge ends at 12:00am on Friday October 15th and all submissions need to be posted to the Reveal Thread by then.
KoolHandJoe will personally judge and select 3 Winners on Friday October 15th.
THE RULES:
Only 1 entry per person.
Item you are Monsterfying must be something you already own.
You cannot spend more than $25.00 on additional supplies needed to do the monsterfication.
Additional items you currently have laying around can be used without counting toward the $25.00 spend limit.
The Challenge is open to anyone except Mercatalyst employees.
All submissions must be added to the reveal thread. The reveal thread will be created on Friday October 8th.
If stuck or need advice on how to do a certain thing I will gladly offer help in this thread so everyone can benefit from it… others are welcome to offer ideas as well.
Posting ideas and updates encouraged in this thread.
THE PRIZE:
3 Winners will receive an IRK.
All 3 IRK boxes will contain items curated personally by KoolHandJoe and will also contain an original KoolHandJoe creation that has never before been seen.