Fly a rocket through space debris "game"
5
The Washington Post has a video game up to try to fly a rocket through space debris without hitting any.
https://www.washingtonpost.com/technology/interactive/2023/space-debris-game/
Of course it is also making a serious point. I got to 29 in three tries so far. I think I need more practice.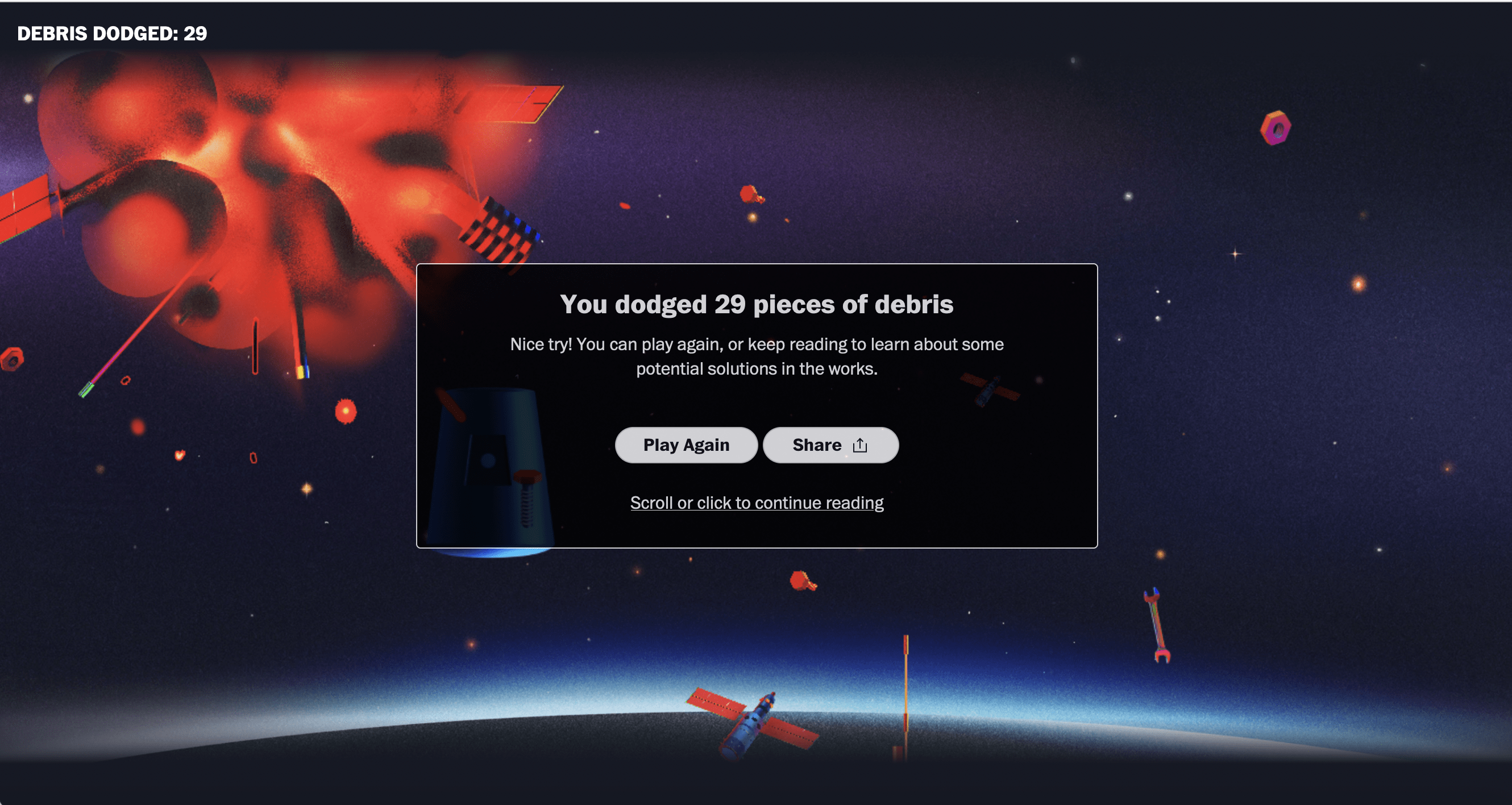 Huh. I'm terrible at stuff like this. But I got the Wordle in TWO TRIES today! Woohoo!

4

@Kyeh I almost did. My opening word is SPICE. But being a grumpy old man, my second guess was SPITE

@capnjb Wow - so close! My opening word was RAISE. So what did WordleBot have to say about your choices?

@capnjb @Kyeh Wordle has been in my periphery for years now (thanks largely to my Twitter timeline) but I still don't understand what exactly it is, largely because I haven't had a desire to look it up.

@capnjb @PooltoyWolf It's a five-letter guessing game, kind of like Wheel of Fortune minus everything but the letters. If you're a word nerd like me it's addictive. There's a free version you can play unlimited times called "Word Guess," but Wordle is owned by the NYT now and you can only play it once a day. It does keep stats for you, which is kind of fun. There's a TV show based on it now called LINGO, but I haven't watched it.

@capnjb @Kyeh On my Twitter feed, Wordle of the day tweets contain nothing more than a cryptic (to me) grid of colored squares.

@Kyeh @PooltoyWolf That's to avoid spoilers. It's basically like mastermind with 5 letter words. Green if it's the right letter in the right spot, yellow if it's the right letter in the wrong spot, grey if it's not in the word. It's kind of addicting if you like puzzles

@capnjb @Kyeh @PooltoyWolf
Love Wordle and play every day. At the height of the trend I often played many of the variants too. A few favorites were dordle, quordle, octordle, sedecordle, nerdle, phrazle, and waffle.
"Did Lingo or Wordle come first?
Lingo predates the online game by several decades, and CBS began developing its version last summer before Wordle became a phenomenon. The first iteration of Lingo aired in syndication in the 1987-88 season — words were selected by an Amiga computer."

@callow @Kyeh @PooltoyWolf My morning routine is wordle then quordle. It's a good way to wake the brain up before 5am (nerdle is fun too… I'm a math donk so occasionally drift back to it if I need a puzzle fix )

@capnjb @Kyeh @PooltoyWolf Glad you guys brought this up, I really want to catch Lingo with Ru Paul.
Played Phrazel today for the first time in ages, got it in two! Four for Wordle though.

@Kyeh The first time I tried that space game I got a zero LOL.

@capnjb @Kyeh What I don't understand about WordleBot's analysis is, even when I solve the day's puzzle in the same (or fewer) number of guesses than it does, it always gives itself a better skill vs. luck rating.

@capnjb Sorry, missed your comment that you do Quordle

@callow @capnjb @Kyeh @PooltoyWolf My routine is, in no particular order, Framed, Wordle, and Quordle, and on Mondays I do Episode. I used to do Moviedle, but haven't in a while.

@Kidsandliz I'm sure I would too - and the 4th, 5th, 6th …

@capnjb @macromeh @capnjb @macromeh Here's what it said about my guess yesterday:
So even though I eliminated more words with my choice it still gave me a 95% and itself a 99%.

@callow @capnjb @PooltoyWolf @roninido
Wow, so many more possibilities I hadn't heard of; not sure whether to thank you or be aggravated at having more ways to waste time!
I didn't know Lingo had been around for so long; how'd I miss it all these years?

@Kidsandliz
Sorry to hijack your thread!

@Kyeh If people are having fun… (grin). Besides the space junk may fall to earth and take out all the internet thus all these games everyone is talking about here so you need to talk about them while you can.

@Kidsandliz Space junk really does seem like a hazard that needs to be taken more seriously - I can't believe they let all these companies just abandon satellites and crap in space like that; it's like all the trash that's been dumped in the oceans for years, because they're so vast, how can it matter, right? Except now it's become a huge problem!

@Kidsandliz @Kyeh I guess no one owns space - it's like the big abandoned vacant lot down the road.