Magellan MiVue 538 1080p Dash Cam
Save yourself a legal headache with this 1080p dash cam (assuming you weren't the guilty party)
Check out this example footage we shot while probably not fleeing a crime scene
Record speed, time, and GPS coordinates automatically to use as an iron-clad alibi for the murder of Ms. Constantine
Flip it around and record yourself or what's going on behind you, if you expect to be rear-ended by Ms. Constantine's enraged lover
Automatically record and save video when an impact occurs, such as the ghost of Ms. Constantine running you off the road
Capture funny, interesting, or beautiful moments from your drive to the border to escape persecution for the murder of Ms. Constantine
Model: MV0538SGXXX (A number you can tattoo onto your own chest to remind you of the wrongs you have suffered after you are tried and incarcerated for the murder of one Ms. Constantine)
see more product specs
I'll Be Dashed
Listen up, folks, it's Meh writer @skemmehs here with some important info. You're gonna wanna listen up because — hold on …
ARE YOU TURNING OR NOT!?
Sorry, I'm recording one of those videos people make of themselves ranting while driving. This Magellan MiVue records high-quality 1080p video, which is great for capturing accidents, but it can also be flipped around to record behind me. Or in this case, myself.
YOU GO. NO, YOU GO AHEAD.
Sorry. So, why do people record so many videos of themselves talking while driving around their neighborhood? We don't know. Just the other day I watched decorated wrestler and MMA fighter Chael Sonnen talk about an up-an-coming athlete while he's driving:
He records these videos all the time. Why? Why is it more compelling to watch someone talk with their eyes glued on the road than —
WATCH OUT, ASSHOLE!!
What was I saying? Oh right, those obnoxious talking-while-driving videos that you could make with this dash cam. Some people build their entire YouTube brand around these videos, like yukster Liza Koshy:
"I'm going to talk about a random stuff while driving," she says, in a biting and possibly self-aware parody of the entire genre.
PICK A LANE NOT YOUR NOSE, YOU CRETIN!
One of the first of these videos I eve saw was the iconic "Good Looking Parents Sing Disney's Frozen":
Let us count the ways in which this video is an abomination:
First, they're lip-syncing, not "singing." Second, the guy take his hands off the wheel and closes his eyes while driving on a highway with his kid in the back seat: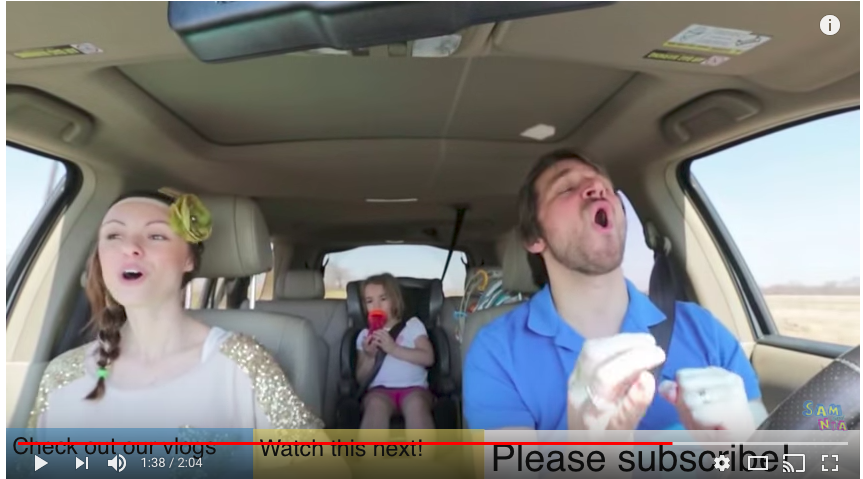 Third, you might think that, based on the title, this video was uploaded by someone other than the creator in an attempt to draft on their popularity. But no, the story is far worse: This couple uploaded the video themselves and called themselves attractive in the title.
VOMIT VOMIT VOMIT
Crap, I just made myself throw up all over my car. Maybe I can label it "Genius writer rants about the very type of video he is making and vomits all over himself in a hypocritical fit."