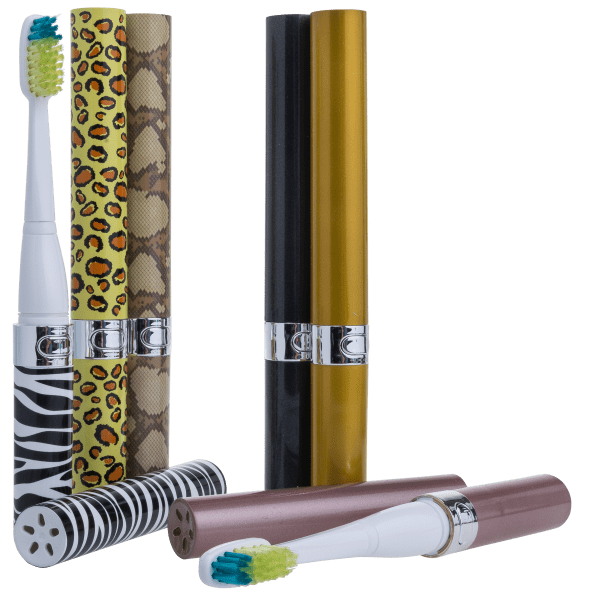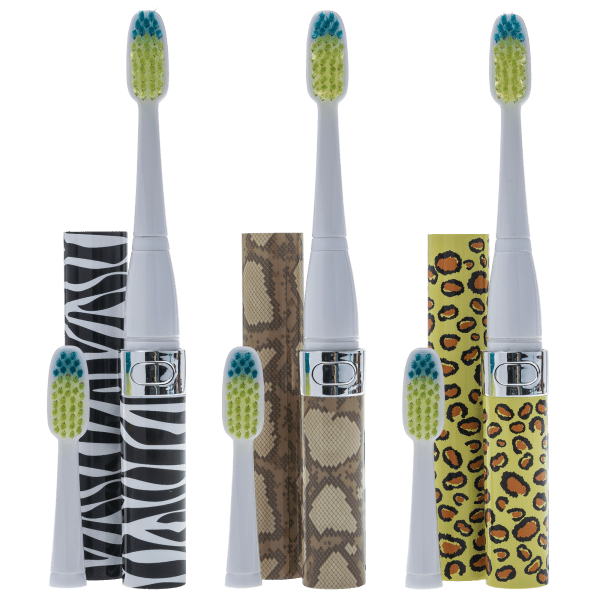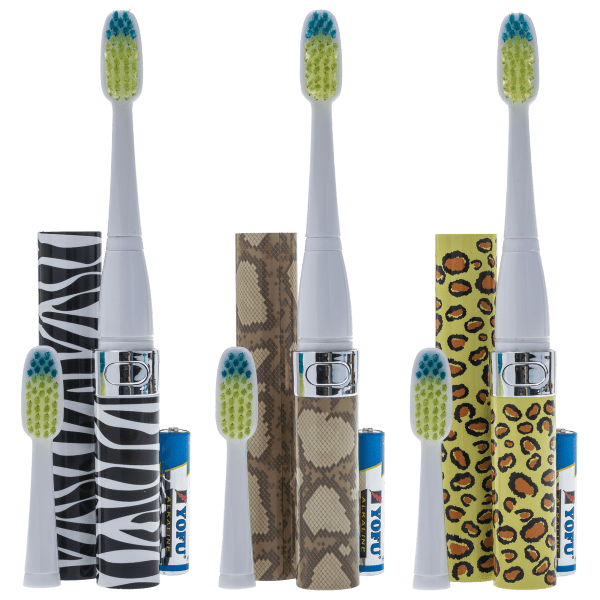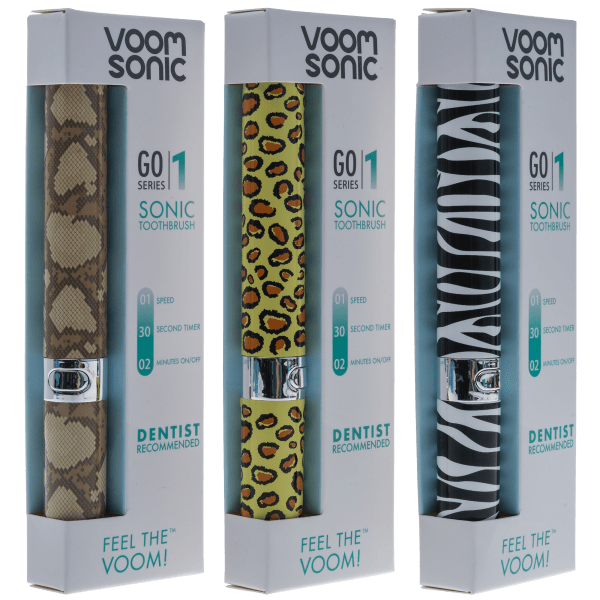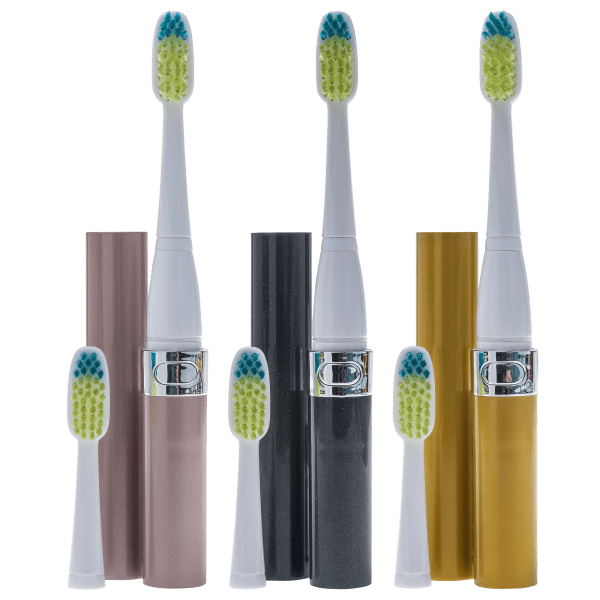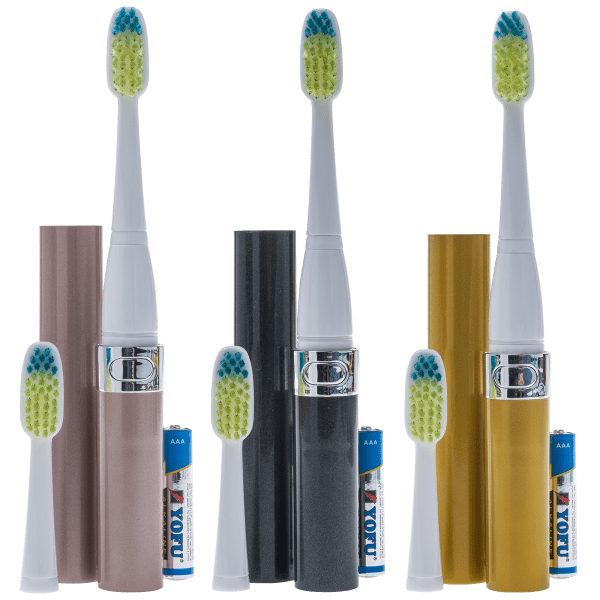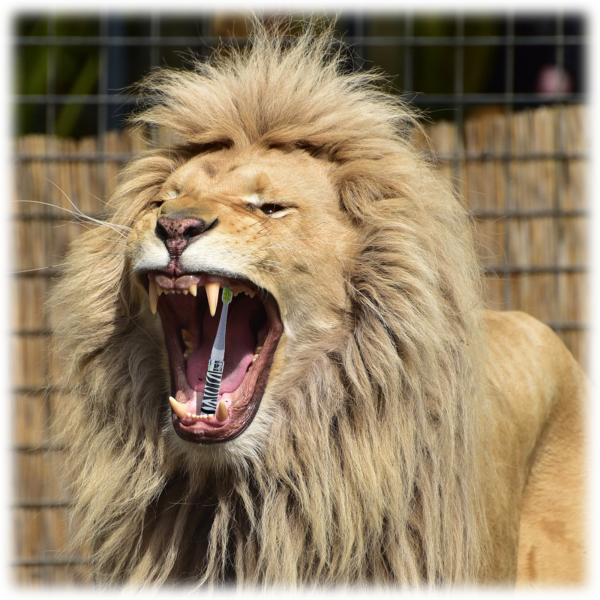 3-for-Tuesday: Voom Sonic Go Electric Travel Toothbrushes
Just because you're on vacation doesn't mean your teeth get time off.
This 3-pack of buzzy, pulse-y, will get you through a quick trip if you don't want to lug your big electric toothbrush along with with you.
Fun designs, to make brushing an adventure (if you consider brushing normally with a cool-looking toothbrush an adventure)!
They come with triple-A batteries because they run on triple-A batteries.
Each one also comes with a cap, so that your toothbrush isn't brushing the side of your toiletry bag all the way to Disney World.
Model: T33THCL1FF3-4ND-CU5PTH3R1NE.
see more product specs
The Travails of Travel
The problem with innovations is that they don't make life better. Or, they do, but only for the first month or two. After that, their newness fades, and then one of two things happen: either we stop using them, because we realize we don't actually need them; or, such as in the case of the electric toothbrush, they're so useful that they become ubiquitous, just a part of everyday life.
And that's fine, good even. It might even be considered hopeful that, as we move through our lives, we choose what's best for our teeth, regardless of cost.
And yet, therein lies the problem: movement. You settle into a routine at home. You start to rely on certain things. You get used to the pulsing, ultra efficient hum of your fancy electric toothbrush. Then it's time to travel, and your routine must be modified to fit the constraints of a new layout. There are the things that can't come along: your bed, your TV, your KitchenAid Mixer. And there are the things that should come along: your phone, your book, your favorite pair of jeans.
And then there are things that fall somewhere in the middle, such as, you guessed, it, your electric toothbrush. You can bring it with you. Like, it's not so big. But do you want to bring it with you? That's the real question. Do you want to take it from its place next to the bathroom sink? Do you want to set it up in the drab quasi-bathroom of your hotel room? Or in the shared bathroom of your AirBnb? Do you want to risk forgetting it? Or damaging it in transit?
We don't mean to make it seem like this is some huge decision. It's just sorta annoying. As is slumming it with a traditional analog toothbrush after you've gone so long getting a veritable gum massage by your Oral B or what have you.
Why not compromise? Why not get a 3-pack of electric travel toothbrushes that are admittedly not as good as the full-blown one you have at home, but just pulse-y and buzzy enough to get you through a few days in an unfamiliar bathroom? (Not to mention, they're cheap enough that you won't be heartbroken if you accidentally leave one behind.)
And yes, for those of you who have purchased portable electric toothbrushes from us before, we feel pretty confident that these ones will get to you within the year.