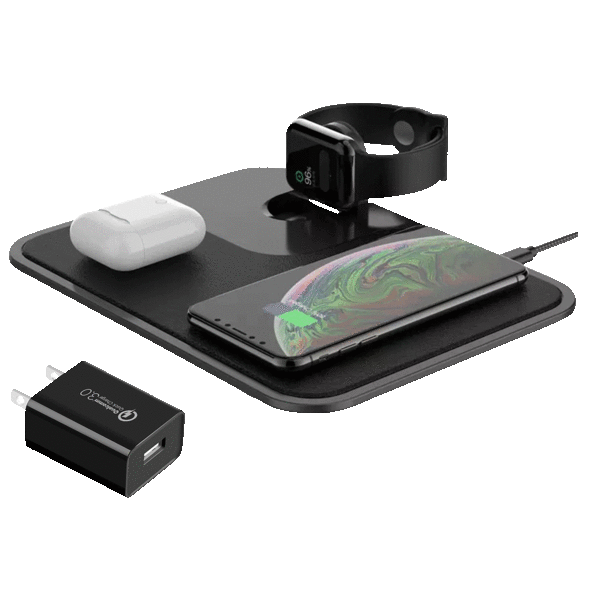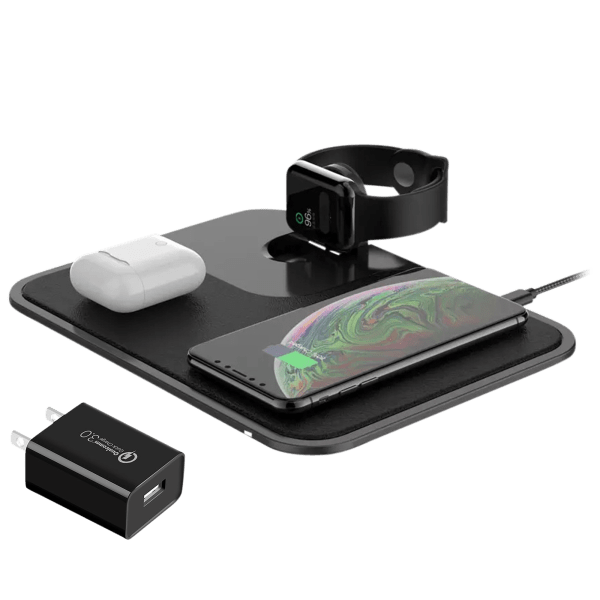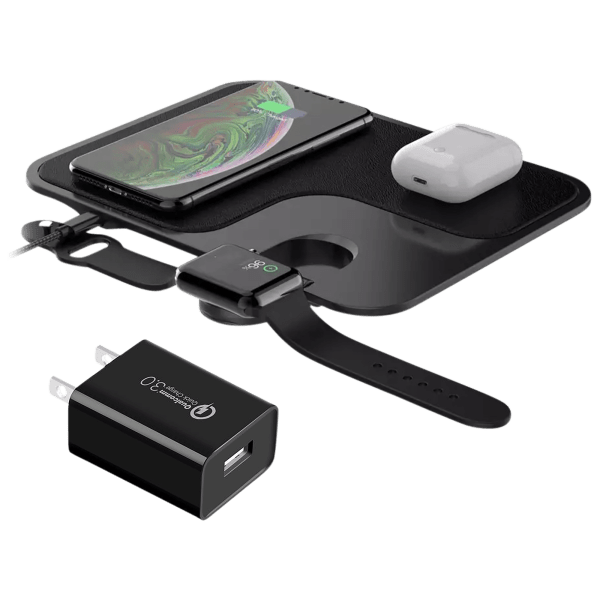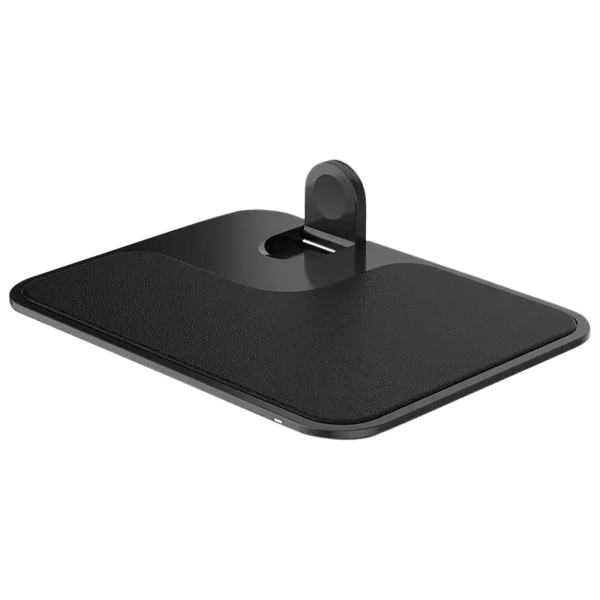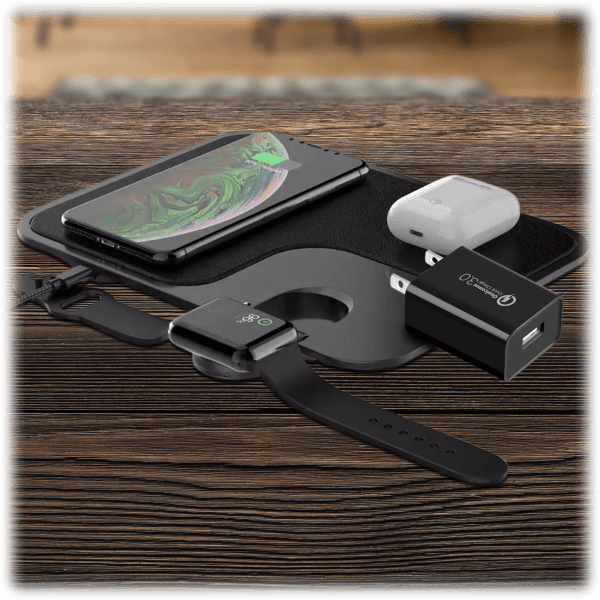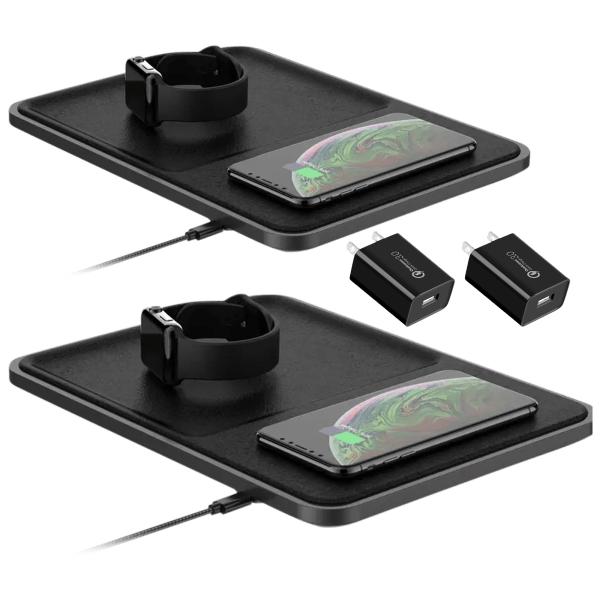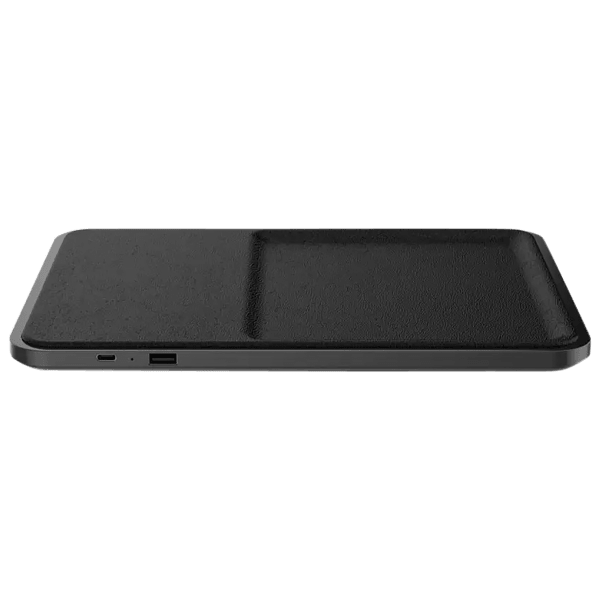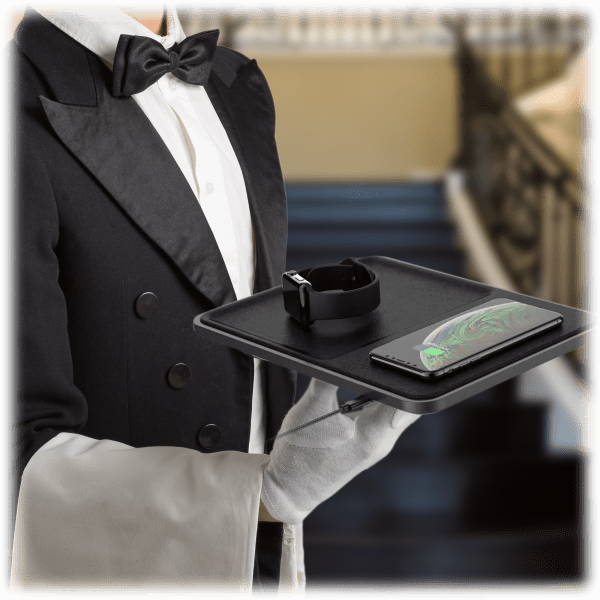 Loowoko 15-Watt 3-in-1 Qi Wireless Charging Mat OR 2-Pack Fast Charge Valets
The 3-in-1 15W Wireless Charger is optimized for Apple stuff and will charge your iPhone, your AirPods, and your Apple Watch all at once
The Charging Valets deliver 7.5W to 15W fast wireless charging based on your device's capabilities, so you can juice up your phone (and other stuff) fast
Set your keys, pens, note pad, etc. on the valet side to keep organized
Their favorite Kinks song: "David Watts"
see more product specs
Just Put It Down
Here are some things we know to be true:
Thing one - Despite the fact that you can plug your phone into ANY outlet in your home, you will, for some reason, always choose to plug it into the outlet you left the charger plugged into, regardless of how inconveniently located it is.
Thing two - Because of your phone's inconvenient charging location, when the need to use it arises, you will not sit or stand with it plugged in, but rather will unplug it and take it with you, even if it's not fully charged.
Thing three - Considering things one and two, it would be smart to invest in a charging pad that you could put somewhere convenient, like your kitchen counter, end table, or your bedside table, so that you don't have to remember to unplug and re-plug every time you need your phone.
Thing four - It would be even better if said thing was more of a 'tray' than a 'pad,' because that would allow for additional charging surface area to work with, which means:
Thing four, sub-thing A: It's impossible to miss, allowing you to feel as though you can just put your phone down "anywhere" and get that charge.
Thing four, sub-thing B: You can, if you need to, charge more than one thing at a time.
So, knowing all of these things you should do one of the following:
Action 1: Purchase a two-pack of Loowoko Wireless Charging Valets, each of which provides the aforementioned surface area for placing your rings, watch, glasses, if by your bedside or post-its, a pen, your keys, etc. and delivers power fast due to the 7.5W up to 15W output.
Action 2: Purchase a Loowoko 3-in-1 Wireless Charger, which is optimized for Qi-enabled Apple products, allowing you to charge your iPhone, Apple Watch, and AirPods all at the same time (and fast, thanks to an output of up to 15W).
Action 3: Use the included Qualcomm Quick Charge 3.0 wall adapters to ensure optimal quick charge capabilities.
Pretty convincing when we make it sound all formal and shit, huh?
Oh, wait, did we ruin it?