This or That, Day 15
ybmuG
posted some pics
said
9
Have to be in Binghamton by 9 so you're getting this early. It's like a bonus 3 hours of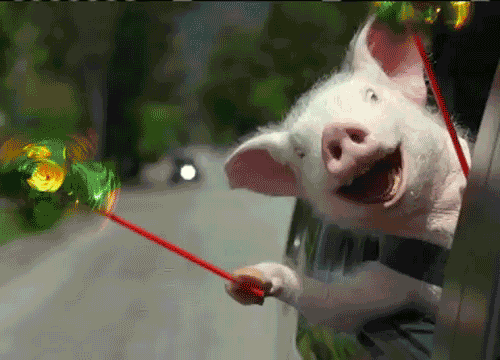 Well, after a lengthy divergence into the Netherlands and Alabama, and (of course) Wonder Woman, there were plenty of actual opinions expressed that even mostly lined up with the intended conversation. And there was even some cogent reasoning proffered.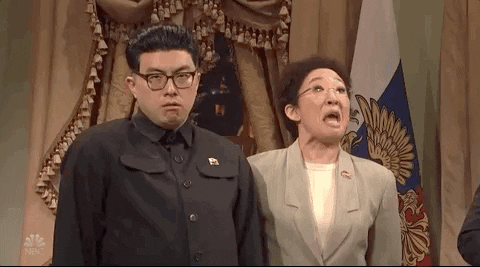 So I suspect we need to stay focused on things you actually care about. And I'm sure nothing generates more passion than science, right?

Or not…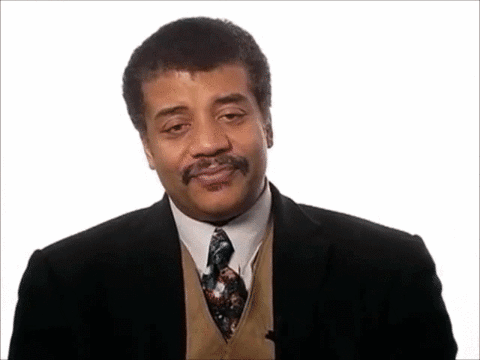 Well, anyway, that's what I picked for today so we'll have to go with it. You may recall a few years ago a hue and cry went up from the science community (and the general public) over a decision by a group of nerds, ahem, scientists that determined that our beloved ninth planet was, in fact, not a planet.
So we ask,
Pluto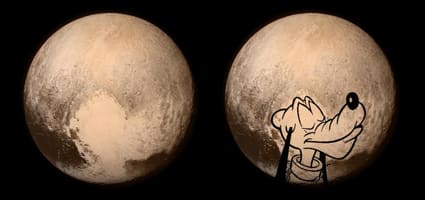 A planet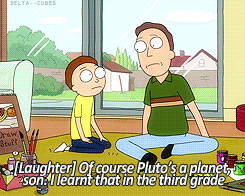 or not a planet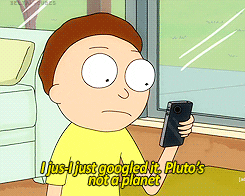 I suspect we have at least ONE Mehtizen that has an opinion on this!
In my teenage years whenever I had to make an online profile I would say I come from the planet Pluto.

8

It makes me happy when my niece (1st grade) names all the planets and she includes Pluto. #ProPluto #PlutoIsAPlanet





18

@tinamarie1974 There was also the 1976 episode "The Pluto File" in case you needed any help…

I've given up - what stage is that?

@ybmuG hahahaha. I am ever amazed that I can find relatable material every day.

Also I think you are at the last stage, acceptance

Pluto is a planet just as sure as Christopher Columbus discovered America.

4

I grew up thinking Pluto is a planet. Never really stopped. So…
Planet!

9

Planet, in terms of social, cultural, and nostalgic terminology.

Not a planet, by scientific standards, if that distinction matters much to astronomers, in a real way, not as simply a matter of arbitrary definitions.

And Planet.
(In terms of my "childhood and forever universe")

/giphy Pluto


/image "dog planet"


9

Well it has been considered a planet much longer than not a planet so I vote that majority number of years rules.

11

@Kidsandliz technically it did just fine not being considered at all until about 1909 (hypothesized) or 1930 (discovered). So with this logic If we go by the 1909 date to 2006 when it was reclassified, then starting in 2104 no one ever is allowed to think of it as a planet again?
Planet, same way it's called cheese cake even though it is crusted like pie, or I call tomatoes vegetables even though they are fruits (but not suspension bridges, that would be very wrong).

By "not considered," I mean by humans, who categorize things. It was and is doing fine just being Pluto, an uncategorized part of the universe.
/image don't judge me


@mollama I have no clue what the rules are to consider something a planet or not. And, of course, humans making rules doesn't mean the underlying object the rules are being made about changes. : )

@Kidsandliz exactly, whatever the classification rules are scientifically (and I tend toward science as a mathematician) I still call it a planet, a cheesecake, and a vegetable.

@Kidsandliz - Assuming that, er, you might not have access to Wikipedia:

IAU classification

The International Astronomical Union published a resolution in August 2006 that created an official definition for the term planet. According to this resolution, there are three conditions for an object in the Solar System to be considered a planet:

The object must be in orbit around the Sun.
The object must be massive enough to be rounded by its own gravity.
It must have cleared the neighborhood around its orbit.

Pluto fails to meet the third condition: its mass is substantially less than the combined mass of the other objects in its orbit: 0.07 times, in contrast to Earth, which is 1.7 million times the remaining mass in its orbit (excluding the moon).

However the IAU further decided that bodies like Pluto that meet criteria 1 and 2 but do not meet criterion 3 would be called dwarf planets.

So… Yeah, it's officially a planet.

Yes. Pluto was and still is a planet.


12

Go tell the five moons circling Pluto that it's not a planet.

11
11

I am going to an event tonight at the science center responsible for getting Pluto demoted so I am going to say not a planet. However , if you ask me to list the planets I have to include Pluto because of the mnemonic i learnt as a kid.

5

@CaptAmehrican Huh, my dad learned a planetary mnemonic in school back before Pluto was included (M VEM J SUN), so he always excluded Pluto. He would probably be tickled by the current view, after all those times that his smart-ass son insisted on correcting him.

@gregormehndel OMG that new mnemonic rules

I want to say planet because nostalgia, but technically it is not currently classified as a planet. So, I'll consciously overcome my cognitive dissonance and go strictly by factual information and vote for non-planet. It hurts, but it's true so…

5
3

/giphy Pluto is a planet


5
5

The problem is that, if Pluto is classified as a planet, then anywhere from a few to thousands of other objects beyond the orbit of Neptune would also meet that classification; some more so than Pluto.

Pluto was only discovered 80 years ago. There are millions of people still alive today who were raised believing there were 8 planets in the solar system.

Those of us under 80 years of age and over, say 25 (13 years since Pluto was demoted plus 12 years of primary school), spent the entirety of our childhood and some portion of our adulthood being taught that Pluto was the 9th planet in our solar system.

There may be people alive today who, 80 years from now, will have to accept that their grandchildren are being taught that there are 12 planets in the solar system - or 20, or 1,337. But more than likely, they'll be taught that there are 8 'primary' planets in our solar system and Pluto will have a place of honor as the first of very many 'minor' planets to be discovered.

The objects in our solar system don't care what we call them. They've been here for billions of years before us and will be here for billions of years after we're gone.

We all - every one of us old enough to have completed 1st grade, probably - know Pluto, regardless of what word scientists use to classify it. We have seen detailed photographs of it.

How many of us know Eris?
Some may, but I'd venture to say that most (including my autocorrect) don't.
Eris is a "dwarf planet" that is ~2% smaller than Pluto in diameter, but ~27% more massive.
So, is Eris the "10th Planet"?
Well, what about the other "dwarf planets" between Pluto and Eris? You know Huamea and Makemake, right?

Anyway - I used the terms 'primary' and 'minor' planets above; AFAIK, I just made those up. It really doesn't matter, but those terms make sense to me.

And that's the point (finally!) - it doesn't matter what word the scientists use to classify it, it doesn't matter what word us laypeople use to describe it.
The name we've given it is Pluto, and to people of our generation(s) it holds greater stature than Eris or Huamea or Makemake or Ceres (the "dwarf planet" that is nearer to Earth than Jupiter).
To the generations of the future - who knows?
And really, who cares?

So that's my answer to today's question - who cares?
It's Pluto - we've known its name all our lives. We've even visited it (by proxy).
Pluto doesn't care what name or what arbitrary classification we give it and neither do I.
I know that it exists. I've seen photos of it that are clearer and more detailed than photos I took of Earth's moon from my driveway.

The moon is just under 240,000 miles from Earth.
Pluto, depending on its position in its orbit, is somewhere between 2 and 5 billion miles from Earth. That's BILLION with a B - say it like Carl Sagan - billion.
We humans can't even comprehend that kind of distance.
We can barely comprehend the distance between Earth an the moon.
And Pluto is more than 10,000 times farther away.

Pluto has an atmosphere and most likely water, either frozen and/or at times liquid; and it may even have or have had some form of life.

That is amazing, it's stunning, and so is Pluto, no matter what anyone calls it.


¯\_(ツ)_/¯

9

@DennisG2014 you entirely outlined all the things I was going to day, plus you were able to include the number 1337, so kudos to you!

I adore Pluto, it's utterly fascinating, and I hope we'll be able to visit again within my lifetime, maybe even to stay and orbit it (though the mechanics of that insertion seem really expensive!), but for consistency's sake and to avoid the devaluation of the, as you say, "major" planets, I vote that we call Pluto a minor planet along with Eris and the dozens yet to be discovered. My beloved Neptune and Mercury and the others should be called simply planets, IMO.

("Dwarf planet" is adorable as a name, although I'd want to know what the community of dwarves thinks about that before we'd make it a common term. I think I'd love to celebrate a kinship with Pluto and Eris, but that's just me.)

BTW, while we're talking planetary science…y'all should consider following @HiRISE on Twitter for gorgeous satellite photos of the surface of Mars.

@UncleVinny The whole story of the New Horizons mission, and the results, are absolutely amazing.
Mind blowing.

The logistics of and distances involved in the Cassini mission aren't quite as impressive, but man, I just can't get enough of the images from that mission.
Mind blowing and stunningly beautiful, to boot.

I tried, but I couldn't pick a favorite; there are just too many absolute masterpieces to pick just one.

If anyone reading this isn't familiar with the images from Cassini, do yourself a favor and google them.
Some are reminiscent of and as artistic as Ansel Adams' photos.
All are absolutely awe inspiring.

@DennisG2014 - WHOO-HOO! Eris! Change that negative into a positive!


@DennisG2014 To put those distances in perspective, I like to use seconds on the clock. So, if one were to travel at a mile per second to:

Earth's Moon, 240,000 miles away: 2.78 days
Pluto, 2 billion miles away: 23,148.15 days, or 3,306.88 weeks, or 63.42 YEARS.

Yikes!

Also, the trip to Pluto is 8,333.33 times farther than 1 trip to the moon, based on the 2 billion figure.

The various reasons given as to why Pluto is a dwarf planet rather than a planet make excellent sense.

But … human sentiment. The human brain.

The search for the undiscovered "ninth planet" was reasonably well known and public. Not perhaps in the same league of notoriety as the search for the northwest passage. But people knew about it.

Then the discovery was announced as "immutable fact", almost in the 19th century "progress" model of conquest of knowledge; like the first climbing of Everest, or the journey to the source of the Nile.

And the naming of Pluto was a notable and reasonably public and participatory event.
And it got the name of a major Greek god, one most people have heard of.

And within less than one year after announcement of finding, Pluto had its own quite cute Disney mascot pet.

And generations of school kids were taught the nine planets as "fact". Complete with cool and beautiful illustrations of the solar system

The counter-annoucement was presented in a way that seemed to tear at the very fabric of what we thought was left of our childhood certainties.

People have loved Pluto, as one loves and reaches for the adorable and feisty runt of the litter.
We may respect Jupiter and find awe in Saturn, and wonder at Uranus. But we adore Pluto. We want to take Pluto home with us.

Sometimes, it might seem, when we poor humans look out at the universe; with all our calculations and measurements and theories and instruments:

We might see, amid the wonder, the faint reflections of our limits and cultural values. Our imposed notions and beliefs. Our little minds doing their best, amid unarticulated needs and assumptions.
Our hopes that math and measurements and theorems and words and data, used well and carefully, can somehow bring us knowledge of the whole.

And perhaps these can. Or bring bits of understanding.
And we can strive. We can reach and try to touch that which is always just out of reach. And reach for that which lies beyond.

And we might, if we look out, very carefully, see the very faint glimmer of our own, still limited, still striving, human reflections.

We could just say the first 9 planetary bodies are called planets and everything else planetoids or something not "planet". All such definitions are arbitrary anyway, even for the choice of arbitrary characteristics we arbitrarily associate with arbitrary objects orbiting the same star that our home planet does.

6
5

@mike808 I was hoping they would add in the sun's spiraling movement through the galaxy and the galaxy's movement within it's cluster, as explained in the article. Really good article, btw. I've always wanted to know just how fast and far I am actually moving while sitting here at the keyboard - I feel I'm getting in my steps for sure …