TALES OF THE DARK GOAT O' PENN'S WOODS, NIGHT NINE
5
MIDNIGHT!
(Tomorrow - it'll be midnight - I'll be back to my semi-regular schedule. Sleep? Phooey.)
---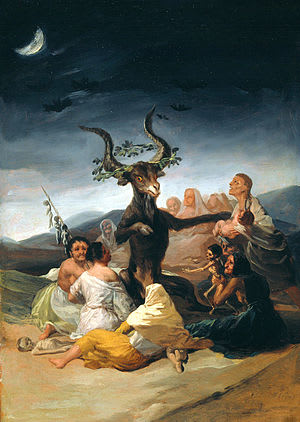 So, I mentioned liking Alfred Hitchcock's Haunted Houseful, as a kid, and here's one of the nine stories, a ghost comedy, probably Dunsany was enough along those lines, but I'm running a little late today… John Kendrick Bangs was an American author, humorist, and editor. He also was a member of the Board of Education in Yonkers, and during the period between 1901 and 1906 was known to have spent at least parts of his summers in Franconia, New Hampshire. Great name, eh? Bangs. It must have been fun to introduce him. ANYway, thanks once again to Project Gutenberg (U.S.), here is:
---
JOHN KENDRICK BANGS
The Water Ghost of Harrowby Hall
http://www.gutenberg.org/files/26950/26950-h/26950-h.htm#THE_WATER_GHOST_OF_HARROWBY_HALL
---
GOYA
Is our guest ghost artist tonight. The hard stuff here, eh! Francisco José de Goya y Lucientes! Almost as tough as Otto Dix, but more symbolism. Still! Classic, eh?