TALES OF THE DARK GOAT O' PENN'S WOODS, NIGHT FIVE
7
MIDNIGHT!
(In the Azores. We're in Rehobeth, but it's… KIND of similar. Near the ocean, anyway. Oh, and dark.)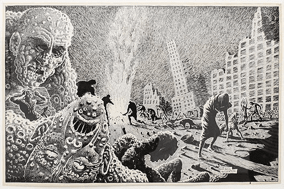 ANOTHER out-of-copyright horror writer I've always enjoyed is William Hope Hodgson, who is probably best known for The House on the Borderlands, but who did some decent short stories as well. I can't seem to lay my digital claws on them, but he also got inspired by tales of the Sargasso Sea and did a number of neat ocean-horror numbers, one of which, thanks to The University of Adelaide Library's eBooks@Adelaide, I link to here:
William Hope Hodgson
The Derelict
https://ebooks.adelaide.edu.au/h/hodgson/william_hope/derelict/index.html
---
Basil Wolverton
…is our departed artist of the night. Best known for his comic grotesques for MAD Magazine, he also illustrated horror and science-fiction stories for various comic books in the 1950s, including "The Brain Bats of Venus" (Mister Mystery #7), which I swiped a panel from for a reply here a couple years back. It's an OK knock-off of everyone's favorite Clark Ashton Smith tale, "The Vaults of Yoh-Vombis".
I've got a sinking feeling here…

But in a good way ; )

3

Oh, I love William Hope Hodgson too! A long time ago I read Charles Mackey's The Lost Beauties of the English Language and fell in love with the plural of shoe being shoon. The only place I've ever seen it in the wild was in the Hodgson poem Shoon of the Dead.

4

SHOON OF THE DEAD

Hush! as you pass.

Three taps on the glass

In the gloaming

From someone out in the dark–

Roaming.

Hush! and hark

To a step you hear pass:

Someone is out in the dark.

Hark to the death-wind go wailing,

And the tap of a ghost on the glass.

Hush! and hark! Hush! and hark!

Open the door,

And listen!

Only the wind's muffled roar,

And the glisten

Of tears round the moon.

And, in fancy, the tread

Of vanishing shoon–

Out in the night with the Dead.

Hush! and hark

To the sorrowful cry

Of the wind in the dark.

Hush! and hark, without murmur or sigh,

To shoon that tread the lost aeons;

To the sound that bids you to die.

Hush! and hark! Hush! and hark!

@aetris VANISHING SHOON
/giphy vanishing shoon