TALES OF THE DARK GOAT O' PENN'S WOODS, NIGHT EIGHT
8
MIDNIGHT!
(I've been going to bed unusually early this past week - I'll do this at midnight soon - midnight eastern standard time anyway.)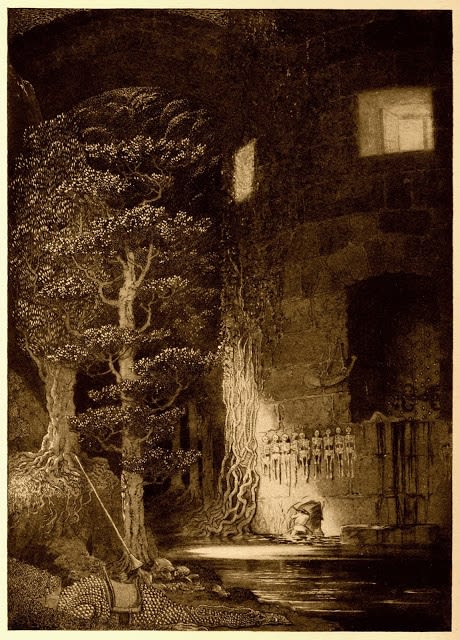 I am a HUGE fan of Edward John Moreton Drax Plunkett, 18th Baron of Dunsany, but he's not REALLY horror. Truth to tell, a lot of the stuff I'm throwing at you isn't QUITE horror in MY book, which for me means a real break with reality as we understand it; something a little bit stronger than a weird tale. But I DO like weird tales, and if YOU do, and love playing with language, well Dunsany is right up there with Clarke Ashton Smith. Anyway, thanks once again to Project Gutenberg (U.S.), here is:
---
Lord Dunsany
THE HOARD OF THE GIBBELINS
Sidney Sime
…OK, I'm repeating artists again… But I LOVE Sime, who illustrated Dunsany and WOW! Sooo… Here's Otto Dix, I hate to throw him in as second string, he is a real master of the horrors of real life. I should track down some WWI horror stories, but I won't do Machen's The Bowmen (AKA The Angels of Mons), that's just propaganda. You know what, I'm saving Dix for later. Here's a Kay Nielsen, an artist I love who had a tough life, though none of his work is what I would call horror: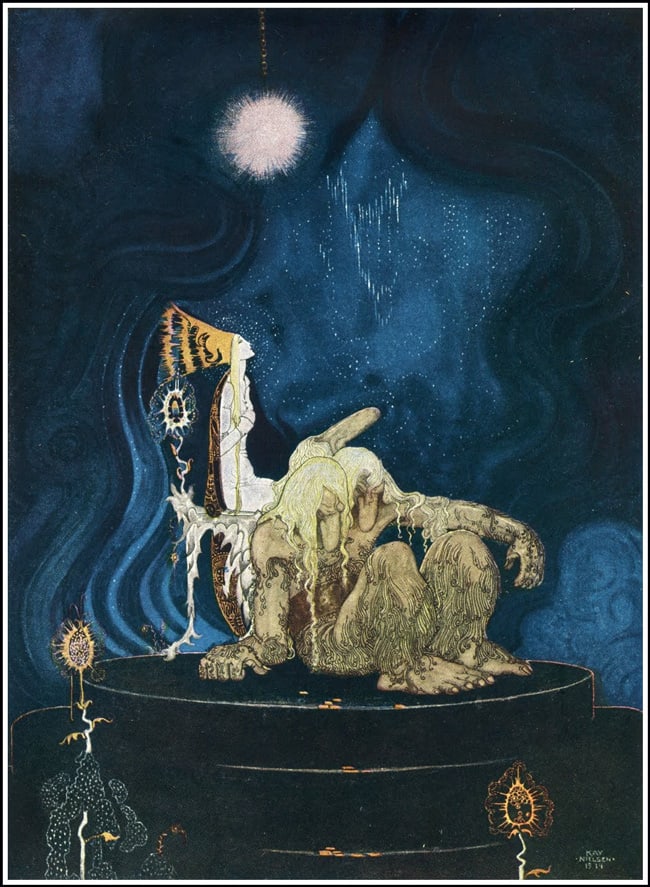 Hey, anyone know any good (free) horror stories? WWI in particular, but - whatev's?
Just ONE more Sime: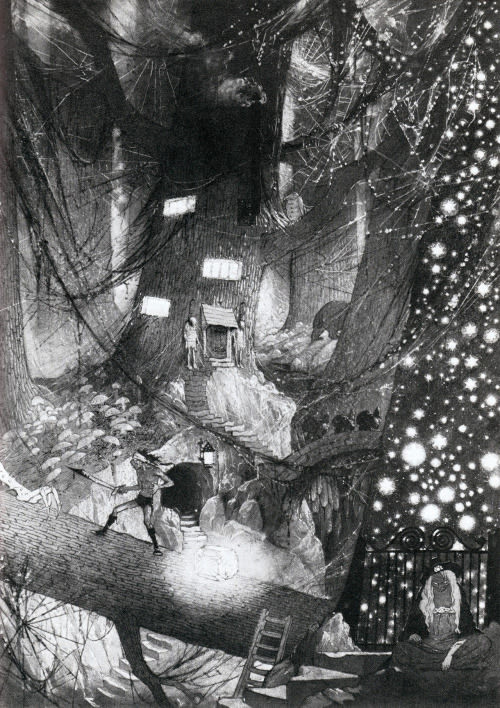 I heard this guy was going to write us some stuff…

1

Along the lines of "perhaps not quite horror, as classically defined, but more than just a weird tale", I do like some of what Harlan Ellison has done. I have one of his books that has a disclaimer that the stories in it are not to be read in a single sitting, and he's not kidding.

And he did write one of the best original series Star Trek episodes ("City on the Edge of Forever"), though he supposedly hated Roddenberry's ultimate production of his story.

https://www.vox.com/culture/2018/6/29/17518928/harlan-ellison-star-trek-grudge-science-fiction-rip

3

@ybmuG - Yeah, while not really a trekkie I got a kick out of TOS AND some Ellison and felt compelled to read Ellison's original treatment of CotEoF, which centered around a drug-dealing Starfleet officer who escapes an Enterprise shore-party firing-squad by leaping into the portal, and tries to bump off Kirk and Spock when they pursue him into Earth's past. I though Roddenberry's reworking of the idea was WAY better.

However what they did to his "Ark in Space" story was criminal.

@aetris don't recall that one. Was that Star Trek? Or was that the one from the old Dr Who series?

@ybmuG - It was it's own show - debuted in '73 and promptly died. The concept was ok - giant spaceship carrying cultures that forgot they were on a spaceship- but the stories were poorly executed and the special effects didn't work the way they were supposed to.

@aetris Ahhh! That splains it. Interesting the cast included Walter Koenig of Star Trek and Barry Morse of Space 1999. Screen shots definitely look cheese-ball.