A tale of a team, a tour, a t-shirt and a very special IRK
70
You might want to grab a beverage of your choice and pull up a chair as this will likely get a little long.
Remember when I posted asking people for descriptions of their problems with shipping to help out the youth STEM/robotics team that I coach and I also not so subtlety begged someone from Meh for a tour of their warehouse? Well the amazing Koolhandjoe, who happens to be the Mediocre warehouse manager (he's not mediocre, I'm referencing the company name. Joe is very awesome.) reached out and after some discussion, conversations, syncing of schedules and me reassuring parents that this is an okay thing, we gathered up the kids and a few adults and made the trek to Mediocre (and Meh) HQ on Saturday.
Joe put together a great tour. We got to see the Mediocre breakroom (complete with mediocre fountain Coke machine (not one of the fancy Freestyle machines with all the million different flavors)) and hear a little bit about the company. Shockingly kids ages 9-14 aren't particularly familiar with ecommerce web sites that aren't Amazon! We got a peek into the office area where the non-warehouse staff sit…when they're in the office (stupid pandemic). We saw the photo studio where the all the product pictures are taken. Then we entered the inner sanctum where all the products are stored between the time they enter the Mediocre property until they leave in their cardboard boxes and plastic outer wrappers headed for your home.
Joe walked us through the whole process of how products are received, shelved on the racks, orders are received and picked, packaged and shipped out. We learned about the warehouse organization system. We saw a demo of the different machines used in the warehouse to move products (and pallets) around,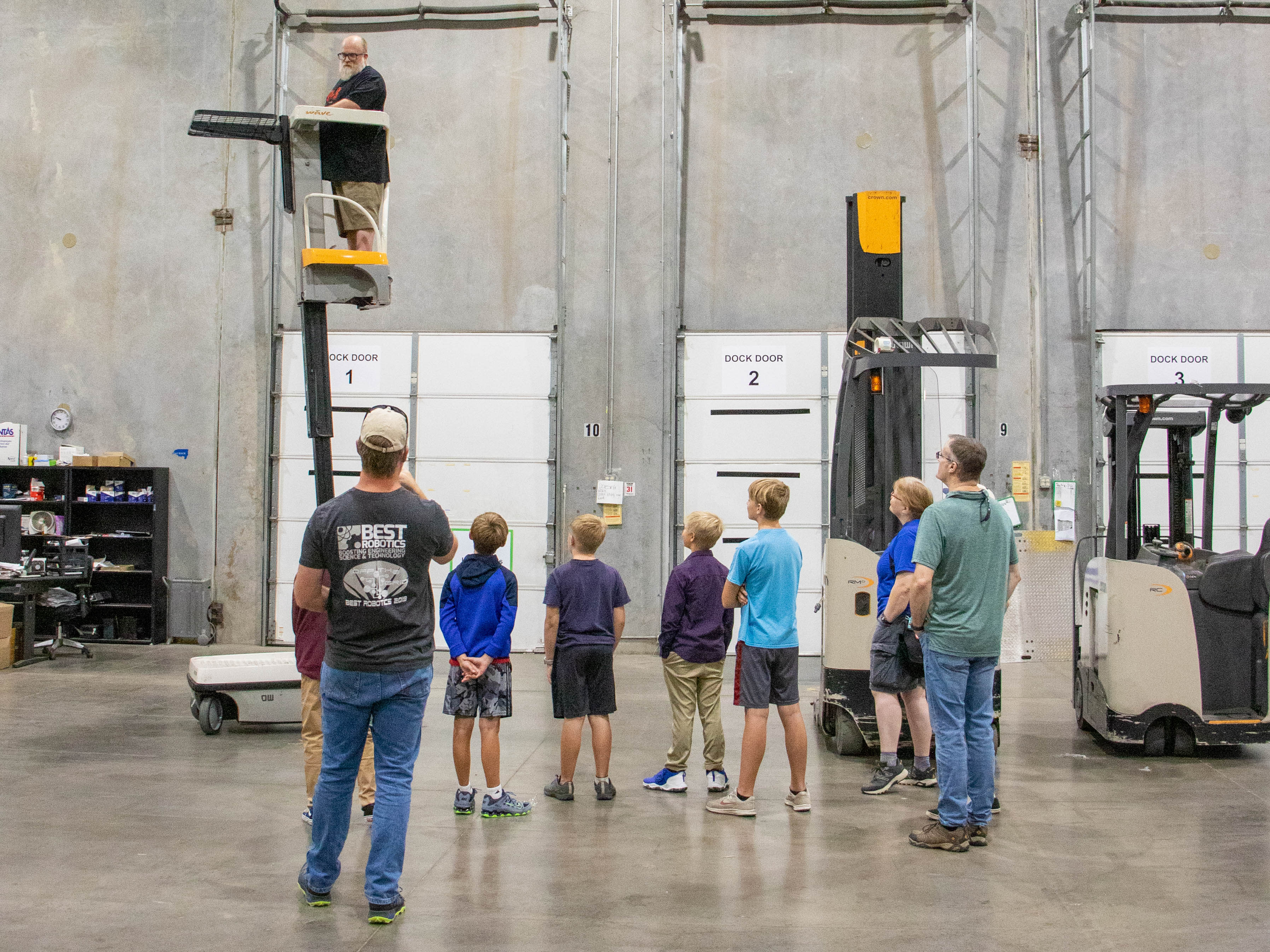 . We learned the reason why Mediocre doesn't sell candles in the summer (hint…nonclimate controlled warehouse + Texas in the summer. Remember the candy corn?). We saw a bunch of the products on the racks waiting to be ordered and move on to their new homes (spoiler alert…you haven't seen the last of the Claws).
From there we moved on to the print shop and met Stuart, the one guy (yes, just one!) who prints all the Mediocritees and IRK bags. Stuart and Joe explained the process that goes into turning an idea into a cool t-shirt. We got to see the cool shirt printing carousel machine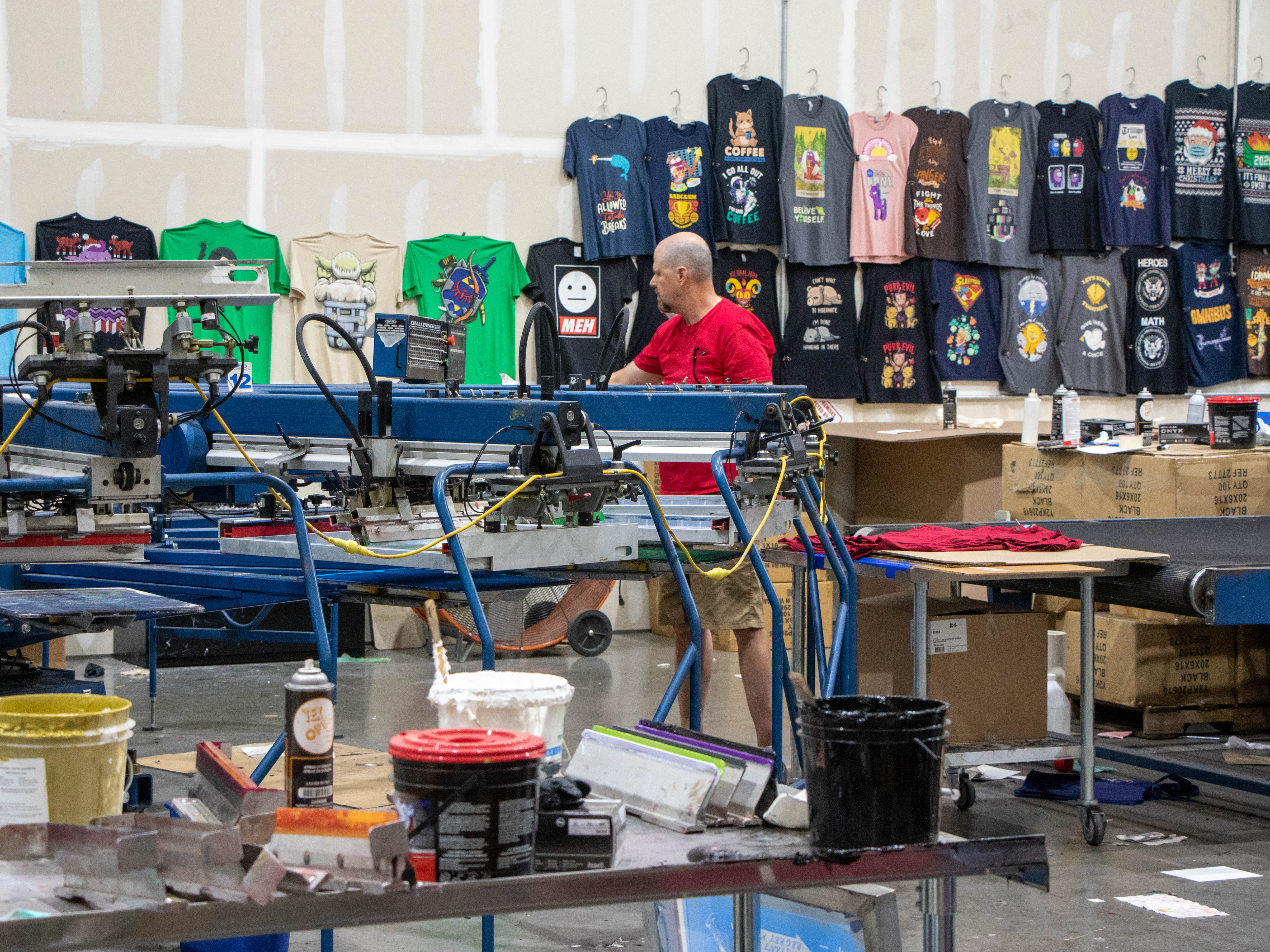 and watch it in action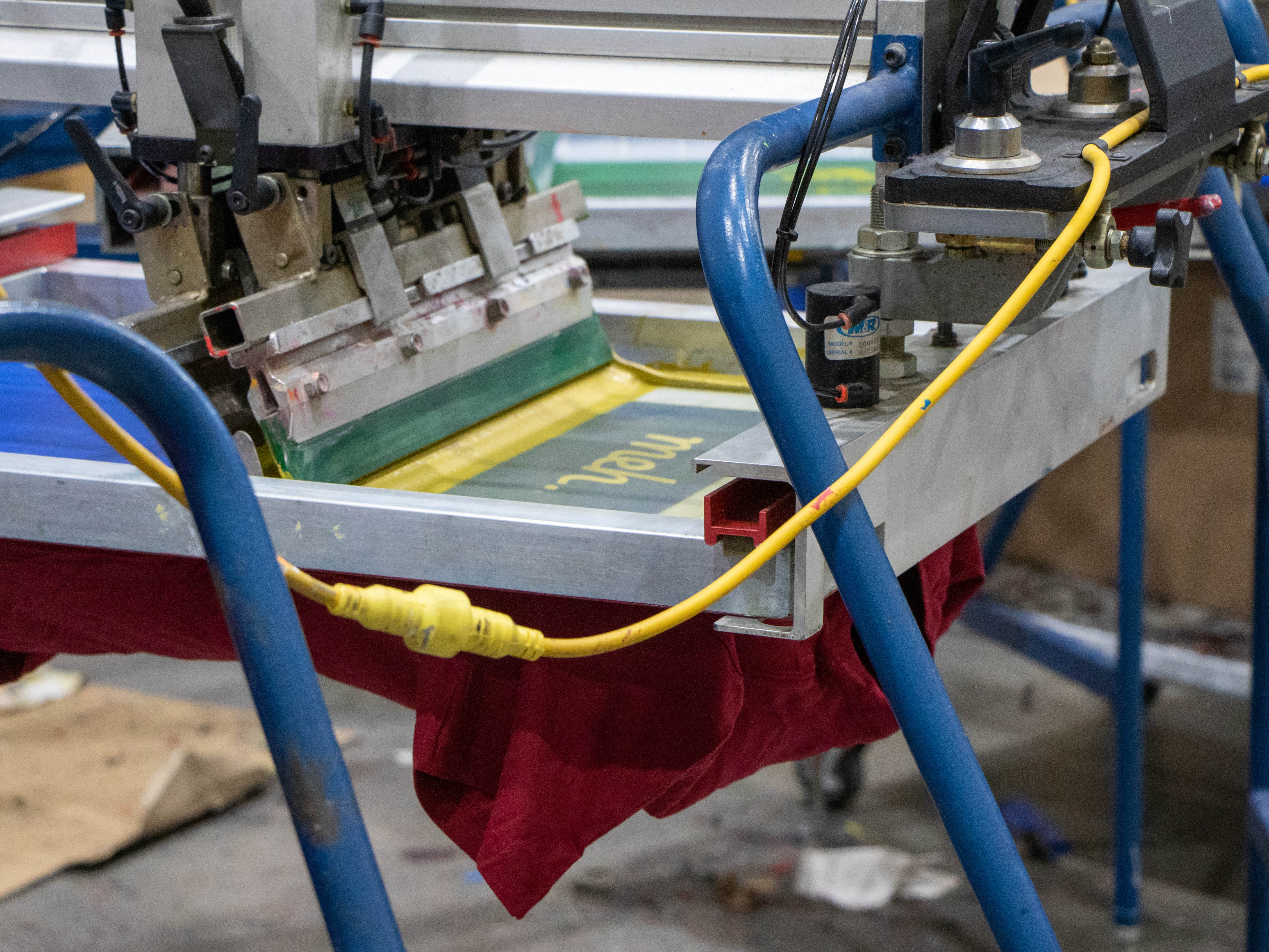 as Stuart printed up exclusive Meh t-shirts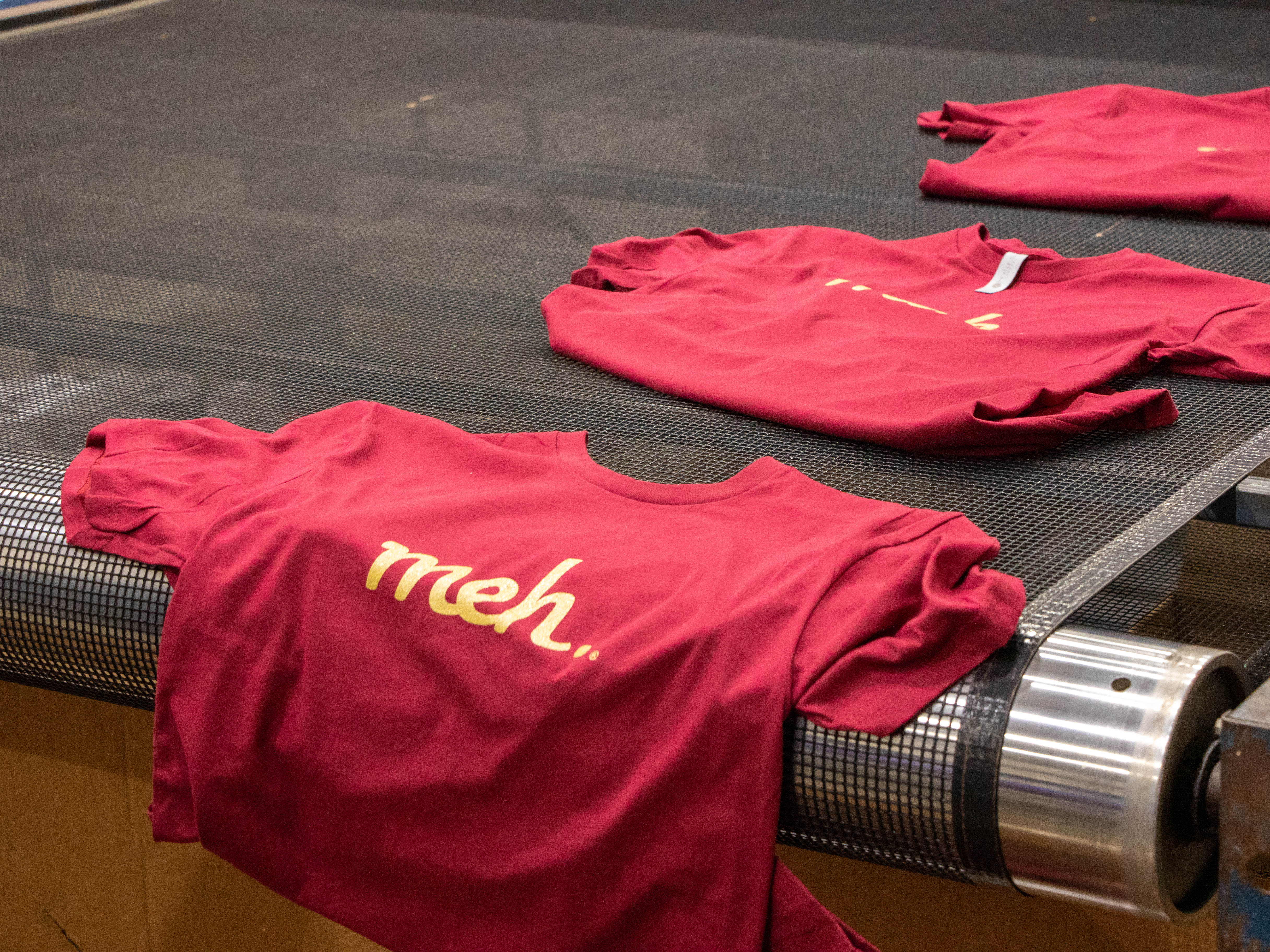 for each of the kids as well as us adult.
After we said good-bye to Stuart we moved back into the warehouse and Joe explained what makes Mediocre and Meh so special: IRKs! He described the Mediocre return process and how sometimes products which are returned end up being sent out to other customers and how these things are crazy popular…and when you explain it like that it sounds kinda silly, especially to a kid. I think the youngsters were a little skeptical. But then Joe put them to work/gave them an activity and let them pack up some IRKs. He also explained that what makes and IRK an IRK is the custom printed (by Stuart!) totebags. Then he folded up some boxes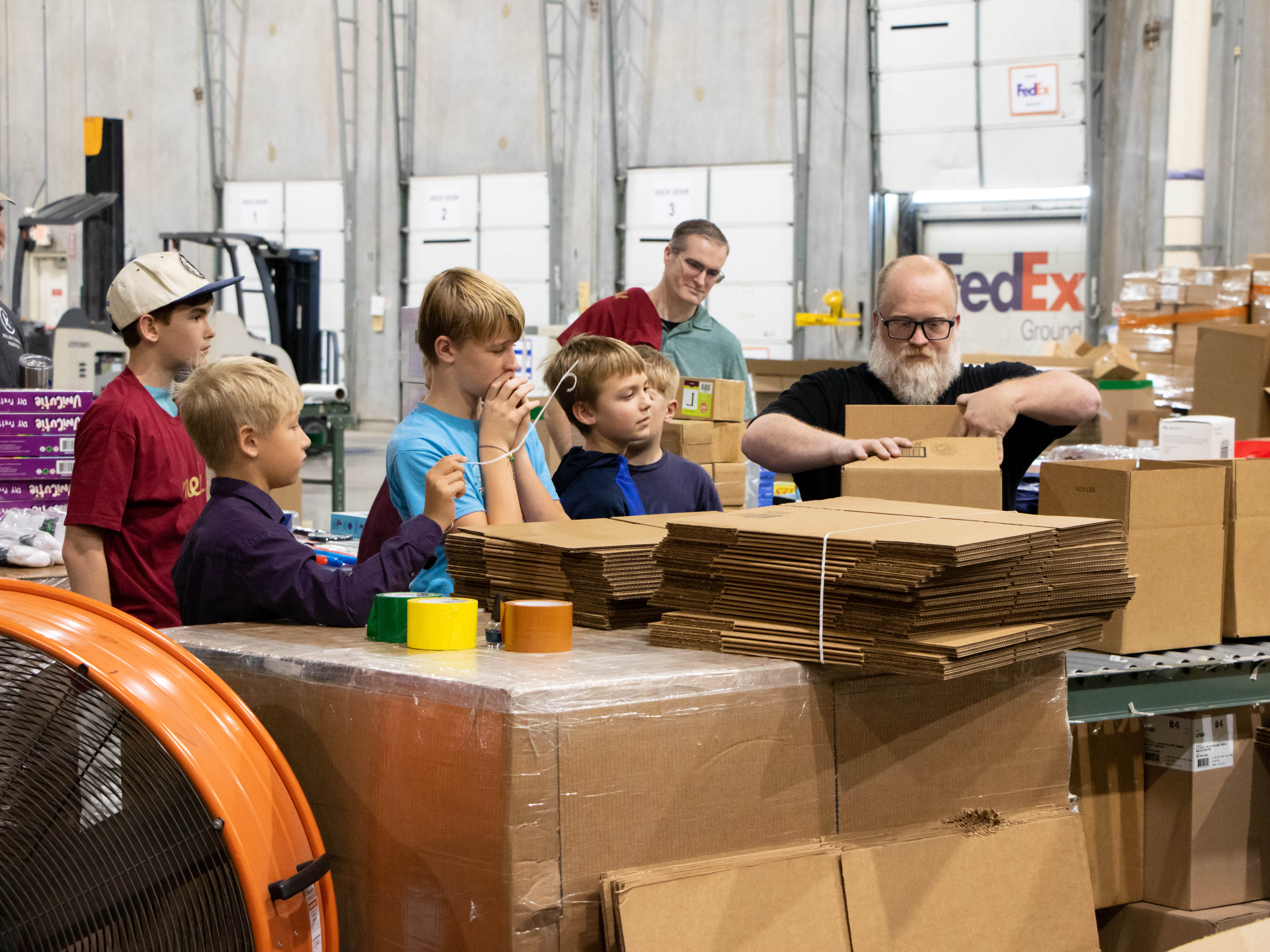 and let the kids have at it. They were a little cautious at first but soon got into it and had a lot of fun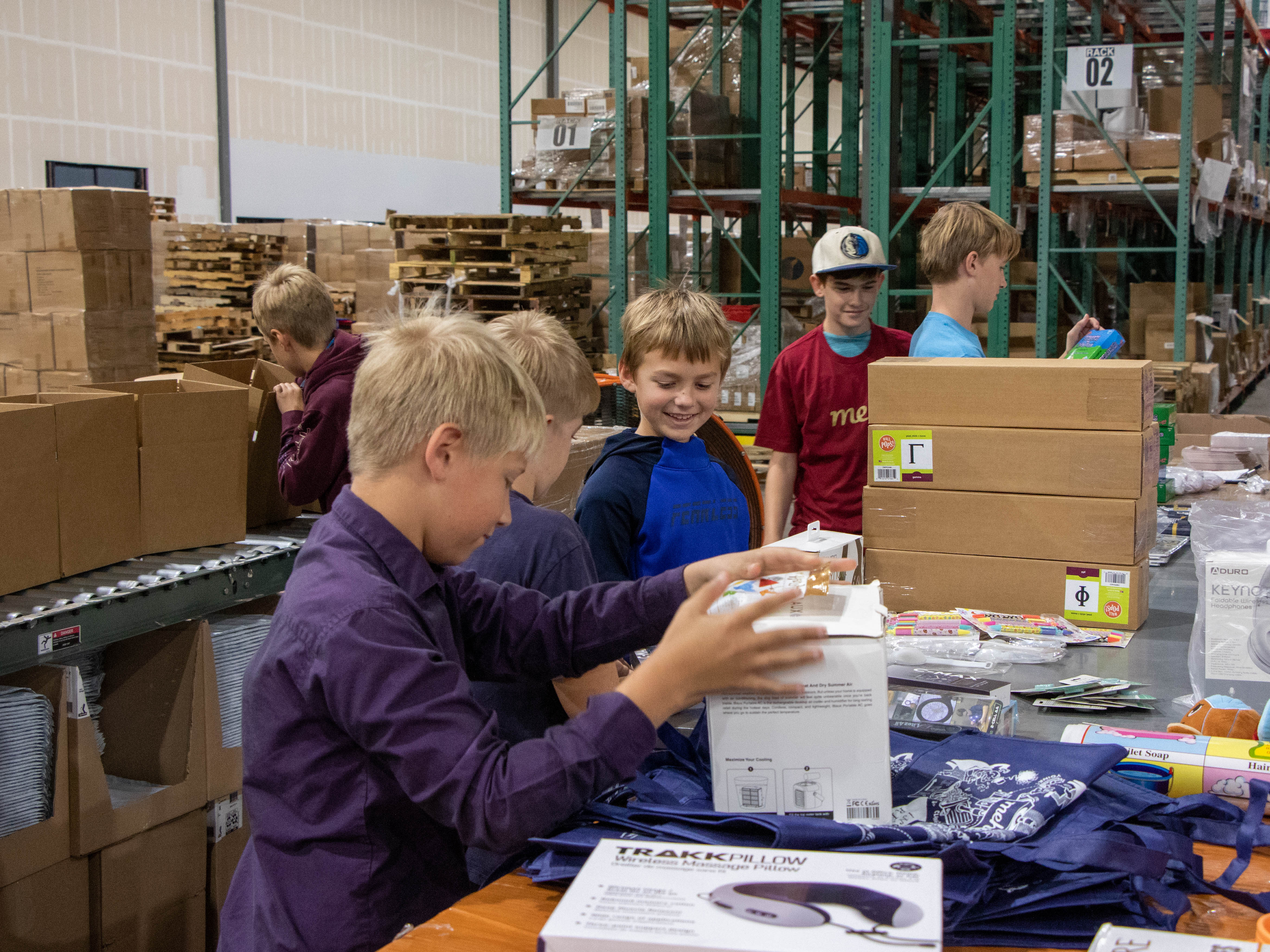 . I was most intrigued by the box taping machine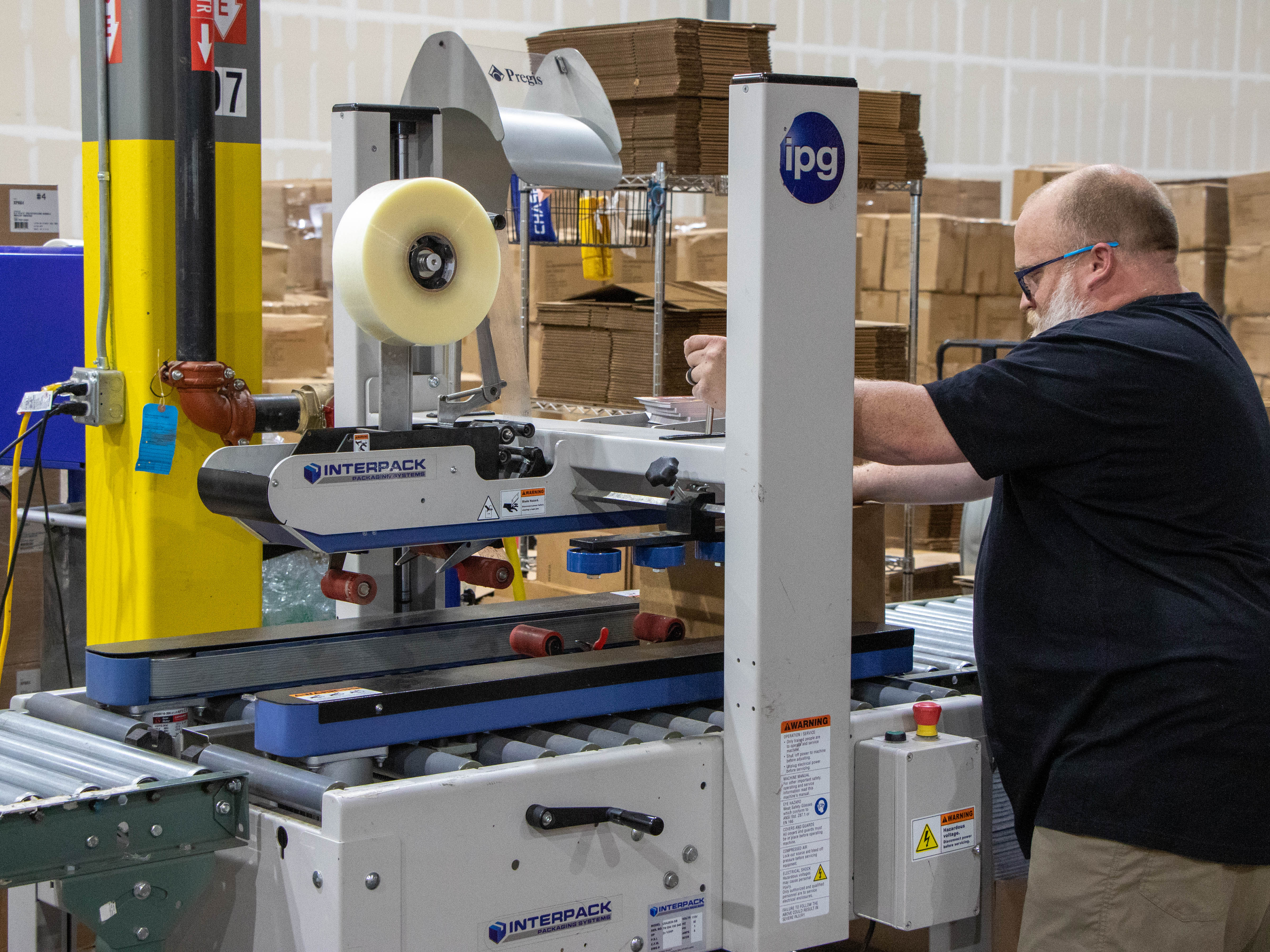 , it's ability to adjust to a wide variety of size boxes and to tape both the top and the bottom at the same time! That would have been a great way to end the tour but Joe had one more surprise. He mixed up the boxes and then let each kid pick one of their very own (and there were enough for us big people to have one too).
Here's a group picture of the whole group with our shirts and IRKs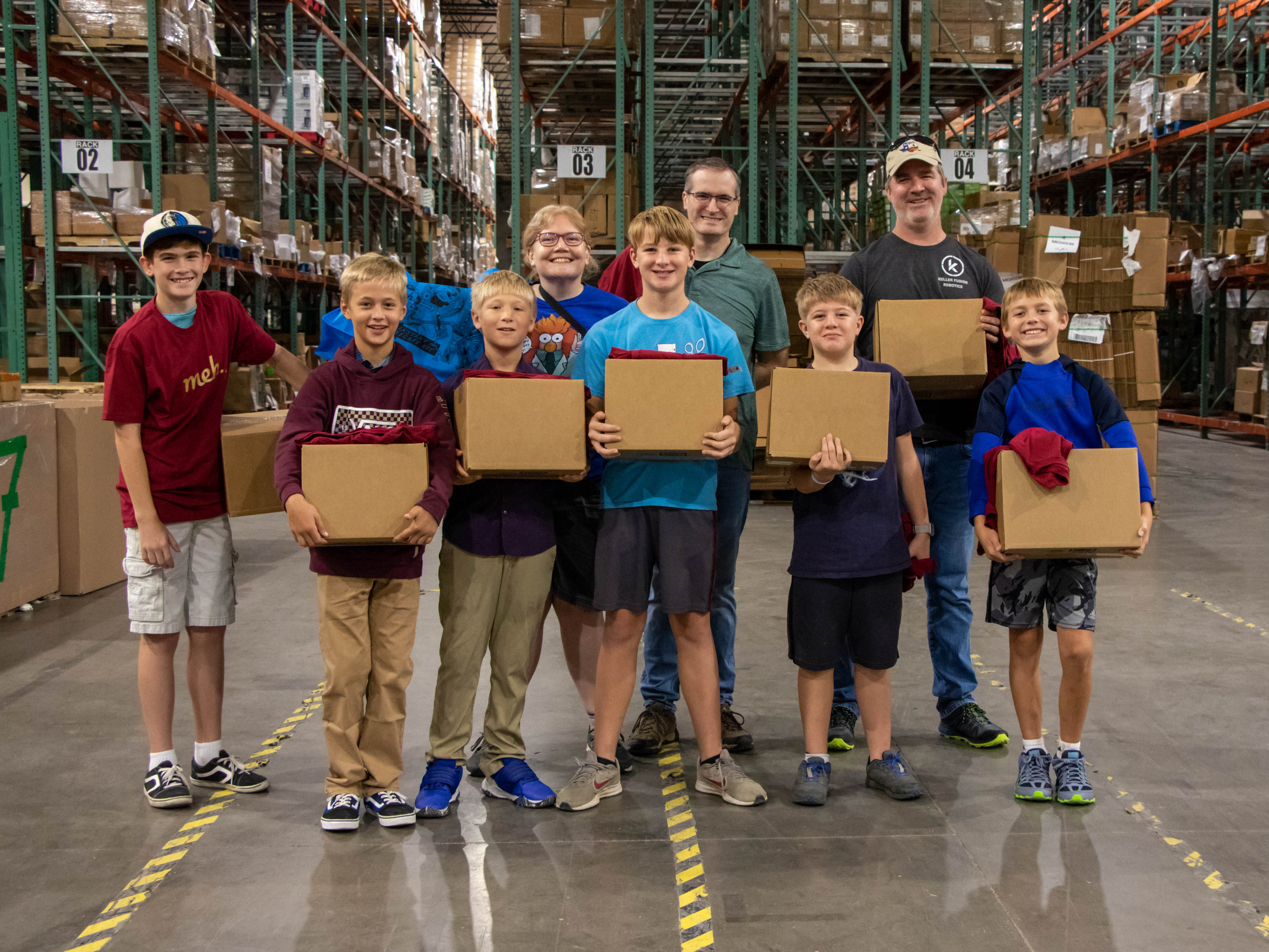 . (I'm the only female…blue Beaker shirt).
And, of course, I have to include a few IRK unboxing pictures of my very special, kid-packed (but as part of an educational experience, not actual child labor) IRK.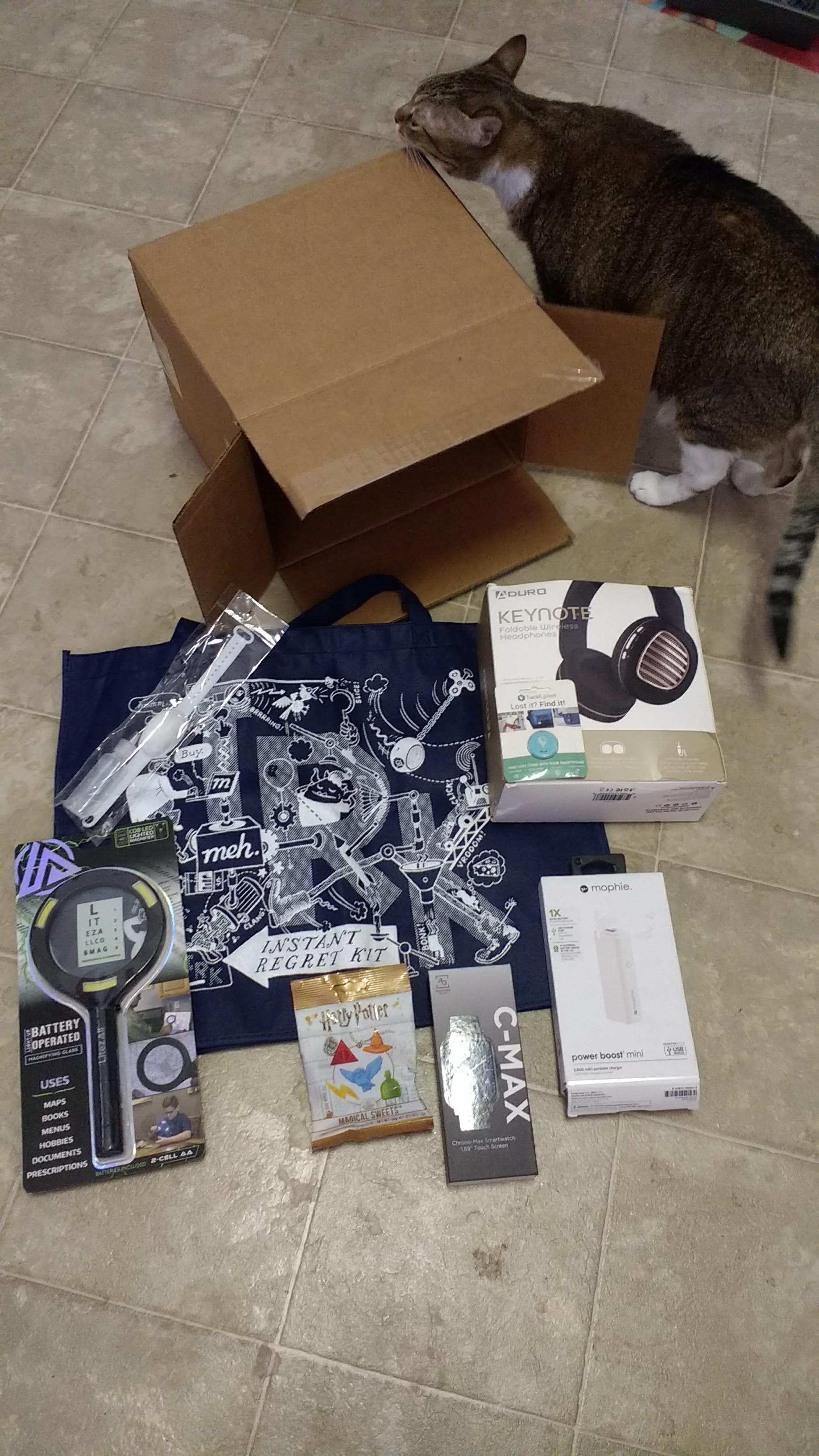 I got:
A very fine box (Kota was excited to get to check it out)
A navy IRK bag
Wireless headphones - Haven't tried them out yet
Mini powerbank - Mini both in size and amount of charge it holds (or lack thereof)
Lighted Sherlock Holmes magnifying glass
Harry Potter gummy candy (not melted!)
Smart(ish) watch - pink band. Haven't tried it yet
Wrist mounted hand sanitizer/sunscreen dispenser - I've actually been kinda intrigued by these but never enough to buy one. I'm not sure I'll ever use it for it's intended purpose, but it is kinda cool to play with and figure out how it works so the liquid doesn't just ooze out of it anytime you brush up against it.
I also got a bright blue IRK bag and my exclusive tour t-shirt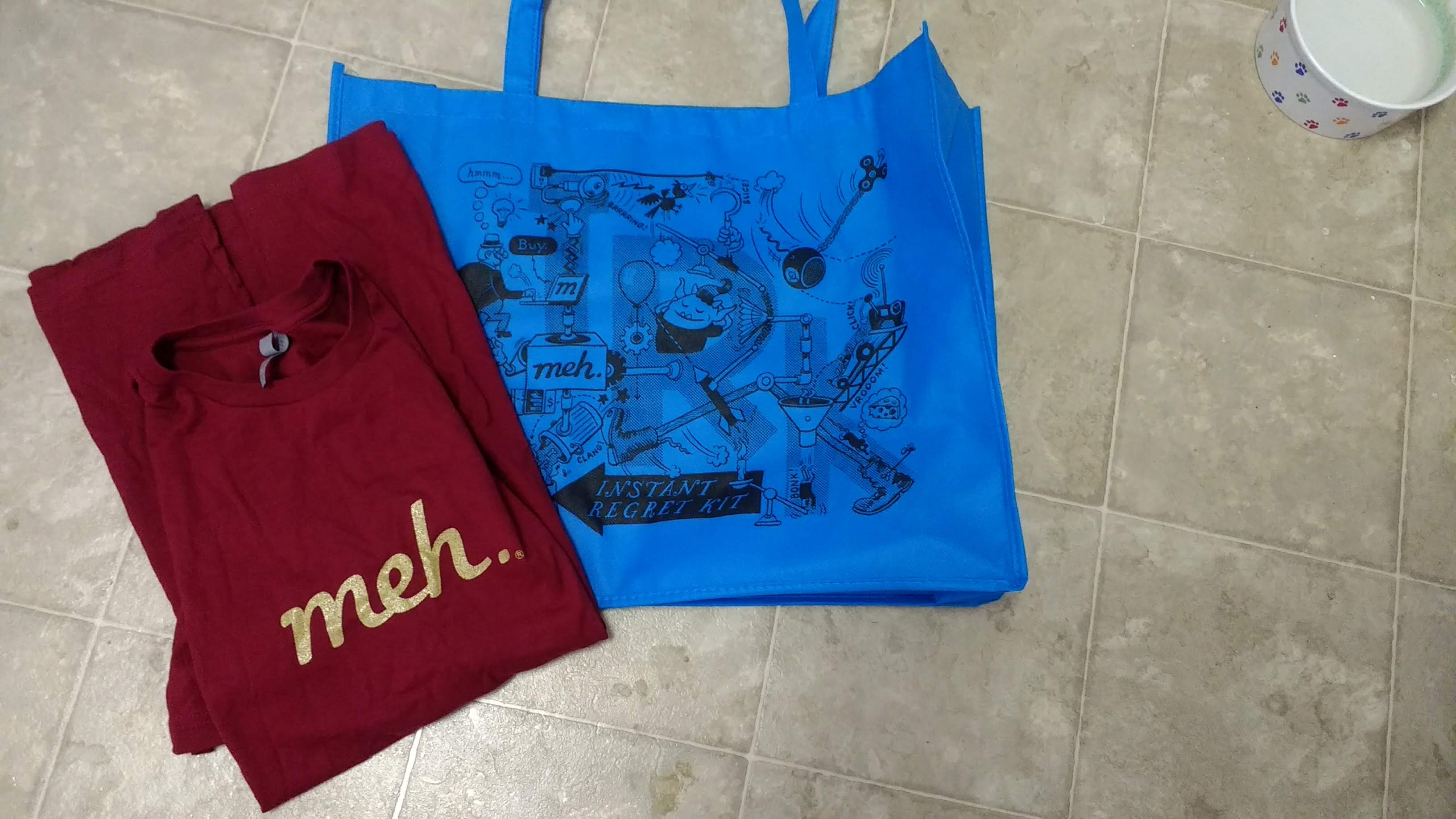 .
Kota approves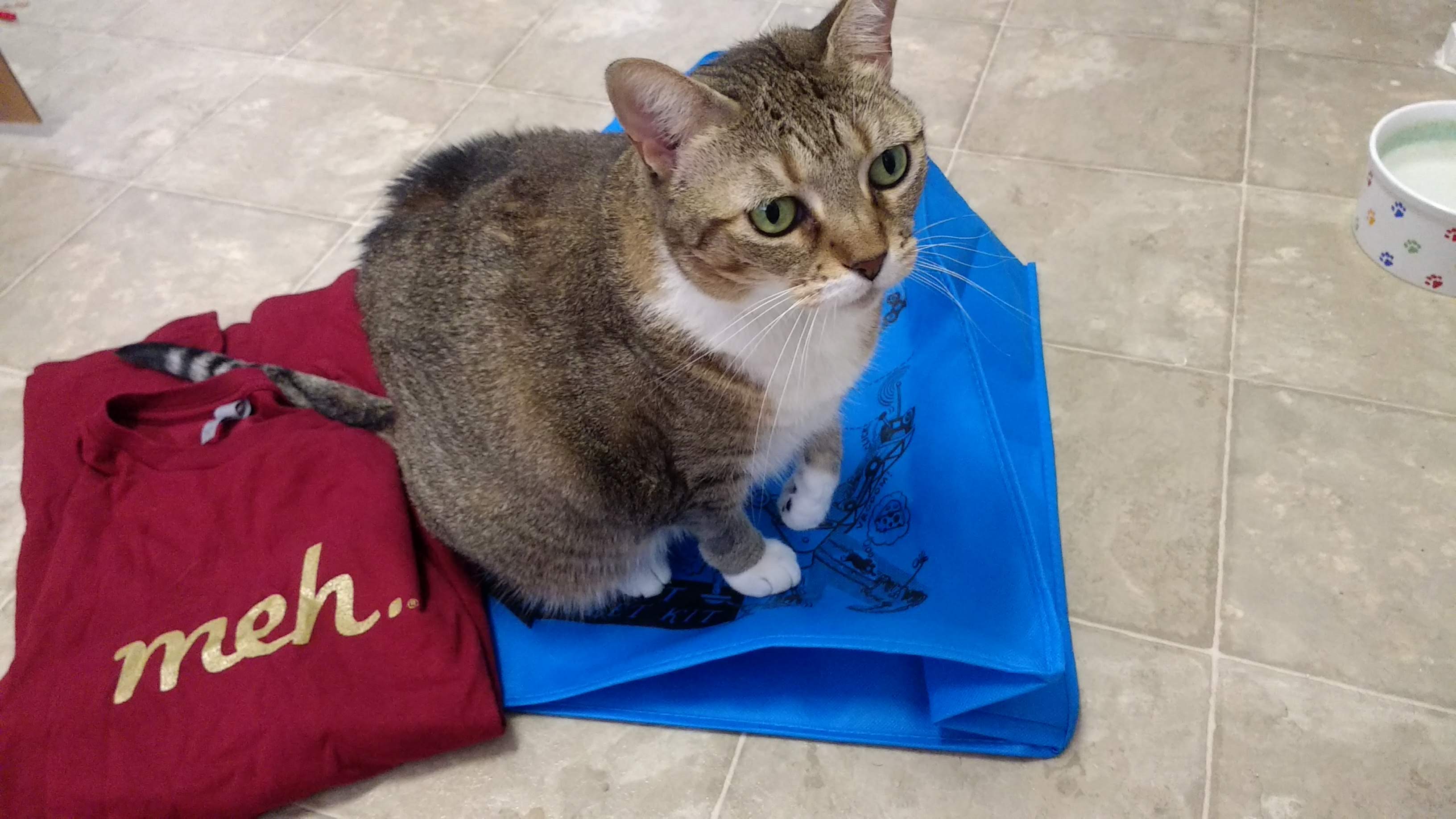 Many thanks to Joe, Stuart and the equally awesome Jayme for taking pictures. I had a great time and learned a lot. The kids may have seemed a bit reserved but judging by their smiles and chatter on the way back to the cars they had a blast too. I think they learned some things and hopefully got some more ideas for different ideas for the research project they have to do as a part of the competition. I can't thank Mediocre enough for putting together this great opportunity.