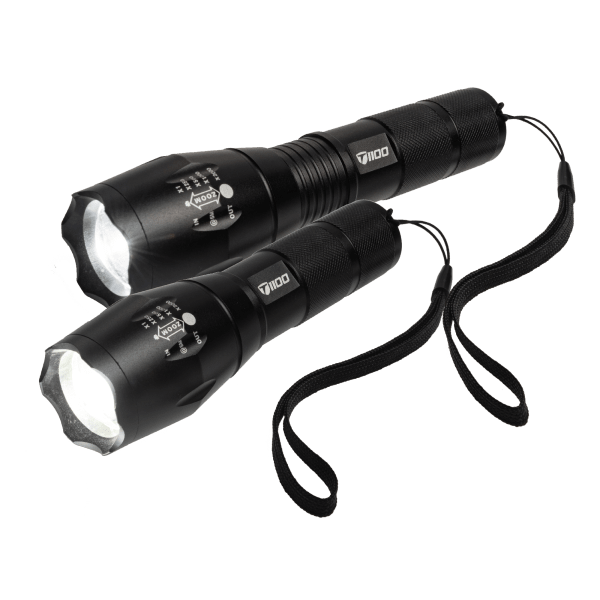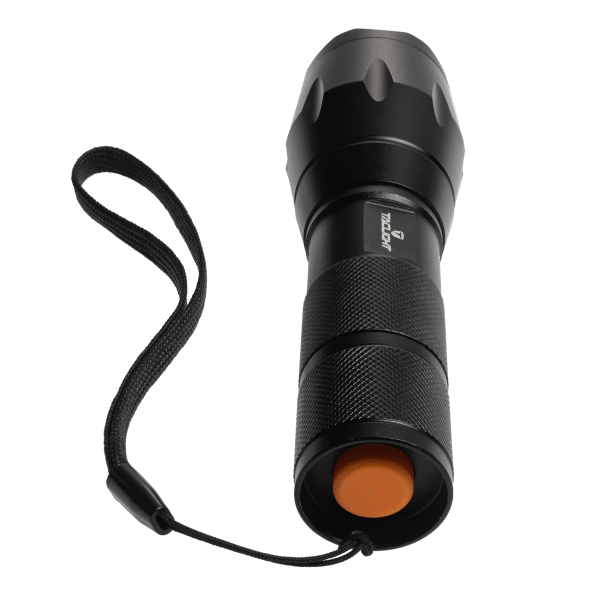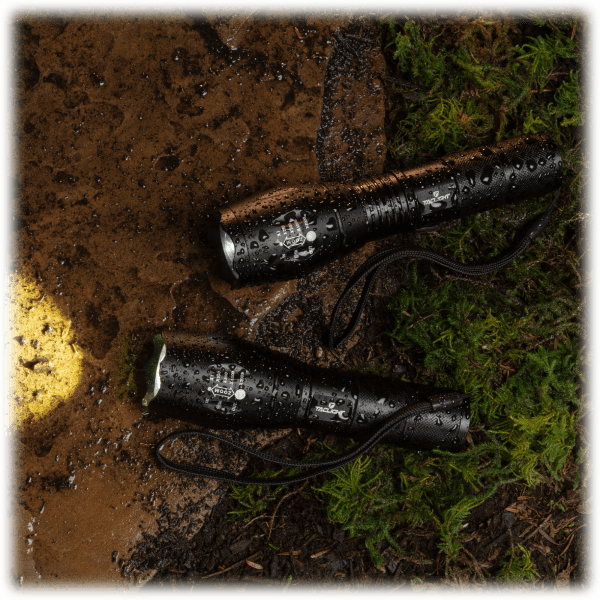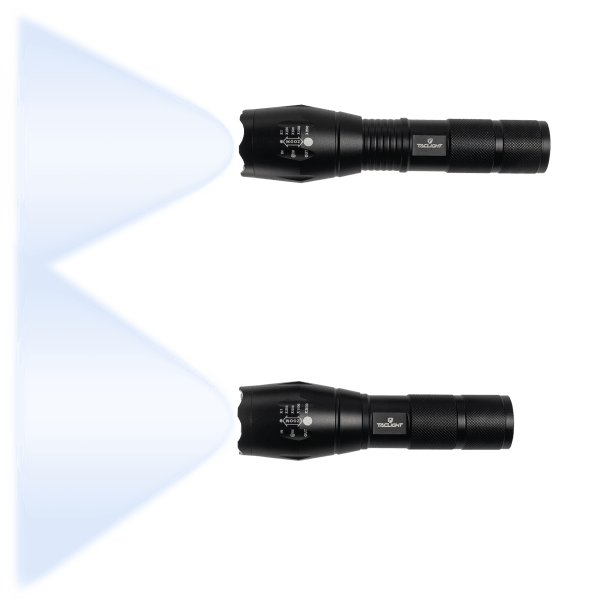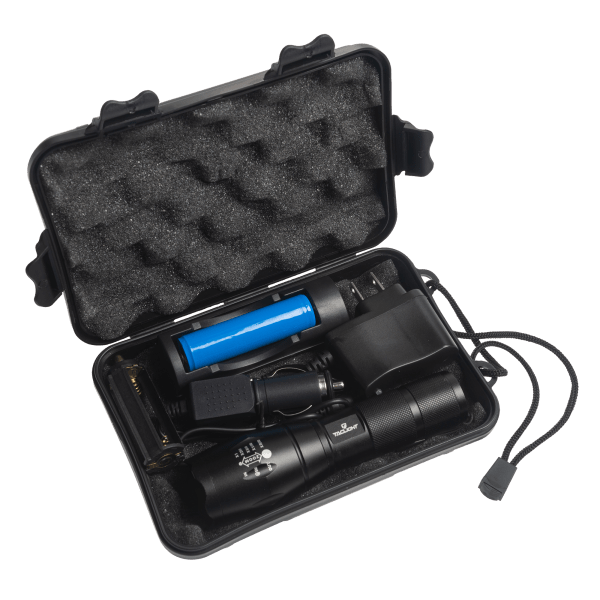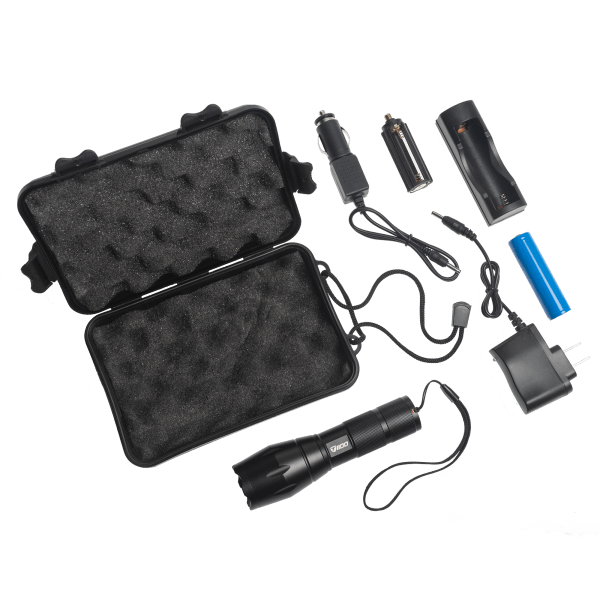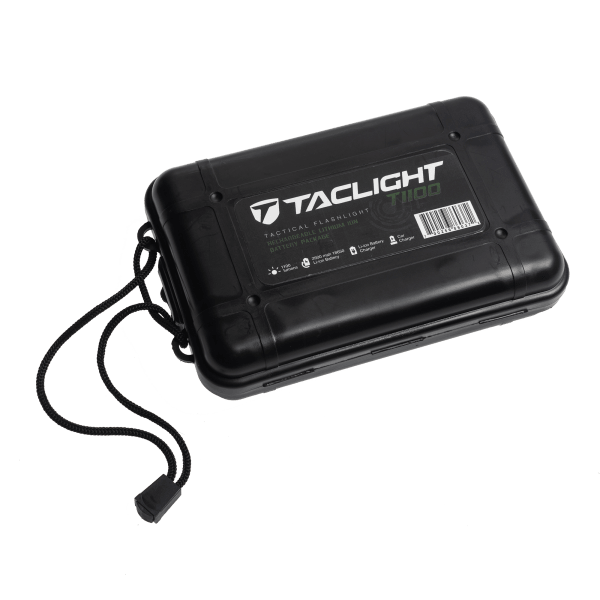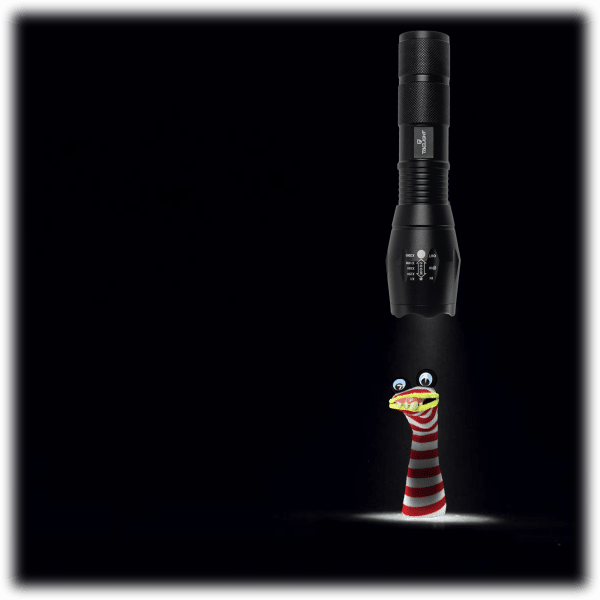 2-for-Tuesday: TacLight 1100 Lumen Flashlight Kits
You get a 1100 lumen TacLight.
Then you get a lithium-ion rechargeable battery, a car charger, a wall charger, a AAA battery holder, a plastic battery sleeve, and a carrying case.
Then you get another 1100 lumen TacLight.
Then all that other stuff all over again too.
Because it's a 2-pack.
Model: T1100. Crazy that just a 900 models later, you'd get a crazy killer robot capable of liquifying.
see more product specs
Not Actual Albums
So, a flashlight kit. What is it? Everything you need to build your own flashlight? No. It's really just an ultra-bright tactical flashlight, and then a bunch of tactical flashlight gear, such as:
a lithium-ion rechargeable battery;
a car charger;
a wall charger;
a AAA battery holder;
a plastic battery sleeve;
and a carrying case.
And since this is a 2-pack, you get 2 of each of those things (including the flashlight).
Now, you'd think that, given its simplicity, there wouldn't be much marketing material beyond a lumen count (which, btw, is 1100) and a few snappy sentences expressing that, you know, it's bright. Right?
Wrong!
Head over to the Amazon page and you'll see there's a whole bunch of stuff, including some photos, which has lead us to invent a new game for ourselves: ACTUAL VS. ALBUM. Basically, we're going to look at a marketing photo, tell you what it actually says about the flashlight, and then tell you about a fictional album for which it would serve as cover art. Here we go: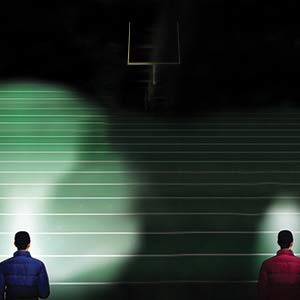 Actual: What we're getting here is a visual representation of the TacLight's range (left) as compared to a traditional flashlight's (right).
Album: Fotboll is the fifth album by Søren/Gorge, the Scandinavian electropop duo who perform in monochromatic blue and red outfits and whose music may be sincere or may be tongue-in-cheek. It's really impossible to tell.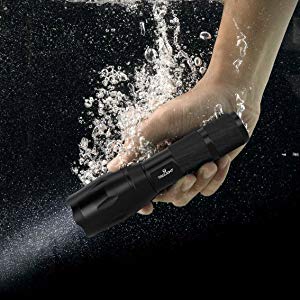 Actual: The TacLight has a "IP65 Waterproof Rating." That means it's water and weather (not to mention impact) resistant. Hence, it's shown here submerged in water.
Album: DarkZone, the third album by Kurt. Little is known of this ambient music producer, though there are theories. For example, many believe his wordless soundscapes to be religious (though there is no agreement on which religion he might be promoting).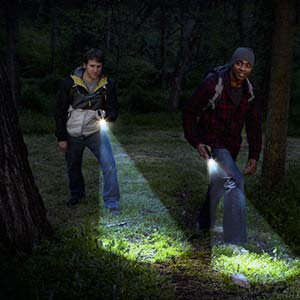 Actual: The TacLight is great for hiking, hunting, and camping (among other things).
Album: Under Our Feet the first album by County Route, a guitar-and-banjo folk duo who believe their political messages to be sly and subtle when in reality they're clumsy and overt. The group likely won't last past their debut, as one member is far more invested than the other.
There you have it, our first ever round of ACTUAL VS. ALBUM. We hope that it kept you entertained as you read about these flashlights, but really, what's important is that it kept us entertained as we wrote about them!
(And if you're so inclined, post an album description in the comments.)
(Oh, also: buy some flashlight kits please.)