Halloween craft time!
18
Spooktober is my favorite. Have you guessed yet? Here's this year's wreath.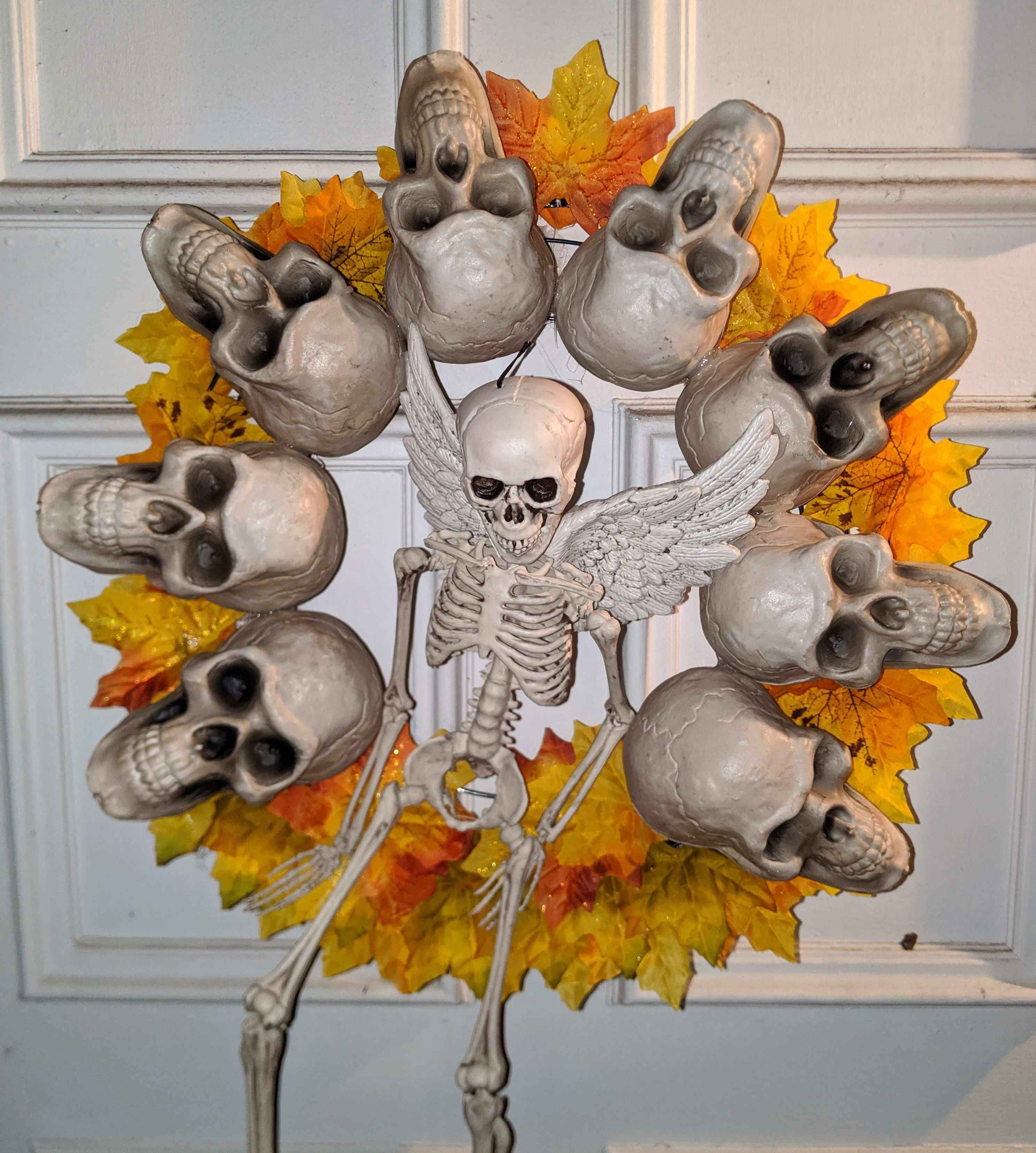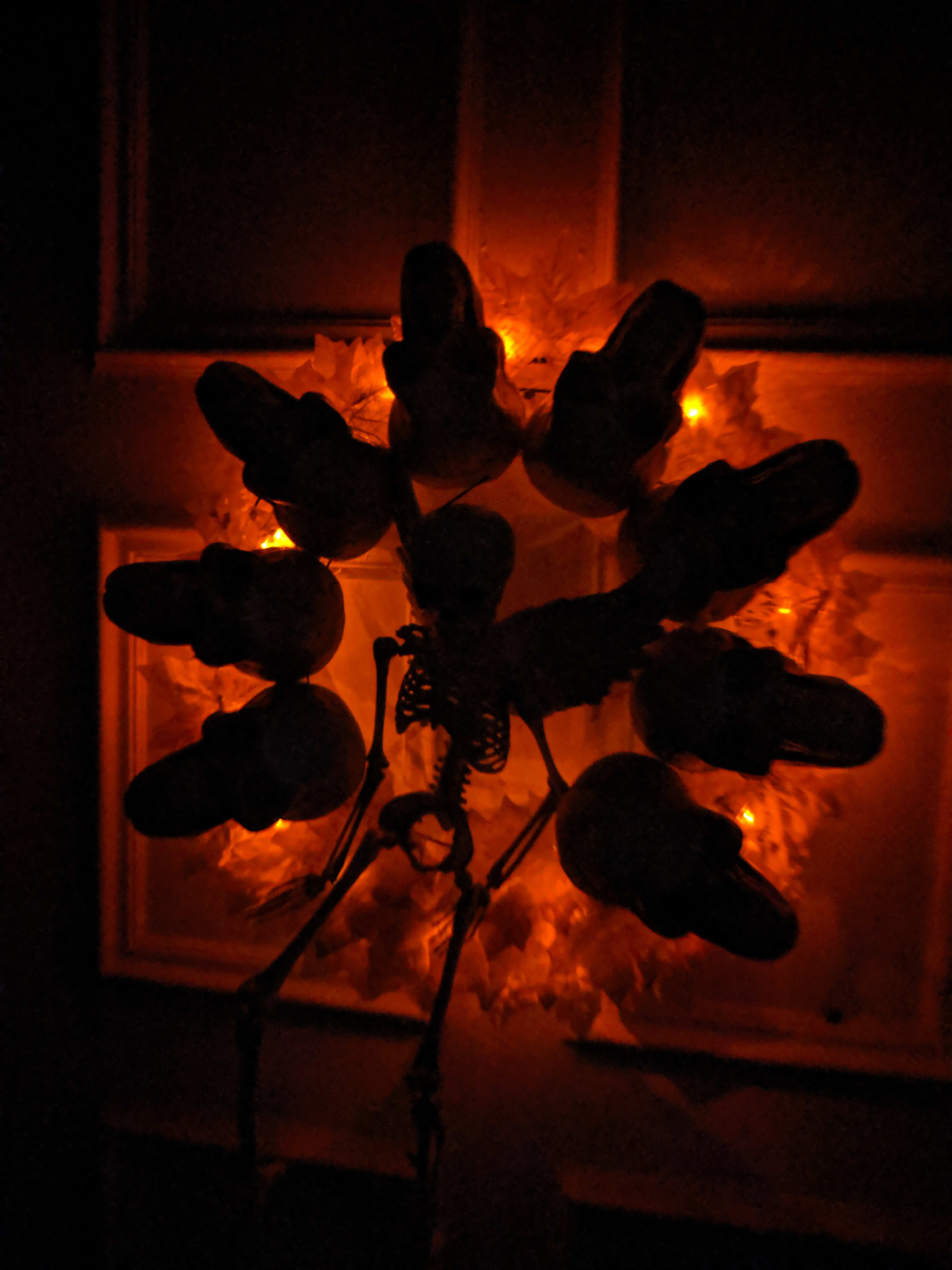 Have you done any Halloween crafting that you want to share?
Did you finish your hands?

EDIT: Great wreath!

6
5

I need to start. I have a bunch of glow in the dark plastic for my 3D pen.

6

Halloween is my favorite holiday, I love all the decoration. I used to make a wreath ever year but I'm working on my Xmas stuff right now for a show.

6

Technically my brother made this 25-ish yrs ago, but he spent most of that time just hanging out in our attic until last October.
cleaned him up, hot glued the hat into place, tied him thoroughly to the swing.

Nov 1st, back to the attic.
over last winter i added a belt and suspenders

5

@earlyre Does that guy have a pumpkin for a head?

@therealjrn not a real one… it's a trick or treat bucket glued to a length of pipe, tucked into a turtleneck sewed to a pair of long johns, all of which is stuffed with polyfill.

at our old house, we had a front porch, with a power plug, and there was a light inside the bucket.

Technically my brother made this 25-ish yrs ago, but he spent most of that time just hanging out in our attic until last October.

Your brother has been just hanging out in the attic for 25 years…??? Wow that is a phenomenal 'failure to launch"!

My two efforts this year:

9

@Pony loving them! Is the tub filled with cotton balls for the soap?

@RiotDemon Thanks! Your wreath is badass- I have envy. The "foam" in the tub is polyfill. The stuff you stuff stuff with.

@Pony nice! I have polyfill kicking around. I pull it from a cheap pillow versus buying a bag of polyfill. Much more economical that way.

If you want your own wreath you can make one easily in not that much time. Hot glue was my friend. (I am thinking about going back with some other glue to reinforce it since it is so hot here in Florida.)

The leaves and wreath ring are from Dollar tree. The skulls and lights I bought clearance last year but I've seen similar everywhere this year. The winged skeleton was from Michael's.

@RiotDemon I have a few bags full of stuff from Dollar Tree's Halloween selection. Maybe a wreath is in order. We have one that I made 12 years ago that has been on the wall of our front porch for over a year. The real spiderwebs mixed with the fake ones have kind of made it a little too spooky… hehe

@RiotDemon Oh yeah- I have better luck using fine wire to attach things to the wreath ring. Glue always fails on me after a while.

@Pony that's an idea. I suppose I could attempt to drill a hole through the back of the skulls. Hopefully it'll survive through Halloween and I can do it later.

@Pony Those are fantastic!. This thread makes me wish I was creative. I might have to try one of those vases.

I just said out loud "Wow, cool bouquet" and then actually lol'd a little.

5

So I bought a black led table top tree on clearance. Thought it was going to be perfect since it had purple lights. My favorite. Imagine my disappointment when I got home and found out the lights were warm white.

I decided to use some more of the dollar store leaves to make it fall themed.

I decided it wasn't spooky enough so I added some extra friends.

8

Today's craft.
Turn this:

Into this:

I love that it looks creepier during the day.

Also this guy was too goofy.

Here they are outside.

5

@RiotDemon Did you paint or just go in with a Sharpie? They both look really good, but I'm partial to the top one.

@mossygreen just paint. Thank you, I also like the top one the best. I might actually go back next year and cut the teeth on the bottom one so it looks better at night. For now it's outside and I can't be bothered. I'm not crazy about the eyes on the bottom one but I'm not sure what to do about those unless I start melting the pumpkin to make it look totally decayed.

/youtube monster tutorials rotting pumpkin


This is for foam pumpkins but maybe it'll be the look for next year.

@RiotDemon Oh dang, those look cool. The second pumpkin is lighter, yes? I understand you're not going to break down your display, but maybe just deepening the color a little bit and accenting the grooves for next year would be enough. On the other hand, nothing's going to make those happy triangle eyes more sinister in the dark.

@mossygreen yeah it's more of a yellow toned orange. I guess it's ok to have a happy pumpkin, but it's not really my aesthetic. I have an entire playlist of YouTube stuff that I'll want to do for next year. I just wish there was more time this month, haha

@RiotDemon I just assume you have some kind of elaborate warehouse studio where all-year Halloween crafting is done by evil elves.

@mossygreen haha, thanks for the laugh.

Honestly, depression has been kicking my ass with all the loss I had this year but Halloween is bringing me out of my funk. I can only hope that I don't spiral back down after it's over. I know I'll be looking forward to decorating for Christmas. It's about a three week break in between.

Git 'er done.


5

I'll be out of town on Halloween and driving most of the day. I'm sad.
/giphy sad pumpkin


3

@RiotDemon Especially since I was planning on giving out some of these stupid fidget spinners I have hanging around. Maybe I'll leave them on the front steps all day and see if they disappear.

@RiotDemon @sammydog01 Why don't you just post your address so we all can go over and make sure everything is ok?

We have pumpkins that we painted here in office, I'll try and gather @halfing together to get a photo of them all today.

5

I bought a cheapass walmart "chunky rococo" frame and turned it into this:

7

@Pony How did you do that?

@Pony I'm totally going to do this with some of the cheap skeletons I have hanging around. Not into rococo personally, but this is really nice.

@RiotDemon Yeah, I'm not a big rococo fan either, but when I saw that one I knew it would be a great piece to modify. I used to make this kind of stuff a lot, mostly to give as gifts. I need to get back into that again.