First Fruit for IRKs reveal
Weboh
posted some pics
said
20
So far, fruit for IRKs is off to a great start. I just received my IRK, and @djslack is getting a taste of a real IRK by having his package of fruit delayed (if it gets delayed too much longer, he'll end up with a box of regret instead of fruit, but that's to be expected with a Meh-facilitated exchange.¯\(ツ)/¯).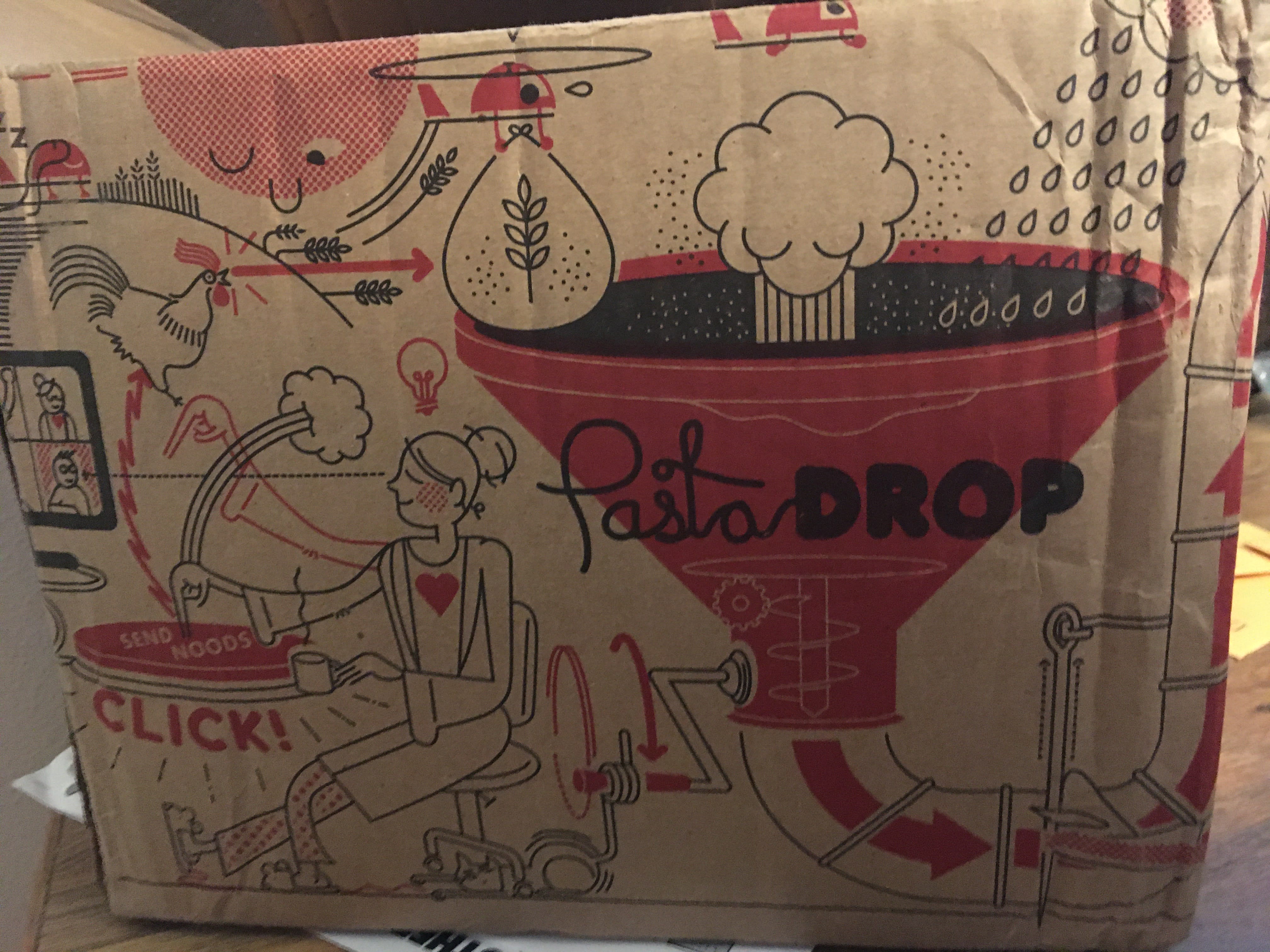 First off, packaging that brings a tear to my eye!

It's a good start.

What's this?! I specifically asked for no TrakRs! You get my hopes up with the box and now this!? You're playing me like a violin!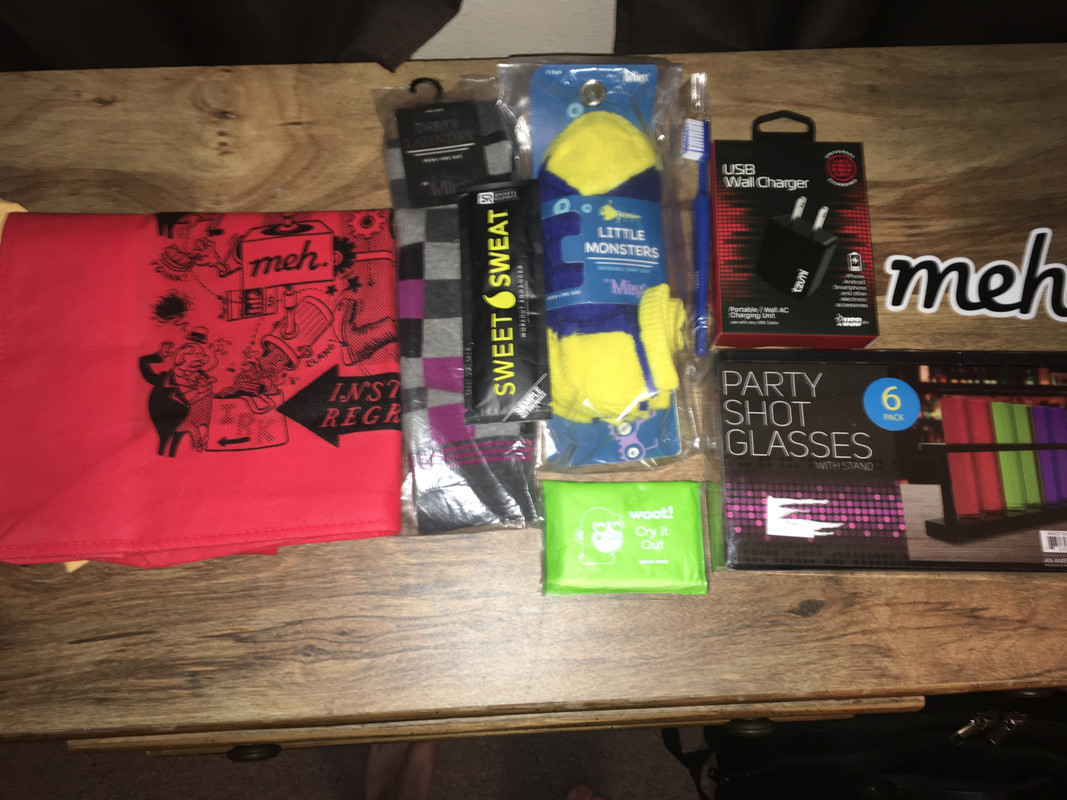 Then all the important stuff: An IRK bag (my first!) and Meh sticker, tissues which I won't use, awkwardly shaped shot glasses that I won't use, a pair of kid size furry socks which I won't use, a pair of adult socks which I'll actually use, and some weird workout gel I won't even be able to give away. And an official Meh toothbrush that got a chuckle out of me, and a USB wall charger. No use for these right now, but I'll wind up using them eventually. All in all, a very good representation of an IRK. Except for one detail: It wasn't loosely packed with things rattling around. That's what the note said anyway.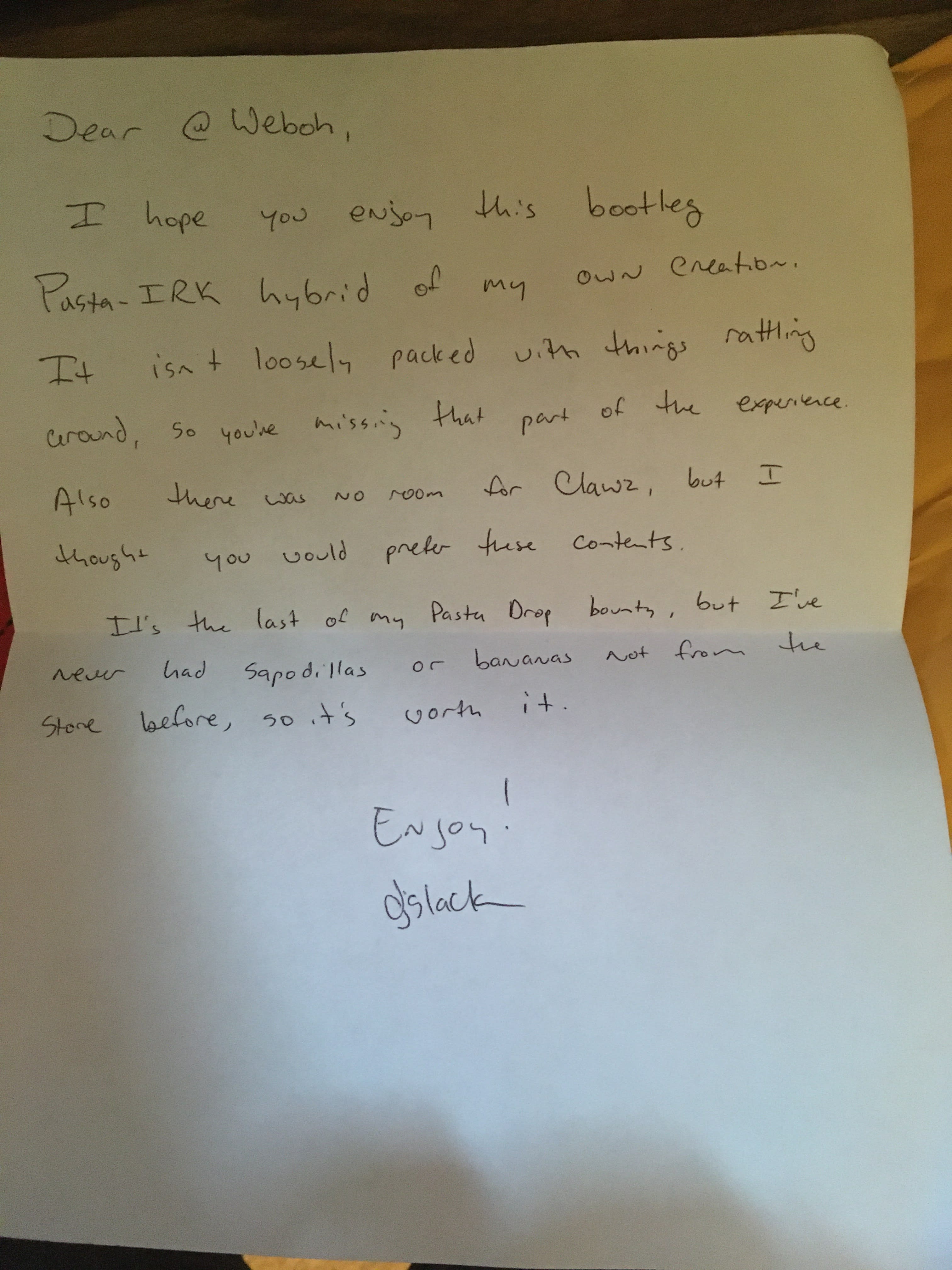 Wait, what's that the note said about it being a pasta-IRK hybrid? There's something else at the bottom of the box!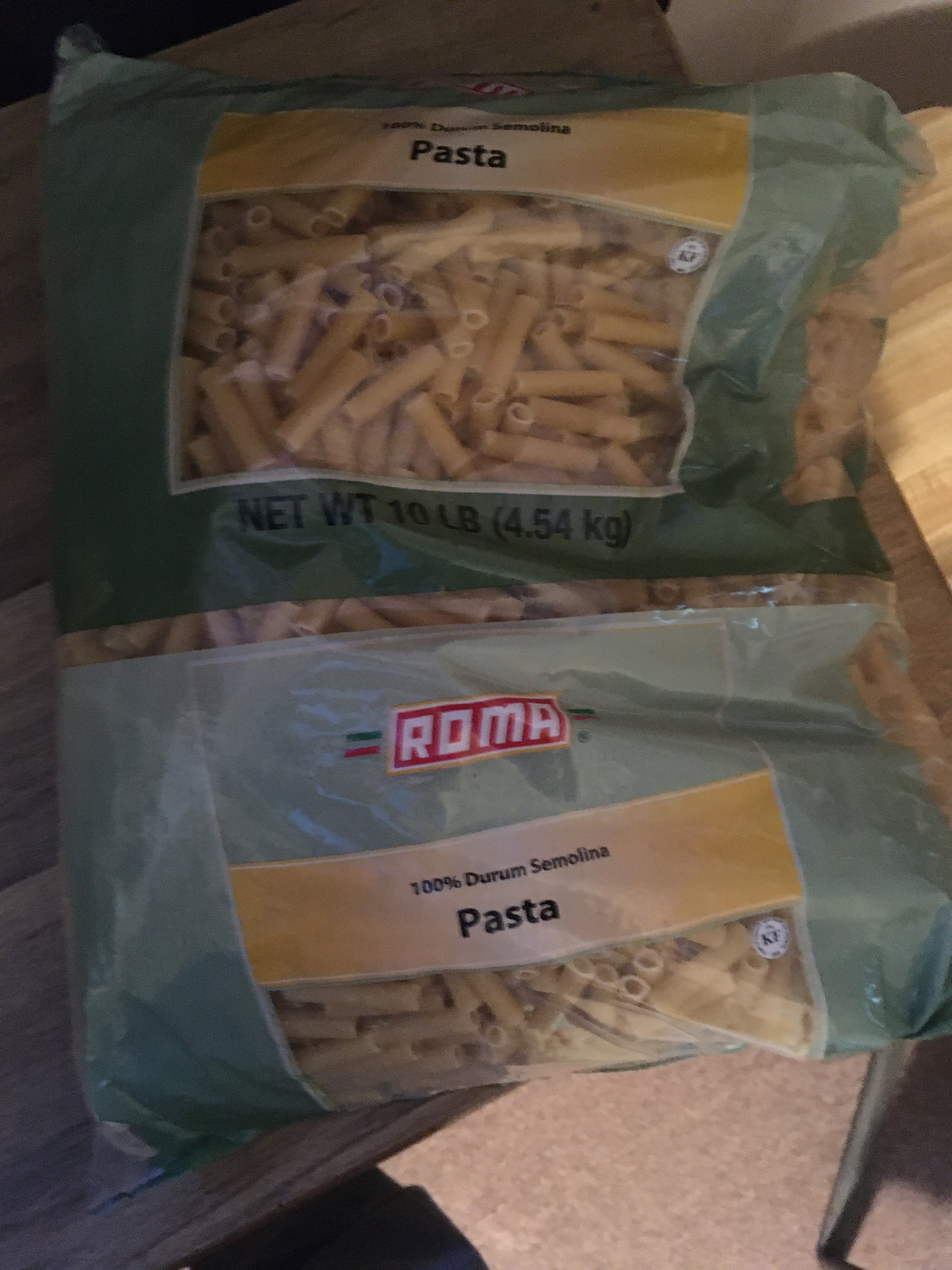 My pride and joy!



You do care! I take back everything I said about you! I will feast! FEAST! FOR DAYS—NAY, WEEKS! IT'S ALL MINE!!





Excellent combination of regret and pure joy. Good enough experience for me to do it again, but I don't know if it's something @djslack would want to do again. We'll have to see the state of the fruit when it finally arrives.

FFS!

(First Fruit Success!)

5

I missed the thing about trackrs. But I knew the real desire you had. I hope you enjoy the pasta! Almost all the random contents were from recent IRKs. I found the shot glasses, woot tissues and sweet sweat while looking for the phone case you wanted. I was pretty sure I had one but alas, someone probably gave me a dollar for it at our last garage sale.

My tracking says the fruit box is still at a distribution center in Florida, so things are really not looking good.

/giphy womp womp


10

@djslack Worse, that distribution center is only 2 hours from here, and it took USPS 8 hours driving to get it there—and then they left it there for 4 days. So much for 3-day shipping.

At least it didn't get shipped to California, Maine, back to Florida, then to Louisiana like it would if it were a true IRK. As soon as they release the hold, you'll have delicious vinegar in your hands!

Woohoooooooo! Loot

1

What? I must have totally missed this, I'd take my chances at getting REAL, HOMEGROWN, FRUIT for my handmade irk. I have lots of them. I know it may not arrive fruit but there also a good possibility it will. I was there everyday reading your post when you were goat, it was the best month ever. Now I go to asian, Spanish, ect…. Markets and look for the fruit and ask people to explain to me what it is and have awesome conversations about other stuff and walk out buying tons of items i never would have before.

4
0

@Star2236 Sadly, no. It doesn't look like USPS is ever going to deliver; it surely smells awful enough to be confiscated now, if it hasn't been already. At this point, even if it does eventually make its way to @djslack, there's no way any of it will still be good.

I don't want to ship fruit by USPS again, as I don't want to promise something they won't deliver. I looked into it, and UPS and FedEx cost twice as much for 4-day shipping.

Looks like this is the last fruit for IRKs, too. If you're ever down in Fort Myers, though, I'll be able to get you something.

@Star2236 Yep, no nothing Tracking hasn't even updated in 3 days.

@weboh your shipment has insurance up to $50, hopefully if you have time you can at least get your money back from them. I'm not sure what is involved in filing a claim, if it's as simple as going on their website it could be worthwhile. This was an expensive adventure to have the post office let us down.

I'm off to let Louis Dejoy know he owes me a surprise package of delightful tropical fruit.

@djslack @Star2236 Good point. I'll contact them and try to get a refund.

If I can get one, I'll send you another package. No more mangoes, but there's plenty of other things in season here I can try to send you. If it fails this second time, though, I'm not going for a third.

(I seem to missing something with the Louis Dejoy reference)

@Weboh just that he's the postmaster general so this is ultimately his fault

Thanks for being willing to try again, if you can. If not, it's not the end of the world. I just hate that they charged you that much and then dropped the ball box.

@djslack No, it's not his fault–it's @kyeh's. I'll let you know how cooperative they are. Hopefully I don't have to blame @RogerWilco for the package failing the second time.

@djslack @RogerWilco @Weboh
Mmmmmm, yummy! (I wish…!)

@Kyeh @Weboh You can only blame me if the package is sent next month.
Otherwise it's still @Kyeh 's fault.

@Star2236 @Weboh tracking hasn't changed since 7/26. Somewhere in a post office distribution center there's probably a poor box that resembles a forgotten month old jack-o'-lantern, and a colony of fruit flies that has lived in and on that box for six generations.

@djslack @Star2236 Yeah, they're doing just as good a job reviewing the claim as they did shipping the box in the first place. It's still "under review" with no updates 8 days after submitting it.

I have half a mind to just ship you another box anyway, but I don't want to have sunk $60 into pasta (no matter how delicious it is). Do you want to go in on the second box halfway? We can whisper the details if so. I'll give them until Monday either way, so that they'll have more non-weekend time to deliver it. I'll be liberal with shrink wrap so they can't smell the fruit.

Yeah definitely file a claim, maybe it will bring their attention to why they aren't shipping it and tell you what you can do.

2

@djslack @star2236
I submitted a claim today, but I'm not hopeful. They specifically say they won't refund the shipping cost—only the item value. They wanted me to provide a picture of the receipt proving its value.

I was honest about just wanting the shipping cost back, so I hope they're nice.

2

@Weboh Eh, that probably won't work out. I'd have built a shopping cart from a fruit vendor to prove value. They'll probably point to policy and deny you because that's the quickest thing to do.

But I've got my fingers crossed with you. I ate a grocery store banana today and it made me a little sad.

@PHRoG nope, tracking hasn't updated since 7/26.

@Weboh
Hopefully you get something back, shipping cost would be nice. I can't believe the package hasn't been delivered or a letter hasn't been sent yet.
My brother once sent pot to my other brother (I know not same situation) but it took about a month for the receiving brother yo get a letter that told him he had a package that had been confiscated and they wanted him to come down and open his package and this was pre CoVid. So just shows you how slow they are on a good day.

@Star2236 @Weboh They can be even worse than Pitney Butthead on occasion. I had a package show up a couple of days ago that was sent (priority mail) early last March!!

@Star2236 You're not exactly doing a good job of encouraging me to try again so that you can get some fruit of your own.

I guess it would never be feasible at $30 a package. I'll just have to ship less fruit.

@Star2236 @djslack Great news! They refunded my claim, and gave me double the shipping cost back! A big unblame to @Rogerwilco for his fantastic handling of the situation.

I found out that USPS is increasing their shipping costs across the board in September, so I'll definitely get out the packages before then. I'll try to get a package to @djslack in the mail by Tuesday evening.

If anyone else wants one, jump in. With as unprofitable as this is now, there's no way it's going to be worth it when the prices go up.

6

@Weboh wow, that's great news! You got someone very nice on the refund approval!

Even if they raise the rates, you can turn a profit if they always refund double your money

@Weboh
I want one

Fresh fruit that's not from the grocery store, I don't know if I've ever had? Now I remember what it feels like to be a kid on Christmas morning.


So I sent the box out today but bc f the weight I could only do 3 daily mail. So I'm hoping everything is still fresh once it gets to you (I'm going with luck)bc to add on insurance to that weight was outrageous. Not to mention I had already spent at least another $40. I really forgot about the weight of the pasta. Hopefully the bread and dessert will still be fresh ( there wrapped and then sealed in plastic bags). The store said they should be fine so that's why I did it.

0

@Star2236 Aw, thanks! I wasn't expecting you to go through quite that much trouble and expense.

Hopefully you'll find it worth it when all the fruit arrives.

@Weboh
I'll be on the lookout Friday for fruit, especially since we're having record high heat right now, don't want anything to go bad.

@Weboh
Oh I can't wait, I'll be heading home in about one hour and 20 mins. And it's the first thing I'm gonna look for.

All right! It's Fruit Day! Super excited!

I took lots of pictures so I'm going to put replies to this to detail everything since I'm posting from my phone.

First, my Pastadrop box has returned. Someone at the USPS really doesn't like pasta. And I can smell fruit-adjacent smells from here. Is this a box of joy or a box of doom?


5

@djslack 50/50, I'd say. The person that did that handling probably cancelled his VMP! (that is, he's at his job)

@djslack I see no liquid so I am feeling good about the contents


So there's juice on a lot of stuff. It's the source of the fruitish smell. I think a lot of it is from this. White Carambola - Starfruit. The bag had a little place where the zipper wasn't sealed. In the Ziploc bag itself it smells like it's starting to turn to wine. Voted not safe, but now I've touched Starfruit!


This is why I think a lot of the juice is from the white Starfruit. This is Belle Carambola. The swollen bag says danger, there's an ecosystem you don't want to eat hard at work in here. And there's much more juice than the other bag. So I think maybe yesterday that bag looked like this one until it failed.


This is Cecropia. I wasn't a hundred percent sure whether this bag was sealed or not, but after research I believe it also contributed to the juice, because they do not look flat in photos but very plump. I did a smell test and it didn't smell like it had gone bad, so I got a taste. The texture of the skin is the first thing I noticed, it felt like a cat's tongue. I read just now that these are achenes - like strawberry seeds, but they are very tiny compared to strawberry seeds. Unfortunately I got an overpowering taste of bitter, so I think this was not good any more. I read that it is supposed to be sweet and reminiscent of figs. It's neat looking and I would try again.

Those are the busts, and really not that bad, just unfortunate. It's all uphill from here!

@djslack It is unfortunate that the starfruit didn't come through. I was hoping cutting it would save it from bruising when it shipped, but I guess 3 days in the heat will do that.

That's why you won't find good starfruit in stores, I guess. I had Belle starfruit for the first time a few weeks ago, and was in heaven. To me it's as good as an orange, if not better… but I digress. Sorry for your loss.

Supposedly, starfruit wine tastes very good. If you like to live dangerously, you could try making some.


Here are a few Longan. I believe this is the thing there are two varieties of. I think I got both in this photo. There are quite a few more in a bag, and most of them are intact. Directions say to peel the brown skin and eat the white flesh. I peeled one and the flesh was almost transparent. It looked like an eyeball kind of, you could make out the black seed in the middle. I expected it to just be a juice bag from it's appearance, but it had more flesh to it than that, a little firmer than a peeled grape. I don't think I've tasted anything quite like it. Hard to describe. Not real sweet, a little bit of maybe mild tartness to it? I want to say maybe like a less sweet lychee, but it's been years since I've had one of those. I will try some more later.


Sapodilla! It's not soft yet, but I'm excited to try it!


Avocado! It's almost black. Still a bit firm, I bet tomorrow or Sunday it will be ready. We only get the bumpy Haas avocados here, so I'm jazzed to check out this smooth one.


Pope Mango! Everybody loves mango! It's not quite soft, with just the slightest amount of give right now, so I'll check it and get it in its prime. Very excited for this guy!


These are bananas! B-a-n-a-n-a-s! Or plantains. We're not sure yet. C'mon, ripeness, I'm excited about you too. It's a nice big bunch of them, also.


Last but certainly not least: Ice cream beans. Wait, what? ICE CREAM BEANS?!?! Where were these when I was a kid? Peel apart with fingernails and get the soft cottony flesh around the seeds with my teeth. @Weboh, are these ready to go or do they need to ripen before I try?

All I can say is wow. I'm super excited about the bounty that arrived today. This adventure is super worth the roller coaster ride it took to get here. 10/10 would fruit again! Thank you so much for sharing in your bounty, @Weboh!


I almost forgot to take a photo of the illustrated guide to my box contents. This is (c'mon, bot) awesome!

Thank you @Weboh!

Catching up: If I knew how to make wine I might be willing to try with the starfruit, but I'm afraid because I don't know too much about how it's already fermented and if it could be dangerous? So I'm probably going to wimp out on that challenge.

WORKER BEES! HERCULES! TURKEY GREASE! AWESOME!

@djslack Haha, don't get too excited about the ice cream beans. Pretty much everyone I know who's had it says they don't taste like ice cream. We decided it's named that because it's super sweet and has the texture of "astronaut" ice cream. Still good though, but how are you going to beat ice cream?!

Ripe ones are normally a bit more brown; the bottom one looks almost ready. But I'm not sure if they will continue to ripen. I picked them a bit early because I wanted more variety in there. Best guess, check tomorrow evening and see if they're any more brown. If not, I guess try the bottom one. It's a bit more brown and will probably taste closest to how it's supposed to.

@djslack I realized I forgot to include the avocado variety: It's Brogdon. I'm told that's the best avocado Florida has to offer, but they're all a little watery because of all the rain we get.

And longans definitely have a hint of lychee to them. I say it's named that because whenever you eat one it gives you a longin' for the superior lychee.

So as soon as I got home last night I had to get ready to walk out the door again so that's why I'm just posting now. So let's start with the bad. So my starfruit and cecropia were both bad. Mine weren't exploding, didn't have as much juice as the pic today and didn't really smell all that bad but the taste test led to super sour starfruit and not much fun later. I didn't taste the cecropia bc it looked like everything leaked out.
[1]:

3

Next up banana/plantain, rope mango and sapodilla.
I at the sapodilla today and it's the best thing I've ever eaten. Inside is like brown fruit flesh that you scoop out and eat. To me it taste like brown sugar, cream soda or vanilla? I didn't read what it's supposed to taste like bc I wanted to be surprised.

3

Here's the sapodilla cut in half.


2

Last but not least (says I was supposed to get ice cream beans but nothing in the box) Here are my longan in the bag. I've read about these and always wanted to try them. My expectations we're not let down at all again another super sweet fruit. I could eat a whole grocery bag of these.


2

Here is my wonderful guide and a pic of a partially peeled longan for anybody wondering what it looks like inside.


3

Thank you @weboh for my wonderful fruit! The longan's and sapodilla were beyond my expectations and made me only wish I could get them every day. I can't wait for the rest to ripen! I'm gonna look into your box later today and will update you.

3

Tonight I went to the fruit bowl and checked on things. I grabbed one of the ice cream beans (hadn't gotten any more brown) and the Sapodilla was nice and soft! I should have taken pictures.

The ice cream bean was a little difficult to get started, but once I cracked it it split apart nicely. Little white fluffy looking pods awaited me. I started at the stem end, and the first one was very hard to get any flesh from. A little sweetness around a pretty sizeable seed. I thought I had gotten it until I moved down the line.

The next one I popped into my mouth and kind of scraped against the seed with my teeth. The flesh finally separated and popped out the seed and I figured out how it was done. The seed broke into pieces, though.

The middle pods were much easier, a little sweeter, and almost creamy in a way. I get why it's an ice cream bean, although I think it would be sweeter if it were fully ripe. This one is still pretty good, though. Most of the middle seeds came out intact.

At the end of the bean they started getting hard to do again, and the sweetness decreased. So it must be a ripeness thing, and it's more ripe in the middle. I enjoyed it and will see if the other one improves in a day or two.

I had set the Sapodilla aside and thought I'd have it at breakfast tomorrow. But then I got anxious. It feels so plump and ripe right now, and it wasn't that way yesterday. What if it's too ripe tomorrow?

Grab the knife and halve it, and get a spoon and go to town. You only get exotic fruit in the mail once.

WOW! I see what @Star2236 is talking about. It's also my new favorite thing, to a point that it might be trouble. I don't think I've ever had any fruit this sweet and rich. It's not like sweet potato pie. It's like a caramelized sweet potato custard with the nearly falling apart texture of a juicy, just about overripe pear, caught just before it becomes a mealy mess. A creme brulee in a peel. This. Is. Amazing. My taste buds are still celebrating some time later, and I'm contemplating the feasibility of moving somewhere these are available. I got two seeds, one large and one small, and wonder if they might grow here.

The bananas are now a lighter shade of green, and the avocado will probably be ready tomorrow. The mango might kick in tomorrow, but I wouldn't be surprised if it were Monday before it's ready. I can't wait!

3

@djslack I think I just read food porn lol

/giphy giggle


@djslack Strong feelings about the sapodilla! I'm not going to take them for granted any more, that's for sure.

You can't grow them outdoors where you are, because the first winter will kill them. If you're dedicated, which it sounds like you are, you could always set up a greenhouse or grow a tree in your basement with a grow light or something.

If you are going to plant the seeds, I recommend doing so today. Most tropical fruit seeds don't stay viable for very long once they leave the fruit.

@Weboh I planted, let's see if they germinate!

@djslack My kid used to eat mangos off the trees in Cambodia. She says the mangos we can get in the store here only look like mangos; they aren't mangos. LOL Of course there are something like 60 kinds of mangos so likely wasn't eating the same kind as in Cambodia.

My new mission in life is to find anywhere that they would sell sapodilla in Michigan bc that was so dam good. And next time I go to Florida I will be all over the the fruit stores looking for them.

1

@Star2236 Bad news: You'll probably have trouble finding them in Florida, too. There are communities of people here that come from the same areas sapodillas do, and they love them even more than you do because of the nostalgia factor. They know what shops carry them and when, and they are usually sold out very quickly, even at $8+ a pound.

If I loved sapodillas as much as you do, I'd do some research before going to Florida to find out when and where to go for sapodillas, and plan my trip around that.

The trees are ever-bearing, so they always have fruit on them—but the fruit's not always ripe. I have access to ~10 different trees, all of different varieties, so I can probably hook you up with a little bit any time of year if you're ever in Fort Meyers.

I can only imagine what a real avocado would taste like. We eat them a lot in our house with salad, Mexican food or just straight out of the shell. I'm going back home from my dads in a little bit and gonna eat the rest of my longans if only I could find them here? I did find a fruit company that will send you a 5lb box for $75 but that's a little out of my price range. I'm gonna ask the Mexican market/restaurant that I got to a couple times a month if they can get there hands on sapodilla bc I think I've actually screen then there before but didn't know what they were. Maybe my bananas and mango will be ready today too

1

I did try a banana today and not very sure how to describe It looked and tasted like a banana but had a little bit of a tart taste to it that wasn't bad, it was very good and went along with it very well. Other than that it was the same consistency of a banana but very fresh and better than any store bought banana than I've ever had. All the fruit so far has been amazing and I'm so glad to have had the chance to try it.

3

@Star2236 Sounds like a sweet-tart banana. I have a bunch of those. They'll be good even when they're almost totally brown!

@Star2236 I also had the banana that had turned completely yellow today. Mine was similar in flavor to a store bought banana that was barely ripe but sweeter than any of the ripest bananas I've had before. Great texture too. This fruit journey is terrific!

@Star2236
I just received something beautiful. A glorious, glorious Pastadrop!

But this is no ordinary Pastadrop. This is a special-sauce Pastadrop—literally:


Everything I need to make pasta! No need to even go to a store to buy the sauce! And pesto! PESTO! Sauteing oil? Yes, please! And special Italian spices! A+ package for sure. BUT THERE'S MORE!


GARLIC BREAD! Beautiful, perfect looking garlic bread! Breadsticks, soup mixes, and even single serve pasta! And it wouldn't be a Meh package without the note of encouragement on these pasta bags. Makes it sound really appealing. It will get eaten, rest assured. A+++ package!


…what's this? Be still my beating heart! There's even more! Italian desserts! It all looks so good! (so good that some of was gone before the picture was taken!) You went above and beyond, for sure. You put my little fruit package to shame. It's like stealing from you. No regret here! It's an ILK (Instant Love Kit).

4

@Weboh
I've been known to go a little overboard at times lol, you should my nieces Christmas gifts. Glad to see everything made it in one piece bc I lied to usps and said there were no liquids in the package. Hope all the bread is still good. I didn't know if you had any allergies so I double wrapped the chocolate covered almonds (I don't think their really nuts thoug). Sorry I didn't send any special note I was in such a hurry to get it out I didn't even think about it till after it went out. Hope you enjoy all of it.

The other day was avocado and mango day, and both were home runs. Just had the avocado with a little salt and pepper, and it was super mild and creamy, really a perfect texture. I seem to have gotten to it at peak ripeness. The thin smooth skin was a little bit of a challenge as my spoon would just cut through it, so I got a little sloppy grabbing the halves all over to remove little bits of peel. Totally worth it.

Later on it was mango time. I chose the cut it around the belt, twist it and eat it with a spoon method. And wow! I've never had a mango be creamy before. And there was a variety of flavor and texture. It seemed like one side was very ripe and the opposite side not as ripe.

So 90% of it was perfect, very sweet, super mango flavor, with a richness I haven't had from grocery store mangoes. The one very ripe part was darker in color, more liquid, and more complex flavor. One bite went almost to a durian place (well, I've had durian candy anyway). And the seemingly not as ripe part was a little drier, more fibrous texture, but surprisingly sweeter. It was almost like a few bites of mangoey pineapple snuck in there. Yet another experience to spoil me forever on fruit I can actually obtain

I bought a mango at the store last weekend thinking I could compare side by side, but my imported mango was a couple of days behind on getting fully ripe. By comparison the storebought mango was like 85% as good. Not creamy, but solid, sweet mango flavor. No variation or complexity, every bite was pretty much just straight up the middle mango. I enjoyed it, but I was thinking of my time with the Pope Mango as I enjoyed the pleasures of the Kent Mango tonight.

And the bananas have been great. They seem to not go from green to bad in six hours like grocery store bananas sometimes do. I have had a perfectly ripe and delicious banana every day this week, and the last one promises to be just as good and probably not even getting brown tomorrow.

Overall, this has been a fine ride! I know it was expensive and the journey had its ups and downs, but this has been a great experience. Thank you again @Weboh for sharing the literal fruits of your labor!

3

@Star2236
Everything in the pastadrop was as amazing I thought it would be.

The garlic bread was delicious, and the highlight of the whole thing. Even three days old, it was perfect dipped in the oil mixture. The breadsticks are a nice way to keep using that delicious dip.

The tomato sauce was better than average and the saute sauce was excellent; it's basically all the spices I would normally put in oil to saute something–and I do that a lot!

Deserts were top-notch, too! I started with those dark chocolate cookies, which I thought was the perfect chocolate snack–until I started on the chocolate covered almonds. Those things are amazing! I feel the same way about them as you guys do about the sapodilla. At least I get to ration them, but it's hard!

I have yet to use the pesto, but I still have plenty of pasta to do it with. Really looking forward to it. Top notch package! Still zero regret.

3

@Weboh
Glad you enjoyed everything. I went to a specialty market in the area that has a lot of nice stuff that I like to shop at when I making a nice dinner. I haven't tried that pasta sauce yet but got one for myself too. The oil I found at great harvest bread but I don't think you guys have them in Florida, I like to use oils for cooking and just dipping bread into to eat. The chocolates I got from Whole Foods in their bulk food section.

I ate the mango the day I posted that I should cut into it but I think I waited a day or two to long bc while it still tasted very good there was a small section that I could tell what it would taste like ripe. I ate it all in one sitting and got a stomach ache from it, maybe to much of something on an empty stomach.

All the fruit was EXCELLENT! And I'm glad to have had the opportunity to try some of the great fruit.