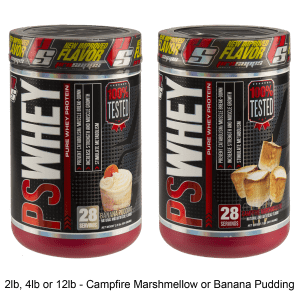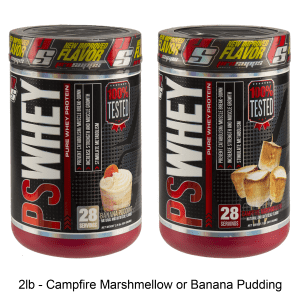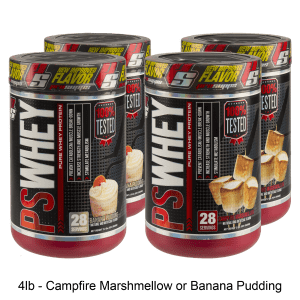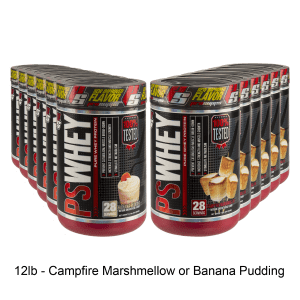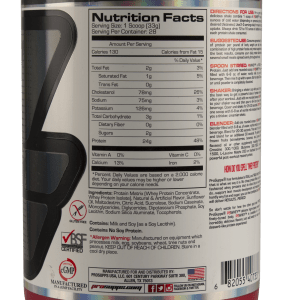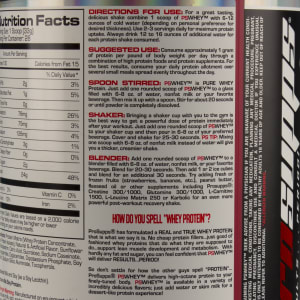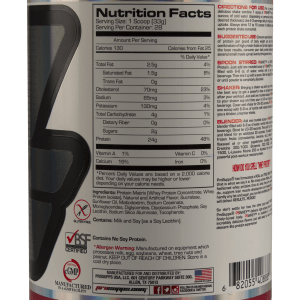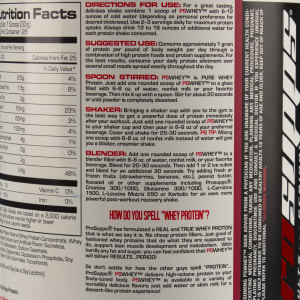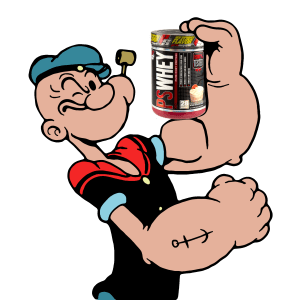 2lb, 4lb, or 12lb of ProSupps PS Whey Protein
Your choice of 2lb, 4lb, or 12lb of whey protein
Also your choice of unorthodox-but-alluring "banana pudding" or "campfire marshmallow" flavors
Seems the soy vs. whey protein debate is over, with whey emerging victorious … right?
Makes your muscles muscly and muscular
Model: 40733, 40888 (If you search for these model numbers + the word "protein" you'll find naught but esoteric results from Uniprot.org)
see more product specs
WHY ARE YOU SO WEAK?
When it comes to muscle-building supplements, it seems like only (whey) protein and creatine have been proven effective. If you're doing muscle-building exercises, this Prosupps whey protein will help.
However, the myriad other supplements — like BCAAs, beetroot, glucosimine, etc. etc. — might have an effect. Nobody's sure. And unless you have a doctorate in statistics and are able to parse hundreds of studies with contradictory results, you'll never know which are legit and which merely snake oil.
Manufacturers have cashed in on this knowledge gap to turn supplements into a many-billion dollar industry. But it isn't the first time in history that pseudoscience has cozied up to real science in order to push product …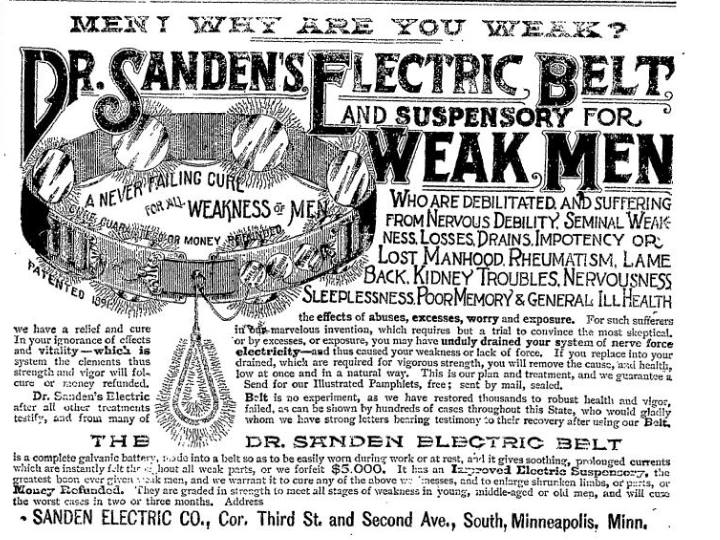 That's an advertisement from an 1893 issue of the The Montanian, a newspaper in the tiny town of Choteau Montana.
("MEN! WHY ARE YOU WEAK?" might be the greatest, most direct marketing salvo we've ever seen.)
Apparently these belts became extremely popular in the late 1890s as electricity become more widely used (and widely misunderstood). According to Atlas Obscura:
The electropathic belt (also known as the "electric belt," "electric chain" and "electro-galvanic belt") was one of the most popular, according to Kravetz. Despite the British Medical Journal's early criticism of one of the leaders in electropathic belt manufacturing (which featured the phrase "egregious quack"), tens of thousands of electric belts were sold in the United States alone between the 1890s and the 1920s, and it was even listed in a 1906 Sears catalogue.
Yes, dick-zapping belts became so popular that you could buy them at Sears. Thankfully they learned their lesson about pushing quackery. Or did they?
We won't try to convince you that this whey protein will restore your lost manhood or reinvigorate your vital force. But it might …