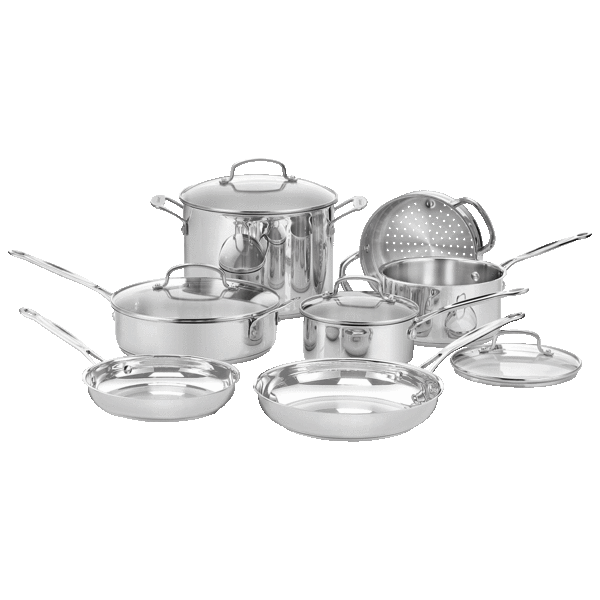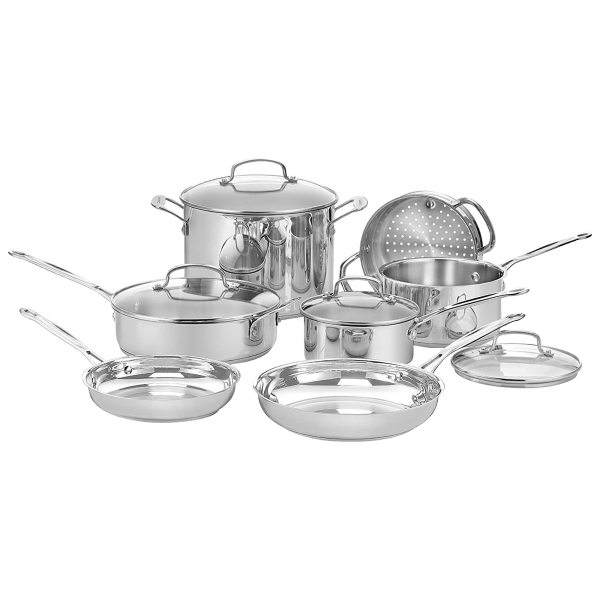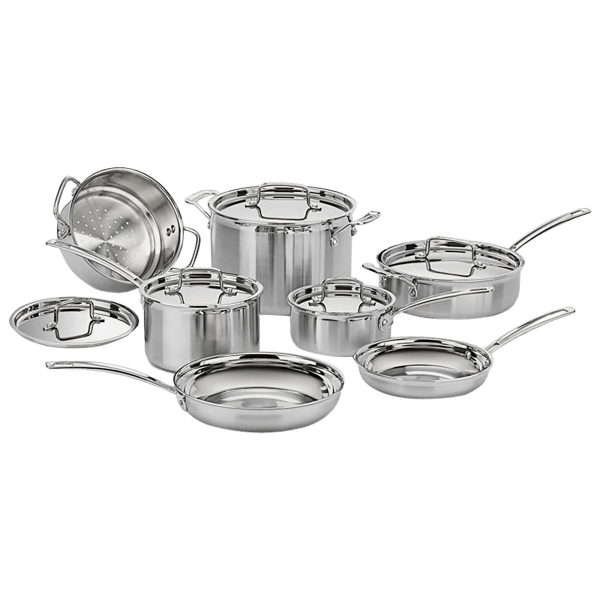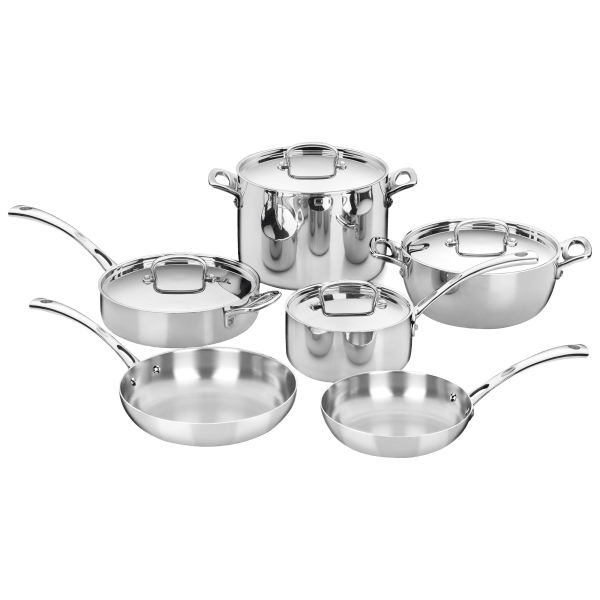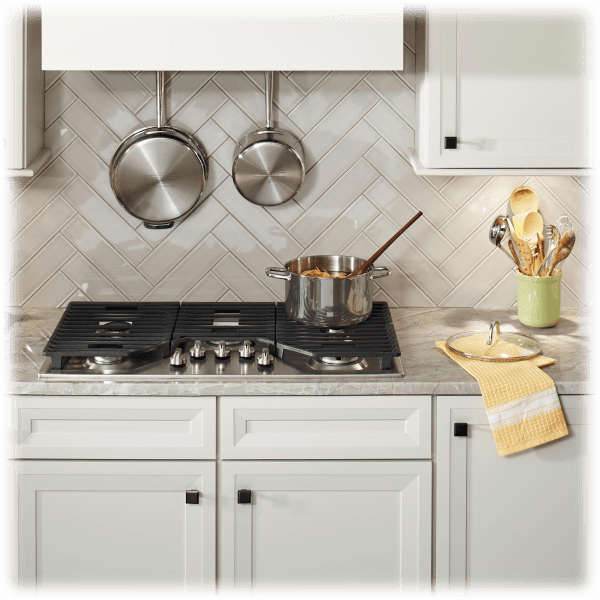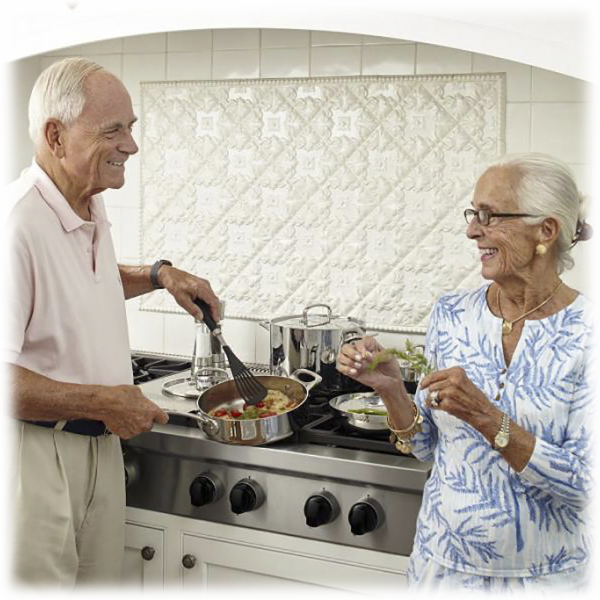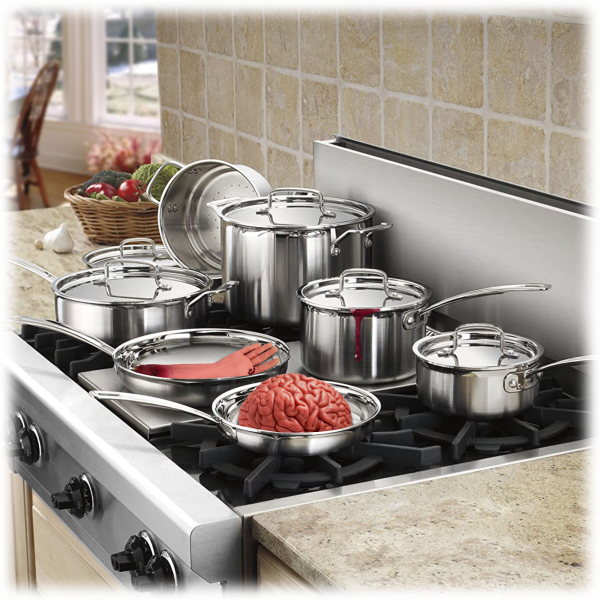 Good/Better/Best Cuisinart Cookware (Damaged Box)
The boxes? Damaged
The stuff inside the boxes? Totally unharmed
Choose between the 10-piece French classic set, the 11-piece Chef's Collection set, or the 12-piece Multiclad set
Save big because a thing that you're just going to recycle isn't in perfect shape
Model: WH3R35-TH3-C00KW4R3
see more product specs
All At Once
First thing that happens is the nonstick coating wears off that pan, and you learn an unfortunate truth: that a nonstick pan without nonstick coating is actually the stickiest pan in the world. You could crack an egg into inch-deep hot canola oil in that thing and still, somehow, you'd be scraping yolk off the bottom.
But no worries. It's just a pan, right? You can replace it.
Then you host a pasta night for a few friends. There's spaghetti and meatballs, garlic bread, salad, and tiramisu for dessert. You go all out, is what we're saying. The result is a good time and a lot of dishes. And that big pot for boiling water? It ends up on top of a pile of plates and other pots and pans in the sink. And then, it ends up on the ground, toppling over and landing hard enough to put a dent in the side that renders its lid unusable.
But again, no big deal. It's just one pot. You can replace it.
And when you do, you notice your smaller saucepan is starting to look a little junky. Especially next to your newish pan and your spanking new pot. Yikes, right?
And yes, we could say the same thing as before. It's just one little saucepan. You can replace it without too much effort or expense. Only, now the effort and the expense is starting to add up. And if you go far enough down this road, the whole process is eventually going to start repeating: new pan, new pot, new saucepan, one at a time, over and over, until eventually, you welcome the cold embrace of death.
Okay, got a little dark at the end there. But the point stands. In the moment, it seems logical to replace each piece of cookware as it loses its luster. But the smarter idea is to do a full overhaul, so all of your cookware is on the same timeline.
And that's what these Cuisinart Stainless Cookware sets are. You can choose between the 10-piece French classic set, the 11-piece Chef's Collection set, or the 12-piece Multiclad set. Really, though, it doesn't matter which you go with. They're all Cuisinart, so they're all solid. And they all have what you need to give your cookware cupboard a full-blown makeover.
(Oh, and we should note: the boxes for these got damaged somewhere along the way, hence the low price. But the stuff inside is pristine.)
So grab a set today, and re-up all at once!