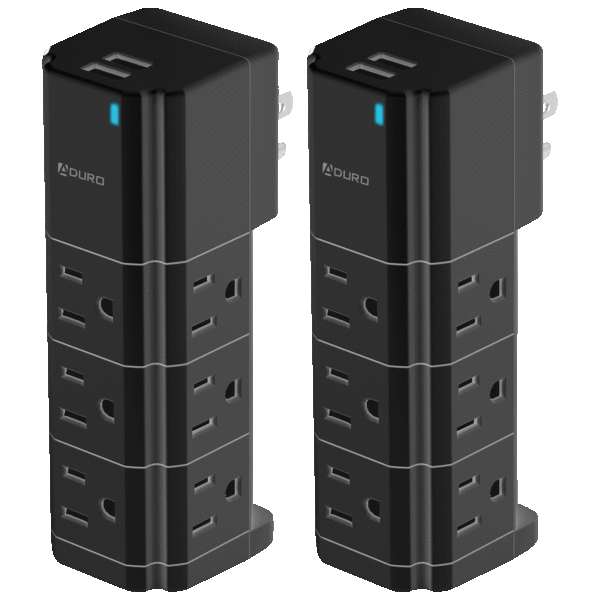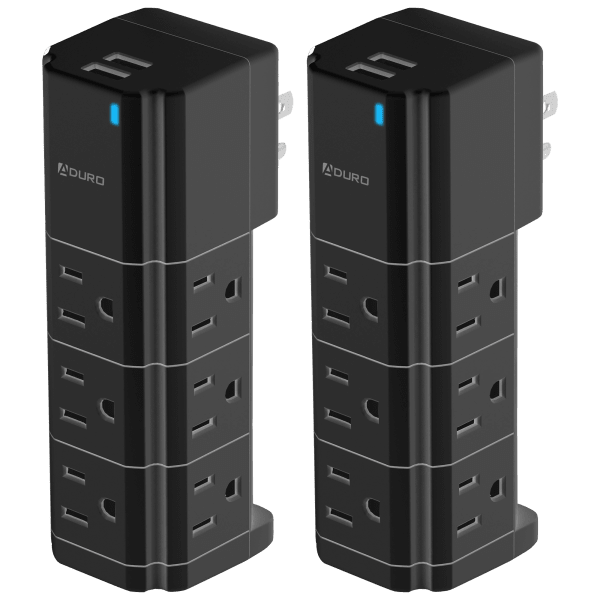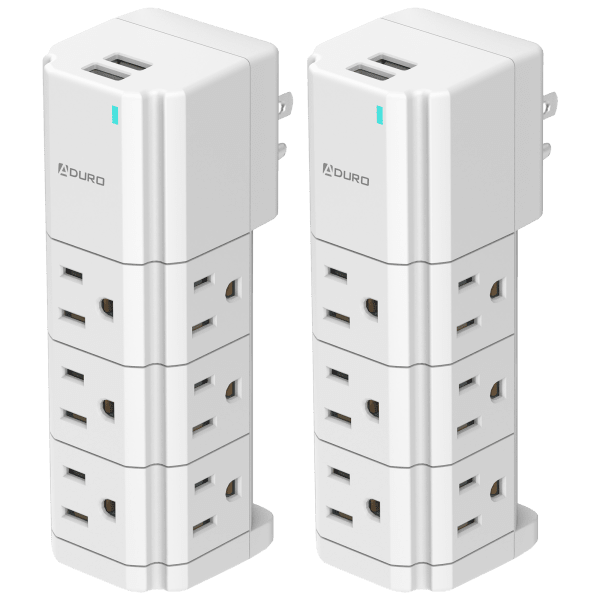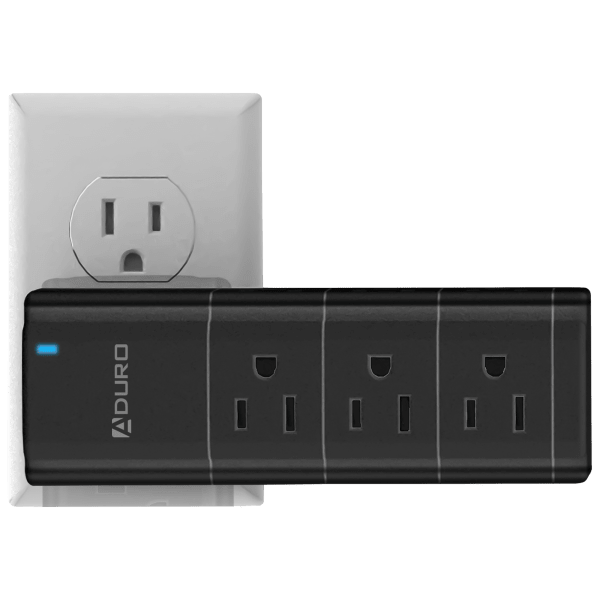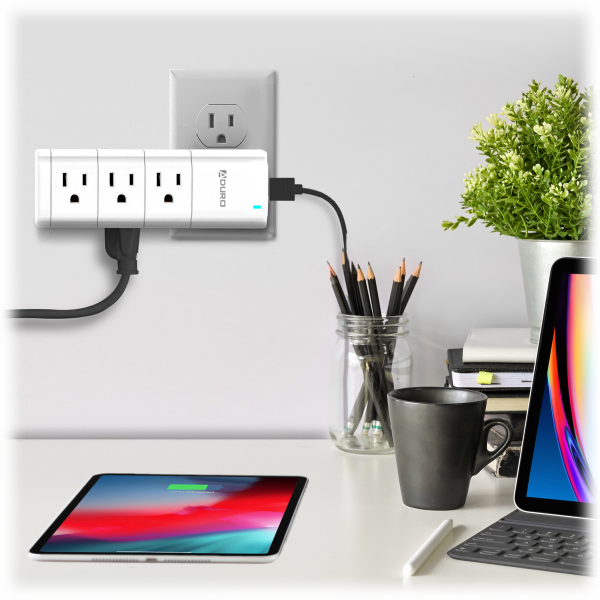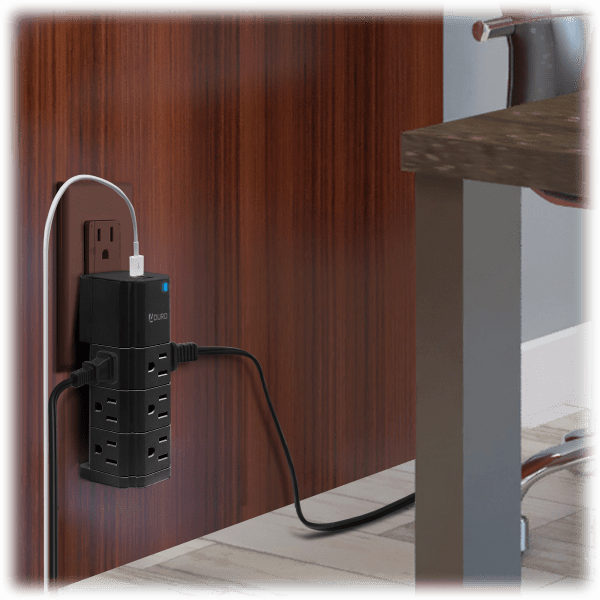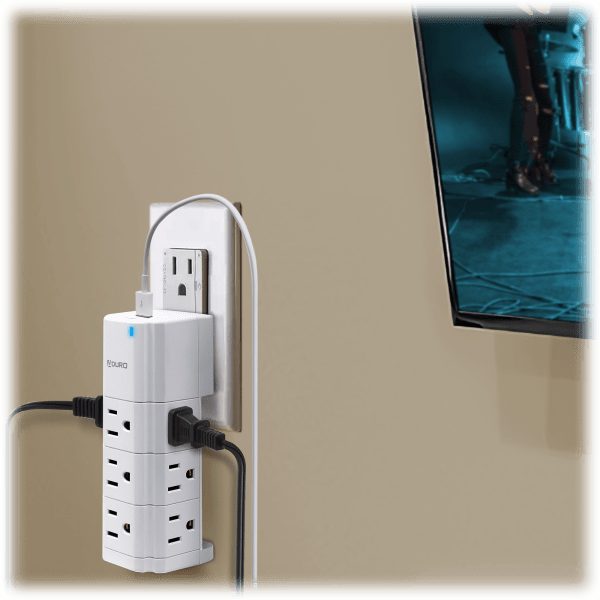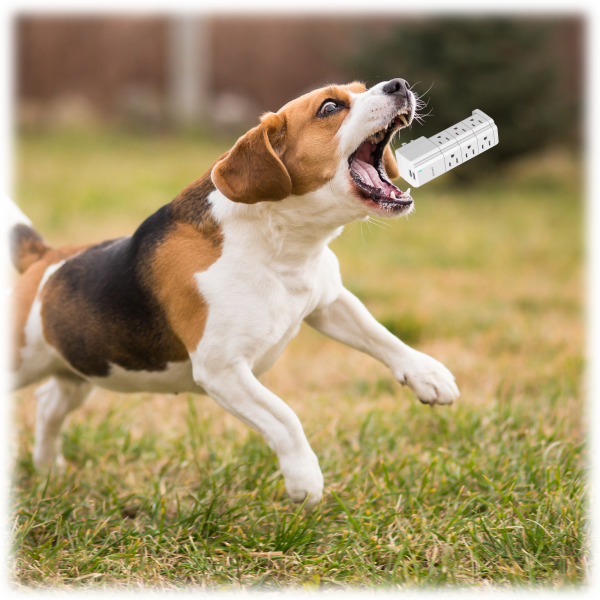 2-Pack: Aduro Surge Swivel Wall Charging Tower w/ 9 Outlets & Dual USB Ports
9 outlets for plugging in stuff
2 USB ports for plugging in more stuff
A whole other unit for plugging in EVEN MORE STUFF!
Protects your device from The Surge
Can they make margaritas: no, but they allow you to run 18 blenders at once (or 22, if you've got blenders that plug in via USB)
see more product specs
Your Outlet Outlet
The house, strangely enough, had only one outlet, located in the kitchen, and since Mr. Mathers was the first to wake, he plugged in his coffee machine and set it to brew. But the carafe had barely begun to fill when Mrs. Mathers appeared in the doorway holding the crockpot.
"Honey, I'm sorry, I'm going to have to cut the brewing process short," she said. "I need to get the chili on for dinner."
Mr. Mathers sighed. It had been weeks since he'd been able to make a full pot. But he loved a hot bowl of chili when he got home from work at the plant, so he relented. Only, no sooner had the crockpot been plugged in that their son arrived in the kitchen. "I need to charge my phone," he announced.
"No," said their other son, barging into the room, "I need to charge my phone!"
"I need to plug in this blender to make my morning smoothie," said another son, elbowing his way into the now crowded room.
"I need to plug in this toaster so I can have my morning toast," said another son.
"I need to ensure this lava lamp still works before I bring it for show-and-tell," said another son.
Another son hoisted an enormous boombox over his shoulders. A number of his siblings ducked to avoid being knocked over. "I found this in the attic. Very nostalgic. Could get a lot of money online, if it works. Mind if I plug it in to test?"
"I need to charge my bike light," said another son.
"I need to plug in my keyboard to practice before the recital this afternoon," said another son. "You're coming this time, right dad?"
"Why hasn't anyone plugged in the television?" called another son from the doorway. He couldn't fit into the room. "I want to watch my morning cartoons!"
"This isn't right," Mr. Mathers said.
"I agree," said Mrs. Mathers, pushing through the crowd to gather her chili ingredients. "We need a better solution to our outlet needs. Having only one in the whole house isn't practical. Maybe Meh is selling some product that might provide us with a simple solution? Something with 9 outlets, 2 USB ports, and surge protection? Maybe a 2-pack, so if we ever put in a second outlet we could maximize that one as well? Would you check?"
"In a moment," said Mr. Mathers. "But that wasn't what I meant when I said, 'this isn't right.' I was talking about these children. Don't we only have two?"
That's when Mr. and Mrs. Mathers noticed all of their sons' eyes glowed red.