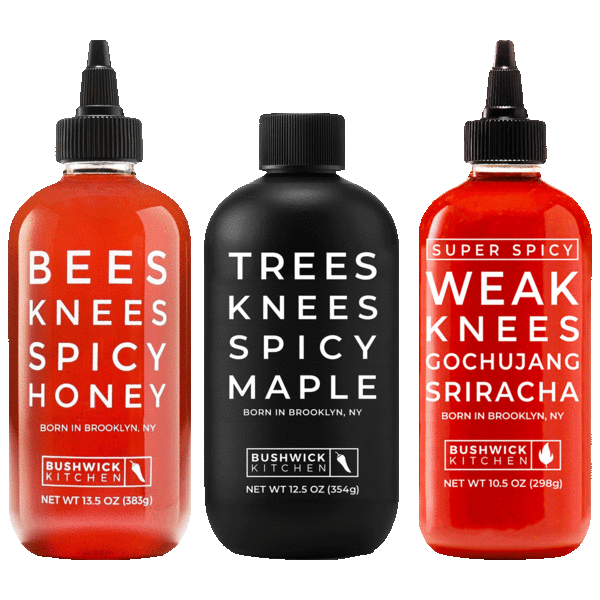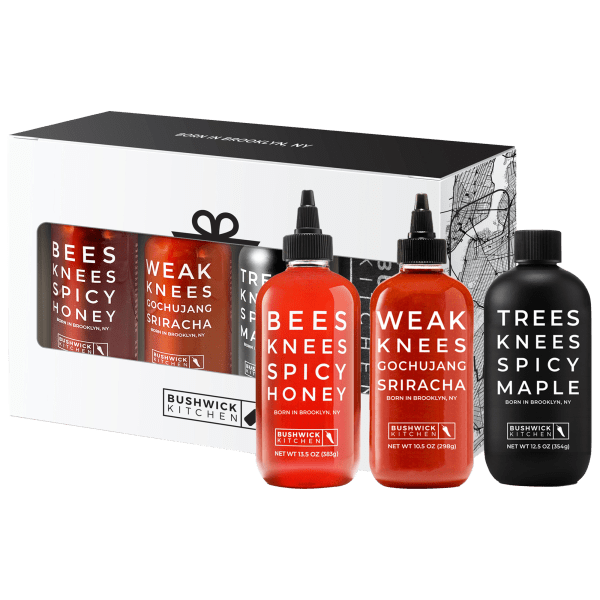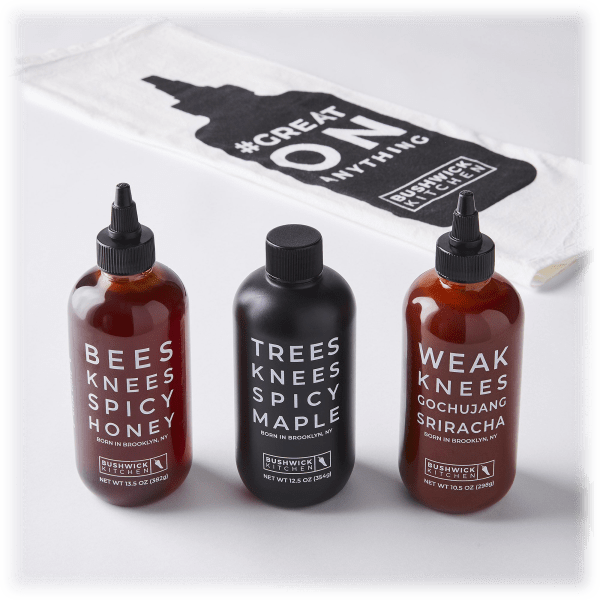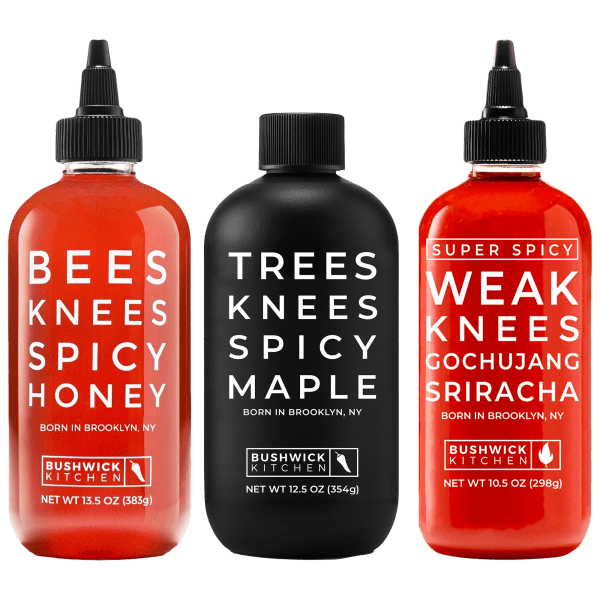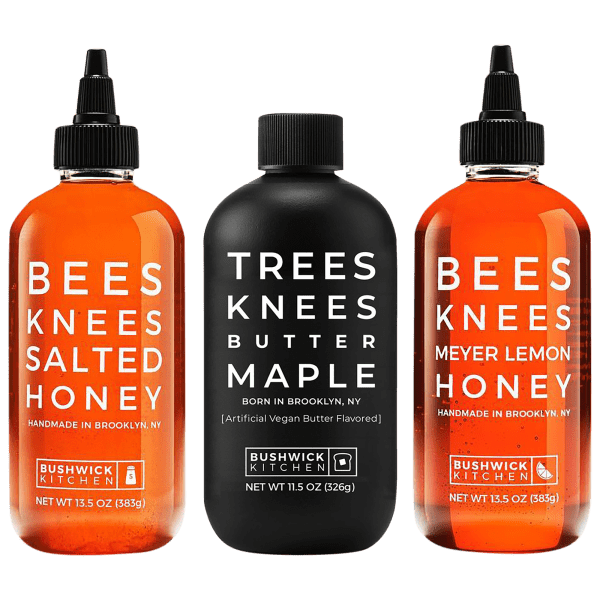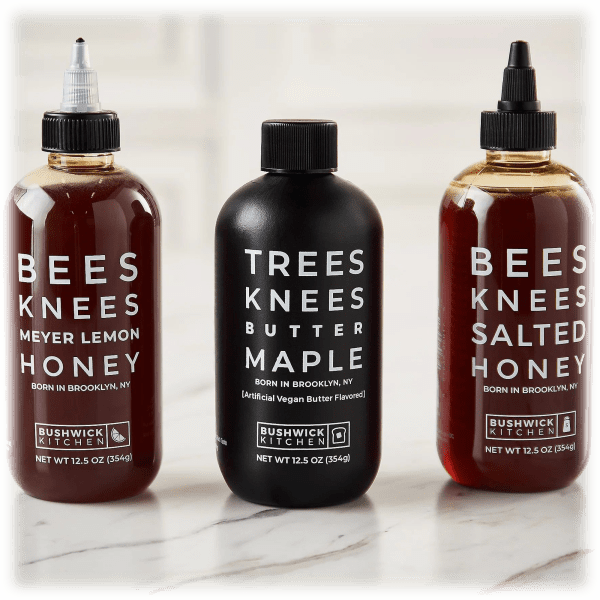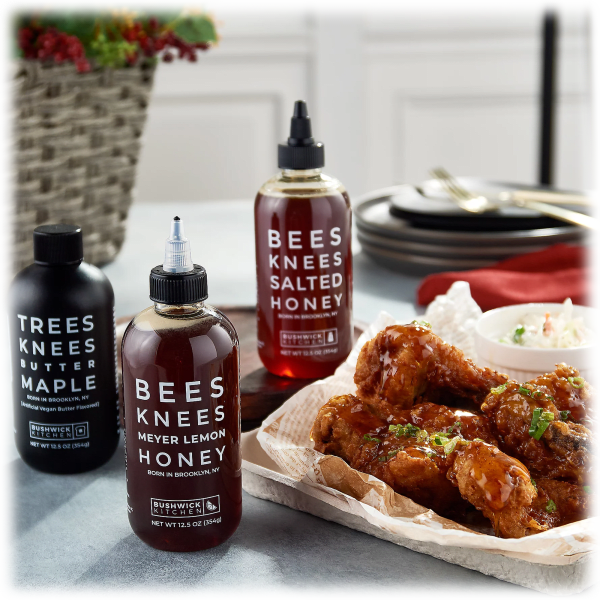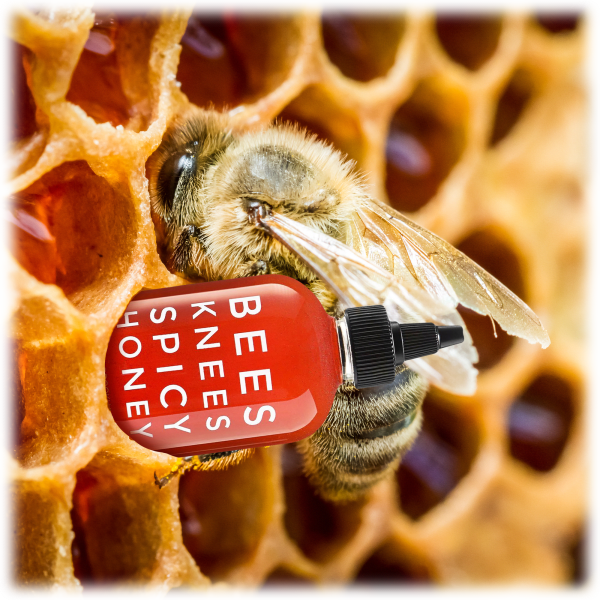 Bushwick Threes Knees Sweet or Spicy Gift Sets
For the spicy lovers: the sriracha is best by 11/24/23-12/13/23, but the spicy maple & spicy honey are best by late 2025
For the sweet lovers: the butter maple is best by 9/16/23, but the lemon & salted honey are best by early-to-late 2024
Each gift set comes with an assortment of sauces and a gift box (you get a dish towel with the spicy set too)
The sweet set is all sweet, but the spicy set has some sweetness in it too
Can it make a margarita: Honestly, there's a whole bunch of stuff that would actually be pretty nice in a marg here
see more product specs
Gift Set or Sample Pack?
What we got on offer:
The $15 Sweet Gift Set includes a 12.5oz bottle of Meyer Lemon Honey, an 11.5oz bottle of Vegan Butter Maple Syrup, a 12.5oz bottle of Salted Honey, and a gift box.
The $20 Spicy Gift Set includes a 13.5oz bottle of Spicy Honey, a 10.5oz bottle of Gochujang Sriracha, a 12.5oz bottle of Spicy Maple Syrup, a gift box, and a Bushwick Kitchen dish towel.
what you need to know:
The Sweet Gift Set has a best-by date of 9/16/23 (for the maple syrup).
The Spicy Gift Set has a best-by date of 11/24/23 (for the sriracha).
Now, as we've oft mentioned, the best-by date is not an expiration date. According to USDA:
A "Best if Used By/Before" date indicates when a product will be of best flavor or quality. It is not a purchase or safety date.
So this stuff is totally fine to eat.
That said, it might be kinda tough to use these as a gift set, especially if it's a gift for the holidays. After all, any gift-giving that involves a quick visit to the USDA's website isn't going to leave the best impression.
Which is why we suggest you make this a random early September gift for yourself.
Because what is a gift set if not a sample pack? You get to try a few varieties of this stuff, and if there are any that you particularly like, you can probably go find a full-sized bottle somewhere online. And even then, they're sauces, not assorted chocolates. Like, even a small bottle of sriracha will last, what? A week or two?
Otherwise, you can use this as a test gift set; if you love it, you can buy a set with a less alarming best-by date off Amazon come Christmastime (albeit for a lot more money).
So buy some sweet and/or spicy sauces and give the gift of some tasty variety… to yourself.