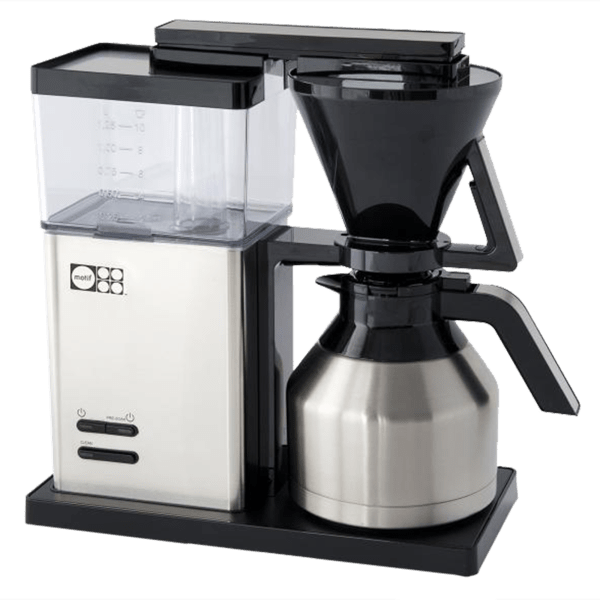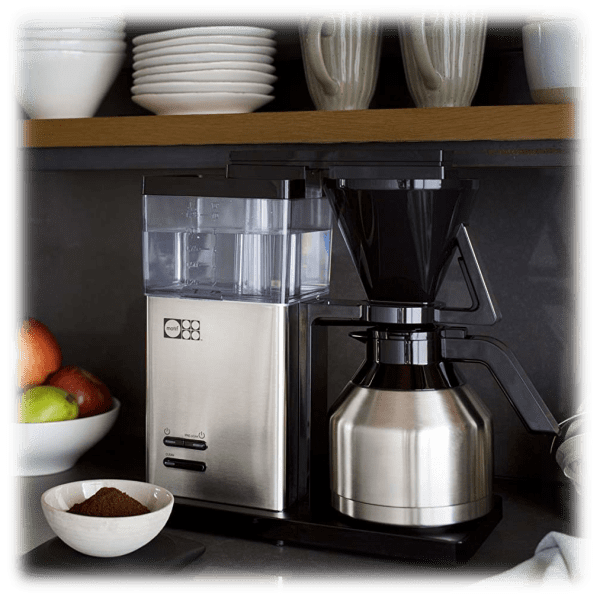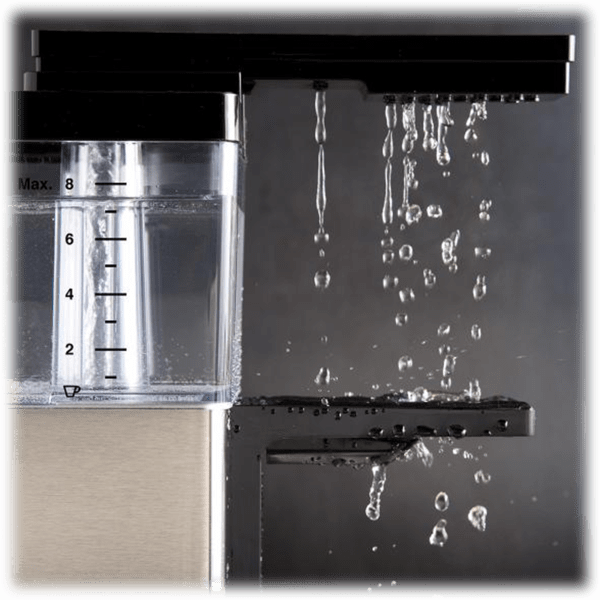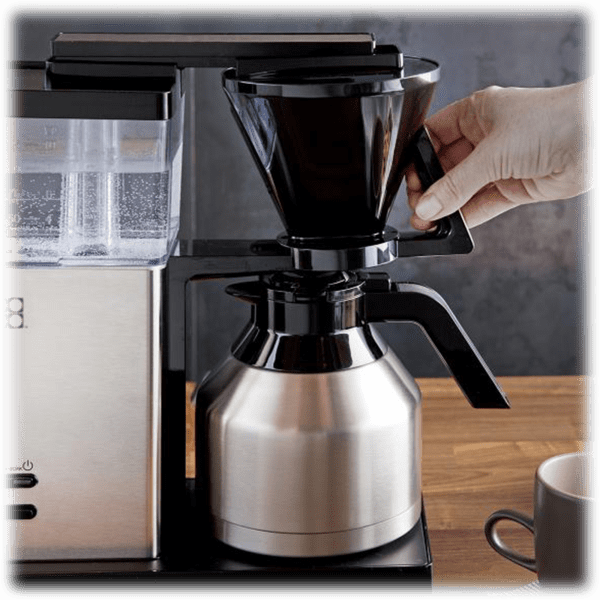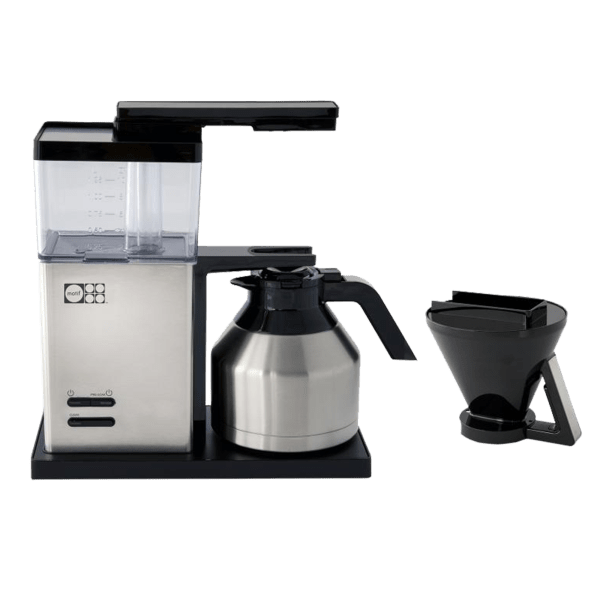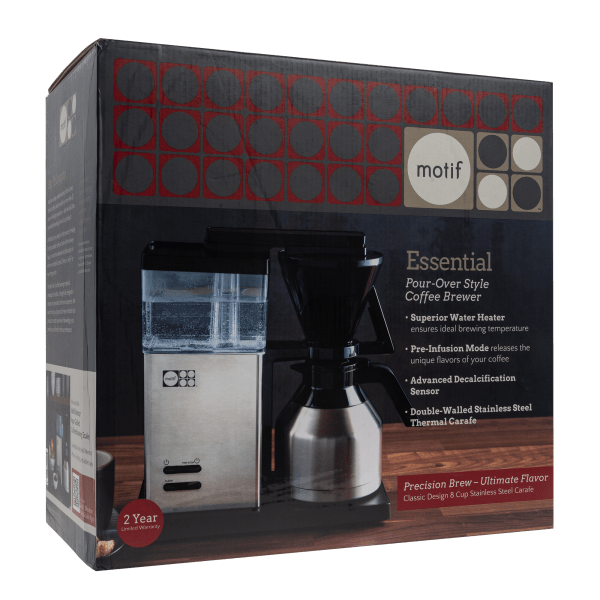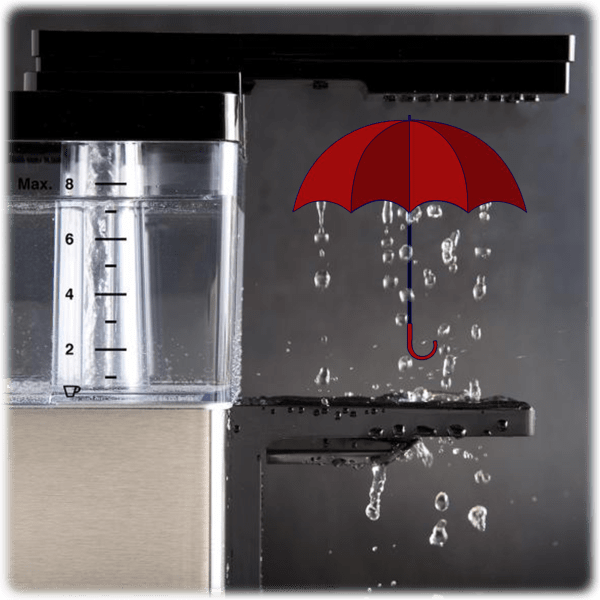 Motif Essential Pour Over Coffee Brewer w/ Thermal Carafe
Gets the water good and hot (like 198-205 degrees) and keeps it nice and warm with its thermal carafe.
Has a pre-infusion mode, where it wets the grounds then waits so the flavors can bloom.
Sounds like a lot of shmancy talk, but friends, this is how good coffee is made.
The appeal of a $300 Technivorm Moccamaster, the price tag of a Mr. Coffee.
Model: MT01001US. 01001 is binary for 'coffee.' So it says: Most Tubular Coffee (in the) US.
see more product specs
Hot Take On Coffee
If you're wondering how there can be such a thing as a 'pour over coffee' machine when 'pour over coffee' is defined as someone manually pouring hot water over grounds, we've got one word: marketing! But, to be fair, this Motif does a lot more to mimic actual pour over technique than your average Mr. Coffee.
For starters, it gets the water good and hot. Like, we're talking 198-205 degrees. And then, with its thermal carafe, it keeps that coffee nice and warm without using an over-hot burner (which can scald the coffee). Other than that, though, it features a pre-infusion mode. In other words, it'll equally wet the grounds for 20 seconds and then allow 30 seconds for them to bloom (which basically means gasses are released that bring out the rich, deep flavors of the beans).
If you love to nerd out on coffee-brewing apparati, and this all sounds a bit familiar, it's probably because this thing has a lot of the same features as high end machines like the Technivorm Moccamaster. Only, the Motif costs $49, while the Moccamaster will run you about $300.
Really, though, these devices are all just to bide time until our R&D team finishes work on the CHRIS (Coffee Helper/Rest Increaser System).
Basically, the CHRIS is a robot who will rise before you in order to brew a cup of true pour over coffee using a Chemex or v60, so that you can enjoy that extra time in bed and still get those rich flavors you love so much.
Although, there have been a few issues that have lead to some substantial delays. For example, the pouring problem: the robot, being a robot, did not pour in a gentle, human way. This meant having to install human brains in each of the 5 test models to give them that light touch. But, with such a limited brain supply, we'll need another solution once we enter large-scale production. Hence our decision to build one super-high-output brain-powered server to communicate with all CHRISes the world over, which is no small task. And then there was the little hiccup where one CHRIS prototype poured hot water over its sleeping user because it wanted–in its words–"to bloom the sweet flavors from the vile grounds of humankind."
So, anyway, it might be a bit of time yet until CHRIS is ready to go. In the meantime, the Motif is a great option!