2-for-Tuesday: Soft & Smooth Pain-Free Facial Hair Removal
You get a 2-pack of pain-free hair removers.
And yes, we have received official confirmation that these are pain-free.
Sorry pain-heads, you'll have to check back another day.
They're a nice alternative to waxing or plucking, and much better than acting passive aggressive towards unwanted hair until it decides to leave on its own.
They each have a built-in light for low-light shaving and look like a tube of lipstick because why the hell not?
Model: TEK451 because they are 451 times more teknilogical than other hair removal methods.
see more product specs
Hair's What's Confusing
So, what we're dealing with is something pretty straightforward: it's a 2-pack of tiny little razor gadgets that do the same thing as waxing or plucking, but without all the pain. They also each have a built-in light and are designed to look like a tube of lipstick because apparently you don't want to give away that you practice the dark art of hair removal by turning on a light or owning anything that appears to be a shaving device.
That's all good and cool. What's a little strange is this product photo we found while we were doing our research: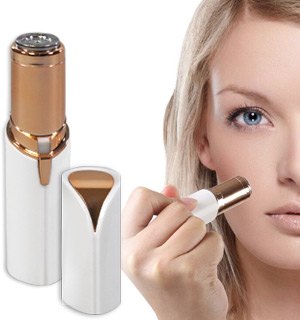 Now, you'll notice something very important here, which is that the woman using the hair remover has absolutely NO HAIR on her face. The most generous explanation is that she just finished removing it all the very moment the photo was taken. Or that she was just finishing, and were she to lift the hair remover, you would see the tiny patch of hair she was in the process of eradicating.
But, just because it makes the most sense doesn't mean it's true. So, we've put together a list of 5 other possibilities of what's going on here:
She loves the feeling and the look of the hair remover, and now she is getting up the nerve to smell and/or taste it, thus completing the sensory experience.

She bit the inside of her cheek, and now she is using the pain-free hair remover on the outside to counter the pain within.

It is not her hand, but someone else's hand, passing the hair remover to a third unseen person.

Again, it is not her hand, but the hand of her eye doctor, who, having forget the usual instrument, is using the hair remover to track her vision. (She is doing poorly).

Like many young people who suffered through other less comfortable hair removal procedures, she now uses her compact hair remover even when she doesn't need it because she's hopelessly addicted to what the kids are calling "the cheeky buzz."
Those are our theories! If you have your own ideas, post them in the comments. Otherwise, grab this 2-pack of hair removers and say good-bye to your unwanted hair!