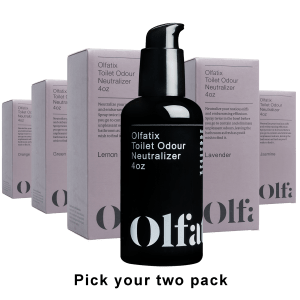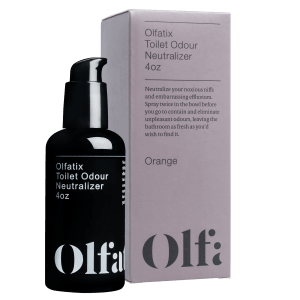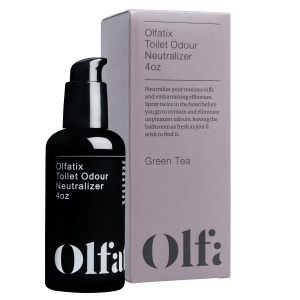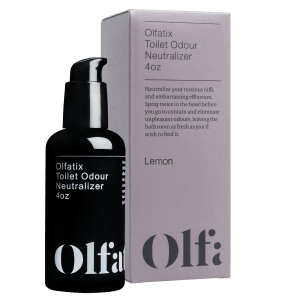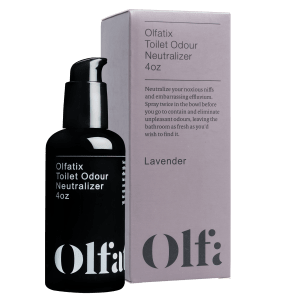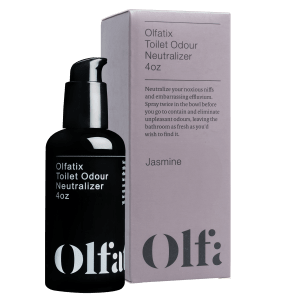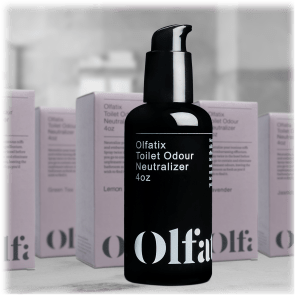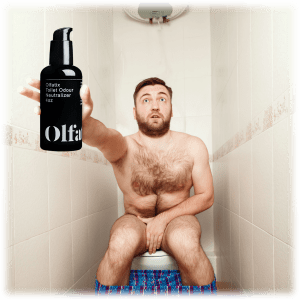 Pick-Your-2-for-Tuesday: Olfatix Toilet Odor Neutralizer
Cover up the disgusting bodily function you just performed in the water closet.
Available in Lavender, Lemon, Jasmine, Green Tea, and Orange.
"Were you brewing a cup of herbal tea in there?"
"No, Honey. I was taking a dump."
I went to graduate school for creative writing. And this is my life.
Look, you wanted it, okay?
Like stuff that's fresh as hell? Check out this week's shirts on Mediocritee.
Model: C'mon.
see more product specs
A Spray-Maker's Lament
Dear Journal,
What do you do when you design something with a dream in mind, but the result is your worst nightmare? I speak not of failure, for my Olfatix toilet spray has not failed, not in the least. But failure, I fear, would be preferable to this.
To distill the problem down to its simplest terms: my goals in creating a toilet spray have been greatly misinterpreted.
When I began to brainstorm the first batch of Olfatix in my home lab, I had a vision, one of freeing the toilet and, in turn, the entire human race. You see, sitting upon the toilet is the place–the one place–where we not only can but must shed all of our inhibitions. The act of human waste expulsion requires one to relax more than a set of muscles. It demands we forget, for a moment, our sense of humility. Those who attempt otherwise–who try to perform the deed with their dignity intact–will suffer a lifetime of agony and constipation. In this way, the toilet is nothing if not a place of honesty. It is where we are our truest selves: primal and civilized all at once.
So think of the heights that could be attained if we rescued the toilet from the confines of a room for one? For example, imagine a room of political delegates seated around the table, only each chair is a toilet, and each delegate wears only a towel over their lap, thus allowing them freedom to pass whatever they want whenever it suits them? What achievements in peace and cultural understanding might be reached if the energy normally reserved for holding one's bottom closed were rerouted to other things? And it isn't just in the field of politics where toilets could be helpful. Imagine the breakthroughs one might experience in a therapy session conducted from a toilet to a patient also on a toilet? Or the greater sense of camaraderie one might feel if poker night involved an arrangement of toilets around the card table?
This is not mere speculation. I live by the principles I prescribe. The chair in front of my writing desk, on which I sit as I compose this journal entry? It is a toilet. As is the one in front of my baby grand, on which I sat earlier, playing a sonata while my breakfast made its way through me, seeing only green lights at each potential intersection. As is (thanks to the help of a team of engineering students from a nearby university) the driver's seat and passenger's seat of my Italian-made sports car.
Yet, the act does a malfeasance to the air, that cannot be denied. Hence, the need for the a spray, so that toilet could make its move from the cramped lavatory to places more public without the sickening stench.
This is not what is happening. Those who've purchased Olfatix have not installed toilet couches and recliners in their living room. They haven't arranged a number of durable outdoor toilets around the backyard fire pit, or placed sleek modern toilets in front of their cubicles in the workplace. Instead, they have used it to further hide what happens upon the toilet in their bathroom, to further shroud the goings-on in mystery by removing the only evidence that cannot be flushed.
And I, as its creator, am ashamed. For I had such high hopes, not just for the product, not just for the air quality, but for human discourse as a whole.
Oh well. Back to the drawing board.
-Sebastian Darnielle Olfatix IV